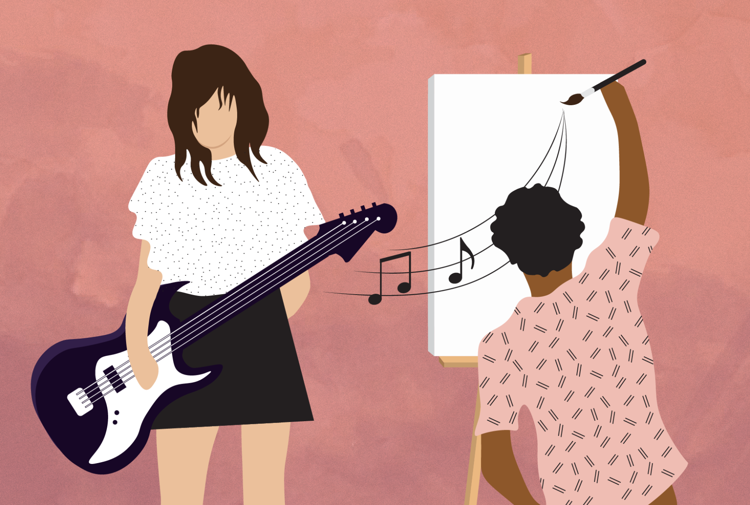 Imagine walking onto a stage without having any idea of what you're going to perform. You haven't rehearsed anything and have never practiced with the people you're onstage with. It's likely you'd be a little more nervous than usual.
That's what artists from a variety of disciplines across Western University will be doing at the Freestyle Arts Festival on March 8 in the Mustang Lounge starting at 1 p.m. A production team of eight students is organizing the festival, and more than 40 students are participating.
The festival will bring together various forms of art in a live setting, including painting, dance and live music. The core idea behind this festival is improvisation, so there's not much planned in terms of performances. Rather, the festival is about the artists reacting to certain moves and sounds, and it intends to bring out true, instinctive expression.
"The real beauty of [art] is when it is in natural form: [the] really raw creation and expression of it," says third-year kinesiology student Nyro Hang.
Painters will create artwork alongside a band that will improvise existing and new songs, and dancers will create and perform spontaneously to improvised music. In showcasing improv, the event also ends up offering a glimpse of what happens behind the scenes when artists are preparing and putting together their work for more structured performances.
The improvisatory aspect of the event offers a novel experience not only for the audience but also for the performing artists.
"With true expression, there comes vulnerability," says Hang. "Nothing is really set out and scheduled in how we are supposed to do the performances. In that comes vulnerability because you do not have something planned and something scripted."
Dominic Toccacelli, a second-year music administrative studies student, is a member of the festival's executive team, and he shares the inspiration behind the festival.
"I am a jazz musician, and one of the main principles of jazz music is improvisation and so that is something that interests [me] at a personal level," says Toccacelli.
According to the organizers, the term "freestyle" is deliberately used in the title of the festival to contribute to the relaxed and organic mood the production team and artists are aiming for and to emphasize the uniqueness of such an atmosphere.
"We are artists, and this is us creating art for you, right here, right now," says Toccacelli, summing up the festival's ethos.