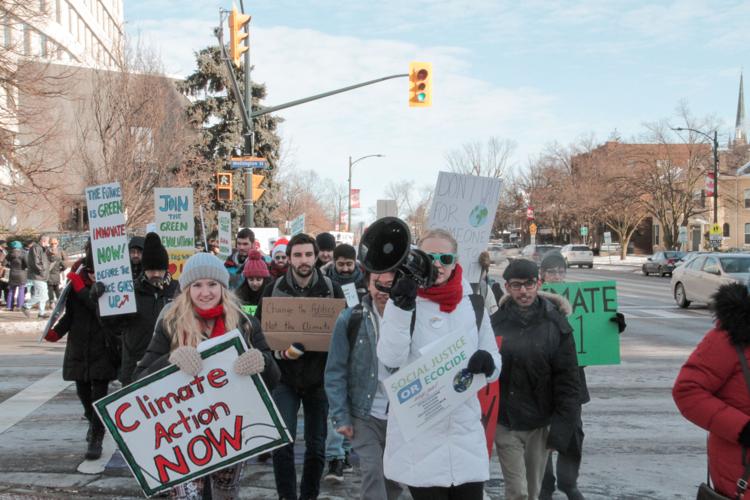 Greta Thunberg, a 16-year-old climate activist from Sweden, strikes from school every Friday to sit outside her country's parliament building.
What began as a solo act of rebellion just a few months ago has turned into an international protest movement, as she is now joined by students of all ages and nationalities skipping their Friday lectures to demand change. This movement has been coined "Fridays for Future."
Thunberg isn't afraid to criticize the adults in charge and frequently dismisses world leaders by comparing them to children. Thunberg emphasizes the importance of students in this movement, as the press, politicians and officials continue to ignore the problem. In an opinions article written for The Guardian, Thunberg writes about her role as a student.
"Some say I should be in school. But why should any young person be made to study for a future when no one is doing enough to save that future?" she writes. "What is the point of learning facts when the most important facts given by the finest scientists are ignored by our politicians?"
Her movement has reached the students of London, as grassroots environmentalist movements across the city, including Extinction Rebellion Ontario, London Ontario Climate Save and Reimagine Co., have joined together to create a Canadian branch of Thunberg's "Fridays for Future."
In the same fashion as her movement in Sweden, students and community members from across London gathered for the first time in front of City Hall this past Friday afternoon to call for immediate climate change action. The crowd was made up of activists of all ages, from young children to high school students missing English lectures to Lisa Carriere from the Green Party.
In the spirit of Thunberg's "Fridays for Future," the London groups will be hosting "Strike for Climate Fridays" weekly, changing locations from City Hall to different MP's offices. This coming Friday, Jan. 18, the protest will be held outside of Liberal MP of London West, Kate Young's office.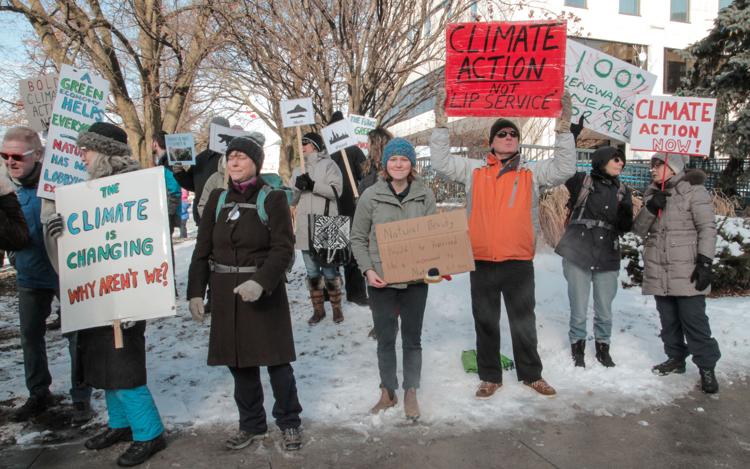 This is the first march London Ontario Climate Save has hosted since the Save Movement, the umbrella activist group associated with Climate Save, began in 2010. Margaret Kendall, a fourth-year global development student at Huron University College and organizer with London Ontario Climate Save, shares Thunberg's enthusiasm for student movements in creating tangible change.
"Activists are the ones on the ground [with] grassroots organizations, changing culture, demanding things from our governments. Academia is fundamental, and we need academia to collaborate with activism," Kendall explains. "But sometimes academia, and even the UN, can be all about discourse, and they don't actually create real action.… We need real change."
Kendall and her fellow protestors are focused on creating this change not simply through academia, but through real, tangible change — and they aren't starting small. London Ontario Climate Save is armed with a list of demands for city councillors and London's mayor, Ed Holder, in order to push their goal of complete renewable energy by 2025.
"We need the government to stop funding animal agriculture and the oil industry and to stop giving tax cuts to them and allowing them to lobby to our politicians," Kendall demands. "We need electric car infrastructure; we need subsidizing for electric engines for cars."
With these policies and many more making up a list of demands, Kendall and a small group of protestors attempted to enter London's City Hall to request a meeting with London's mayor approximately a half hour before the end of the protest. After being stopped peacefully by security at the door and told the councillors were not available, Kendall was eventually allowed to enter the building alone to submit the request for a meeting and send the list of demands to the mayor's office. London Ontario Climate Save has not yet received a response from City Hall but plan to continue to protest and lobby city councillors.
Ultimately, Kendall and other environmental organizers are looking for accountability from all levels of government on climate action, whether that is by upholding UN standards or by investing in new sustainability projects. This, Kendall explains, will be the only way to enact real change — and London activists will march on the street corner (every Friday) until it's achieved.
"We need actual consequences if governments and countries do not reach [UN] goals," Kendall demands. "They're putting profit before the environment when really, long-term, every single person will be affected and so will profits, because we will not have a world to live on."