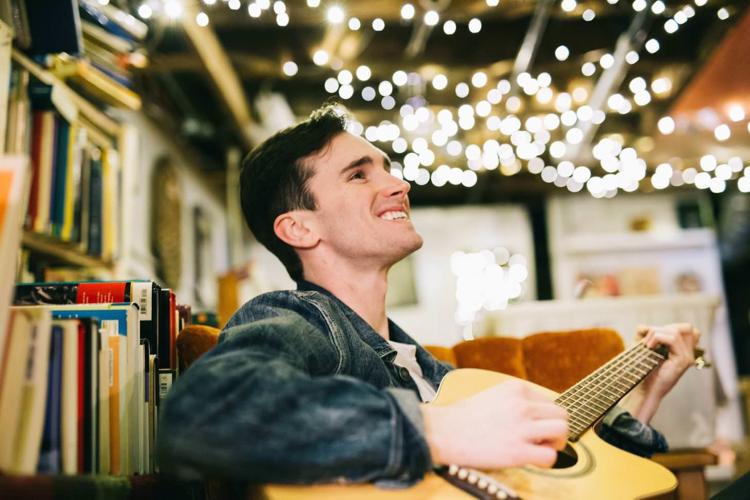 Singer-songwriter John Muirhead developed the first inklings of his musical career at 12 years old by rocking out on the imaginary guitar strings on Guitar Hero.
Muirhead is a fourth-year student majoring in both management and organizational studies and popular music studies — a dual degree that intertwines his passion for music and his desire to understand the music business industry. 
Now, he's about to release his second EP, Passenger's Side. The EP's sound combines and indie folk sound with Muirhead's other modern indie rock influences, like Frank Turner. He recently performed some of his originals on CBC Radio London.
He explains that the lyrics on the album offer an introspective look at his life and thoughts.  
"[I wrote about] lots of stuff that students may relate to. There's one song called 'Ambition,' a song that talks about the struggles about having the ambition to succeed in something and the struggles of balancing other commitments," says Muirhead.  
"Ambition" hits especially close to home for Muirhead.
Muirhead admits that he struggles finding time to write his music.
"There's so many commitments — between social life, family obligations and being a student," says Muirhead.
He tends to write songs in small segments. In a week, he might write one or two lines or write an almost completed song, often jotting down random lines on his phone or laptop when inspiration strikes.
Muirhead also muses about "Doubts" — a song about overcoming self-doubt. Muirhead realized that doubt and writer's block were a natural part of the writing process and decided to write a song about the impact this experience had on him.
Muirhead first began writing original music for his contemporary rock band, Casual Disaster, when he was in high school. Although he says this was out of necessity, he developed a love affair for lyric writing during this process.
At Western University, he performs as a solo artist, who has a much softer, acoustic sound, at coffee shops and open mic nights. Just last year, he placed third at Western Voice. 
Outside of Western, he's performed at several folk music festivals, such as Live From the Rock Folk Festival, Summerfolk Music and Craft Festival and Sesquifest, and he describes all of these festivals as open environments that encourage collaboration. 
As a budding musician in the music community both at Western and in Ontario, he encourages aspiring to push themselves beyond their comfort zone, even when they don't feel ready.
"Maybe don't wait until you're absolutely ready, because you learn so much by being out and having that feedback," says Muirhead. "When I started pursuing a career as a solo artist, I wasn't ready, and sometimes, I would cringe at previous performances," admits Muirhead. 
As a professional musician, he hopes to thrive in the Ontario folk community and, hopefully, in Canada.
"I really just plan to jump in and do as much music as I can," says Muirhead. 
Passenger's Side comes out April 6, 2018 on iTunes and Spotify.