A video plays of a woman falling from her home in the sky onto an earth covered in water. Artist Skawennati takes Indigenous stories and retells them in digital spaces.
Skawennati presented a talk on March 19 about her work as an artist. Both her and a pre-recorded video of her digital persona took turns speaking throughout. Her history with digital worlds dates back over two decades with her discovery of "The Palace", an online chatroom where individuals use avatars to represent themselves.
Her fascination with these digital worlds grew as they expanded and advanced. In 2005, she discovered Second Life, a place where she could have a third avatar represent her.
She sees these digital spaces as a medium where people can come together.
"They are an opportunity to connect community members over vast distances," Skawennati says when discussing her early work in creating "Cyber PowWows" on "The Palace".
Her exhibit, From SkyWorld to Cyberspace, showcases the influence these digital worlds have had on her and the works she's created within them. Throughout the space, she showcased a few of her machinimas.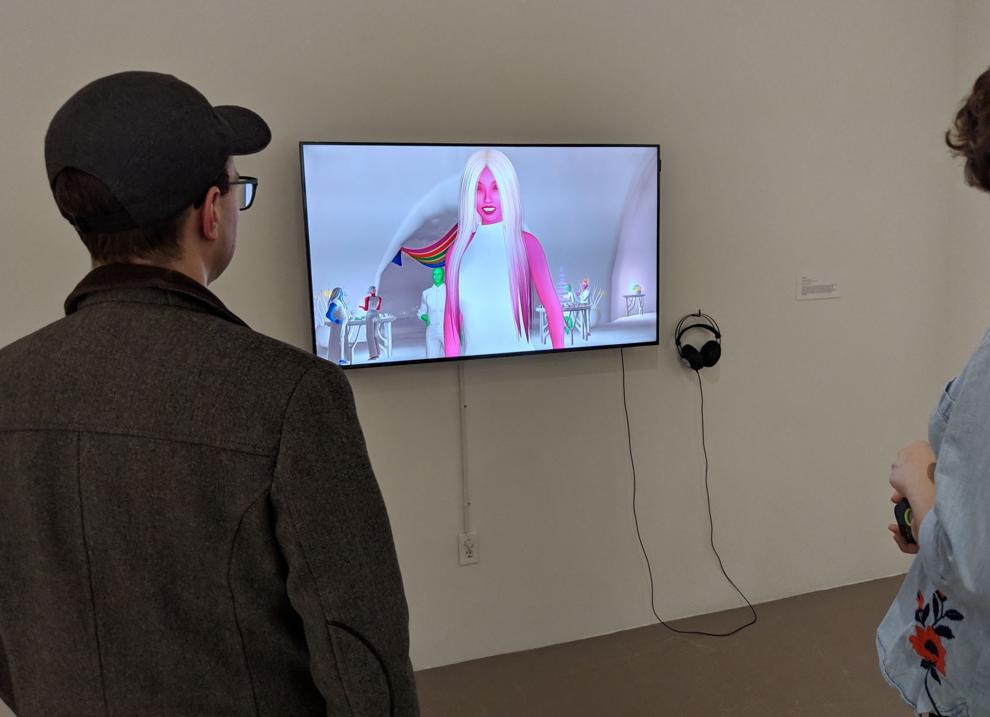 Machinimas are videos created using digital spaces, like Second Life in Skawennati's case. In the videos, she tackles Indigenous stories from recent history, such as the Oka Crisis, to traditional creation stories.
Her machinima "She Fell for Ages" re-imagines the traditional creation story of the Iroquois in a futuristic realm. The gallery only provided a single pair of headphones to watch her videos; however, Skawennati is able to convey the story without the need for words. The expressive and detailed nature of the machinima has an entrancing experience.
Skawennati also creates work outside of her machinimas. The most interesting of these is her piece "Generations of Play" where she explores her avatar through the mediums that her ancestors, her and future generations play. The work shows her avatar's cyberpunk aesthetic reimagined as a corn husk doll, a Barbie and a 3D print of the avatar itself. While the piece itself is quite simple, the visual comparison of the three figures standing in a row sparks a conversation about how technology has influenced childhood.
Skawennati's work serves as a method of preserving Indigenous stories while making them approachable for those unfamiliar with them.
From SkyWorld to Cyberspace is currently at the McIntosh Gallery from March 21 to April 27.