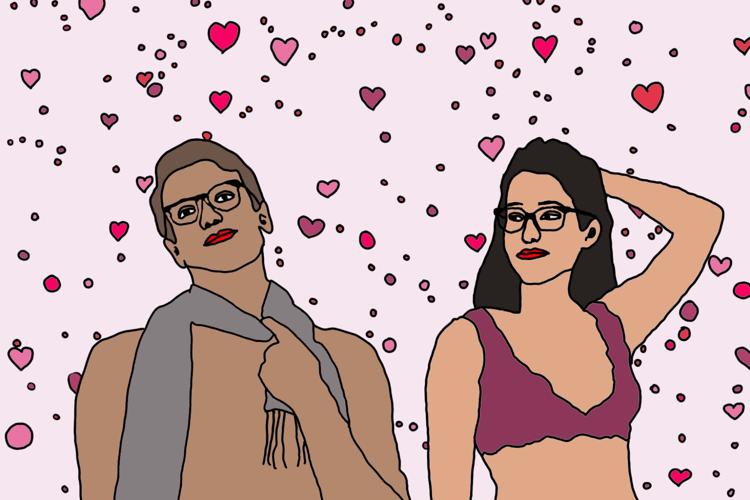 Generation Z, a cohort of people born between 1995 and 2005, is suffering from the newest mania: the phobia of finding someone.
While attending university, students experience a microcosm of the real world. We pay rent, work, create a lifestyle in a bubble — and also date. 
Or try to date? Hook up? Have a thing? Are exclusive but don't want the label?
The overall consensus: Generation Z dating could be scary and confusing. Young people can have commitment phobia, apathy or conflict aversion.
"Due to technology and how easy it is to connect with people, sometimes we take individual relationships for granted," said third-year Ivey student Kailas Kumar. "We use technology to maintain a surface-level bond but we don't put in the effort to build long-lasting relationships, making commitment difficult."
For such students, committing themselves to a single person is more daunting now than ever — as we spend hours scrolling, swiping and liking, our eyes are opened to the infinite amount of options that could potentially be ours. In swiping right, you may find someone more attuned to your niche personality: someone better. Everyone is replaceable. 
In other words, the fear of restricting yourself to one person, to one option, puts the average Gen Z person in an anxious frenzy — we don't want to settle. 
And while access to the online universe has turned into an effective, easy and useful tool for staying in touch, it also fosters a sense of choice overload and disconnection.
"There are so many opportunities to ghost. You're communicating with a lot of strangers so you get to be really selective. You can just end a conversation — you've got 14 others," said third-year arts and humanities student Jerika Caduhada. 
Indifference
Third-year media, information and technoculture student Sadaf Pourzahed explains, "I have been ghosted. It made me feel dumb. It goes back to my morals; I wouldn't do that to someone, but people don't really care. They have less empathy and sympathy. We've grown into a culture that's less caring: it's all for our selfish needs."
According to a Vice article, "methods of [technological] communication give us an easy way to hide from our bad behaviour, since people can be jerks without repercussions."
Things like ghosting, emotional cheating and orbiting, stalking your significant others online, are insanely accessible through technology.
It's becoming the norm. Gen Z'ers are so used to thoughtless behaviour that it translates into the relationships they actually care about. Individuals rarely show any regard for feelings other than their own solely from a lack of experience, an idea also expressed in the Vice article. 
"Everyone is just trying to focus on themselves first. [Long-lasting relationships are] a fantasy," said third-year social science student Shanak Moorjani.
Non-confrontation
Modern online dating has taken away the opportunity to practice "difficult" conversations from young adults. Realistically, before any two people break-up or before a "fling" ends, there should be multiple talks regarding the issues experienced in that relationship.
Instead, its become more common to swallow their feelings, post sub-tweets or ghost a person they find too difficult or annoying to talk to. The idea of conflict, of truly expressing one's feelings, is so abstract that cheating is not unheard of as a means to end something old.
When asked about the reason for cheating, students alluded to how easy it was to avoid issues.
Moorjani explained, "People are indecisive. We don't know how to make decisions; we live in the 'right now.' We lack attention as a generation. It's so easy to be with another person, thinking no one will find out. Everyone is advertising themselves. If you want a certain kind of person, you can find [them]."
So where does this leave us?
Short flings, meaningless hook-ups or just having fun? The definition of Gen Z dating is up for interpretation.
Raised in an age that does not want to commit, care or address conflict, many Gen Z'ers are struggling with the intimate concept of dating and have no idea where to turn.
As Pourzahed reminds her peers, "It's difficult, but worth it…there are people worth your time and people who show you dating can be different. It's a rare gift, but it's out there."