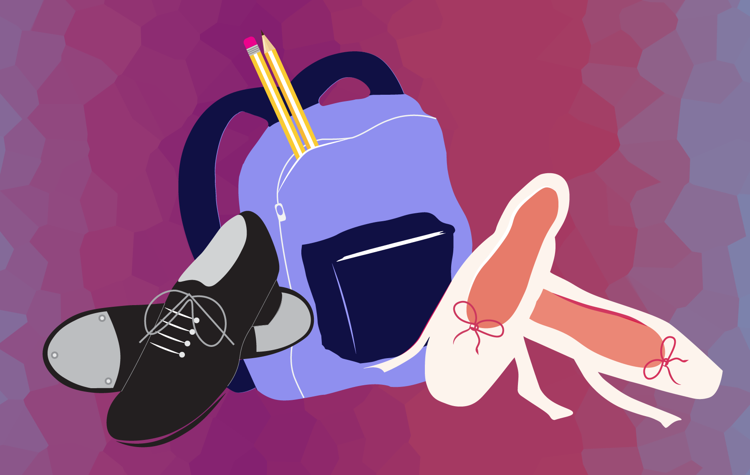 Nestled away in the basement of Alumni Hall is a dance studio. Unbeknownst to most, it's not for Western's dance team or any likeminded clubs, but for students enrolled in Western's very own dance minor.
The minor has existed since 2003, when the undergraduate dance program moved from the School of Kinesiology to the Faculty of Music. Barb Sarma, one of the current dance lecturers, actually helped create the minor after graduating with a BA in psychology specializing in dance from Western. She has been teaching the minor since its inception.
"When I was young I would choreograph large gymnastics shows and I absolutely loved the idea of creating movement and putting it on other people's bodies," says Sarma. "As I continued to study, I couldn't imagine not dancing, not creating, so it became a passion of mine."
The minor itself is comprised of a technical and a creative stream. The former includes intro to modern dance, elementary modern dance, intro to theatre dance and LA fundamentals while the latter stream has dance improvisation, movement making, and a basic and intermediate composition class. On top of that there are also opportunities for dancers to team up with a music masters student for their independent study.
Sarma's passion is equally evident in her students, current and former. She tells of alumni frequently sending her emails and videos filled with updates on their lives, often complete with a little dance. Sarma also says that while there are only 45 students enrolled presently, the courses themselves are full to overflowing, with Sarma usually taking on more than the 25 person limit for technical courses.
Current students Nicoletta Andreacchi, a fourth-year criminology student, and Kelly Martin, a fourth-year creative writing student, have both been dancing since age three and have deeply appreciated their time in the program.
"[The minor] is one of the reasons I wanted to come here so I could continue to grow my dance skills while pursuing other academics," says Martin.
Andreacchi's personal favourite course was dance improvisation for its "freedom of movement," while Martin preferred the dance composition course. Neither student sees dance as part of their future careers, but still as essential to their lives.
To those that are considering pursuing a dance education, Sarma spoke highly of the program's uniqueness.
"It's the opportunity to use your brain in a very different way than you would in other courses, because you are actively learning while you're moving instead of taking notes and memorizing them," says Sarma.
The dancers will have the opportunity to show the rest of campus what they've learned this Sunday, for their annual Studies in Motion show at the Paul Davenport Theatre in Talbot College. Several alumni are also going to be returning to perform. For Martin, it is the highlight of her and other dance students' years.
"It showcases the artistic talent that our students possess and it's kind of a broadcast of all of the incredible abilities that the dancers are able to show to the audience," says Martin.
Andreacchi and Martin stress that such a show could not happen without Sarma and the other dance lecturers, Pamela Eddleston and Dale Yoshida. It's clear that everyone involved with the program carries a blinding passion for the art of dance.
Studies in Motion 2018 will be held this Sunday, March 4th at 2 p.m. Tickets are $10 and can be bought here.