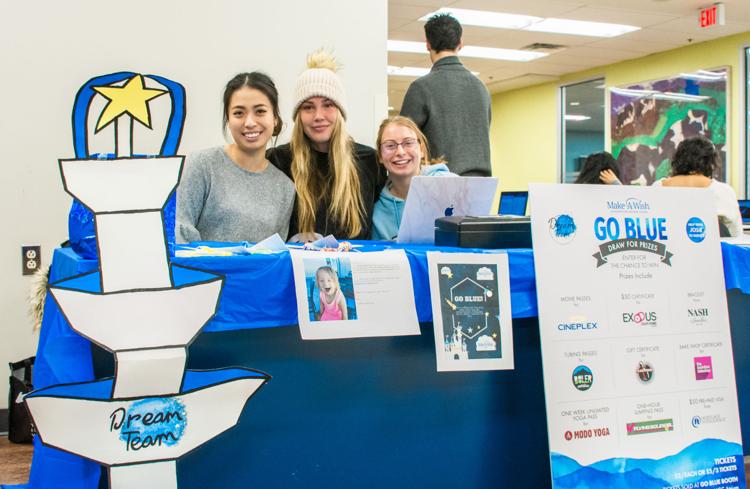 Since 1980, Make-A-Wish Canada, an affiliate of Make-A-Wish International, has grown and maintained their reputation of being the largest wish-granting organization in the world, providing over 480,000 critically ill children with granted wishes. From meeting star NBA players like Stephen Curry, to serving as Prime Minister of Canada for the day, the opportunities are endless with Make-A-Wish due to their constant dedication to enriching lives with happiness, vitality and hope.
Next on the charity's agenda, with support from the FHSSC Dream Team and operating under the Faculty of Health Sciences Students' Council, is granting a wish for seven-year-old wish child and London-native Josie. Josie's most cherished wish is to attend the Walt Disney World Resort, a wish that Western students are helping to become a reality with fundraising that started on Feb. 25 and will last until March 1 — the Dream Team's largest awareness week.
Although the official Go Blue Week campaign began Feb. 25, fundraising for Josie started last September. The Dream Team has hosted charity bar nights at The Barking Frog and The Ceeps, as well as a Krispy Kreme donut sale in the D.B. Weldon Library. In addition, Western's chapter of the Zeta Psi fraternity, Theta Phi, raised over $2,000 in November by organizing Rocktober, a sorority lip sync battle. Proceeds from the initiatives will be put toward sending Josie to Disney World on behalf of Make-A-Wish Southwestern Ontario.
For this year's Go Blue Week campaign, the Dream Team decided to open fundraising doors to the entire student body instead of limiting fundraising to faculties and varsity sports teams. Individual students are encouraged to assemble their own teams to raise a minimum of $150 by March 25. 
The winning team is eligible for many prizes and gift cards offered by London-based sponsors, such as Nash Jewellers, Boler Mountain, Modo Yoga and The Boombox Bakeshop. Raffle signups and prize showcasing will take place at the Dream Team's booth, which will be in the Allyn and Betty Taylor Library for the remainder of the week. 
"I've always loved kids, and cancer has impacted my family, so I thought it was a great way to give happiness to families struggling. When I was a camp counsellor, one of my campers was diagnosed and put through the Make-A-Wish program, so it hit home. So, I know how much this program positively impacts kids and families with cancer and other sicknesses," says Vanessa Coulbeck, Dream Team vice-president volunteer coordinator. 
Last year, a team of nursing students raised over $1,500 by organizing Kernels for Charlotte, selling popcorn to students in order to send a three-year-old wish child to Disney World. Moreover, the Dream Team transcended their involvement into the London community by coordinating last year's Scoops for Charlotte at the Marble Slab Creamery near CF Masonville Place.
The FHSSC Dream Team prides itself on organizing the annual Go Blue Week campaign for children like Josie, raising money for different wishes each year in support of Make-A-Wish Southwestern Ontario for the last five years. 
"What made me want to be involved in the Dream Team was that I know someone who has received a wish. I saw firsthand the difference it makes for the child and the family who receive each wish. I wanted to be a part of a team that can directly help make that happen," says the Dream Team's vice-president events, Megan Whaley.
All Western students are encouraged to participate in fundraising starting this week and continuing into the month of March by raising money with a primary goal of sending Josie to Disney World.