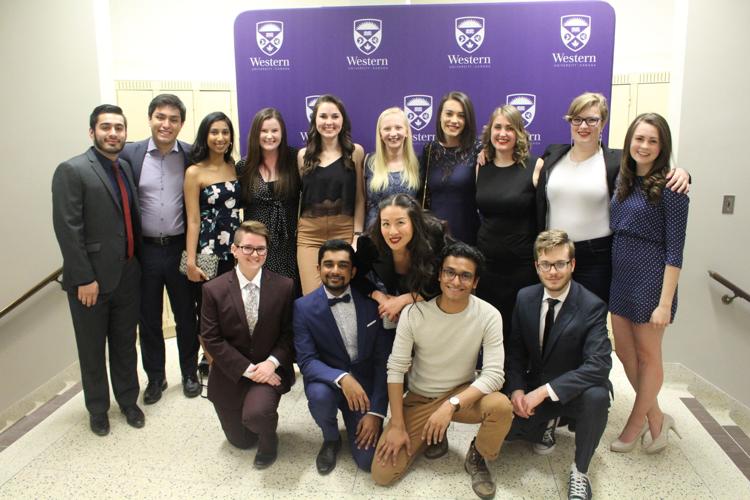 We all have opinions, and things can get uncomfortable when we don't agree with each other. But on Friday night, 14 students proved we can all bridge those gaps.
A School of Advanced Studies in the Arts & Humanities class gathered in Talbot College to screen their semester-long film production to a crowd of over 50 people. The class, taught by Lainey Lui, a gossip columnist, reporter for CTV's etalk and co-host for The Social, was all about gossip's social and political roots.
Dressed in cocktail wear, students and faculty mingled with each other, eating appetizers and sipping drinks, as if they were celebrities at a premiere night event.
The documentary short revolves around the students' experiences in professor Lui's course, Rumour Has it, but also their experiences as students in SASAH. It displays what the program offers students, but also what the students have brought to the program as a collaborative project. It visualizes the ups and downs, including the clashes, conflicts and discomfort that happen while discussing polarizing issues in the classroom. Ultimately, it was about how that discomfort can be translated into something productive.
"It was kind of just trying to encapsulate all the different emotions and experiences that we had over the course of this year... being in SASAH and trying to condense that into 10 minutes," said Julian Saddy, a fourth-year student.
"[The project] was emblematic of our journey as a cohort as a whole," said Levi Hord, fourth-year SASAH student and one of the coordinators of the film. "How we started off on the rocky side, but really brought it together and learned how to work with each other's strengths... and to be able to do that in a way that represented how 14 different people felt about it."
It took about four months and 14 students to put the entire short film together. Assigned as a class project at the beginning of the semester, the screening gave students the opportunity to showcase their experiences during their time in the SASAH course.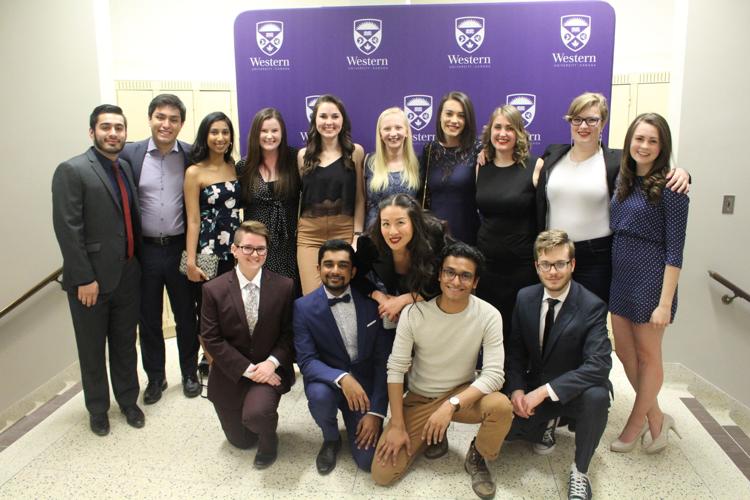 Lui says the film was inspired by the conversations the class engaged in about Hollywood and entertainment. According to her students, Lui discusses gossip in an academic way, showing that deep conversations can be had through gossip because politics and celebrities aren't so separate anymore.
"Until the Harvey Weinstein scandal, no one was talking about consent and sexual assault [and] the experiences that women have to go through on a daily basis," said Prem Sai Ramani, a fourth-year SASAH student and one of the editors of the film. "And it was gossip that put those conversations at the forefront."
The process involved a lot of hard work and dedication, and seeing it on the big screen was emotional for the students as they will be graduating and parting ways shortly.
"It was nice to see it finally premiere after working so long and I felt really emotional doing it as well," said Ramani. "But also, it was just a really great event to cap off our final seminar."
To end off the night, there was a Q&A session with the students leading the project, and audience members had the chance to receive more insight and background on the film's creative process and students' future endeavours.
Lui believes her students shouldn't just attend school to learn, but that they should share their learning with each other, and that's what the SASAH students are demonstrating in their film.
"That's the only way. With dual investment; we can move forward and create new citizens of the world," said Lui in an interview. "I don't think any of us are talking to each other enough and I also think that's what storytelling can do. Without a story, there can be no empathy, and without empathy, we can't move forward and we can't grow."