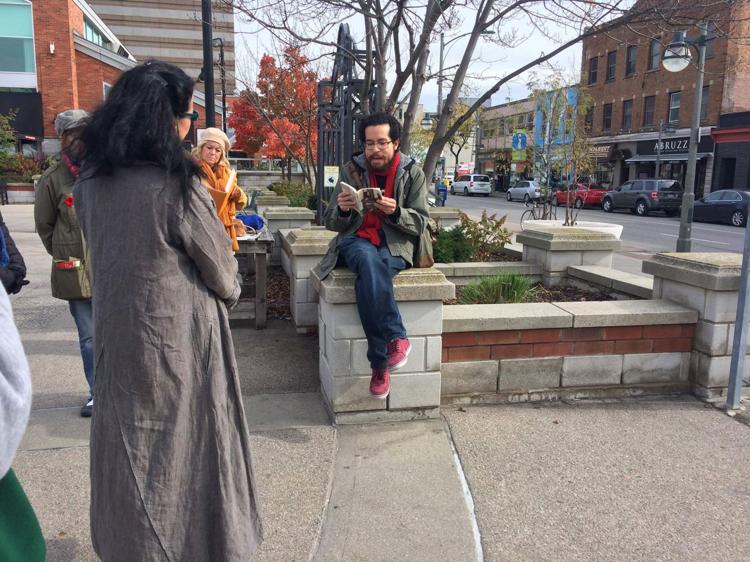 While you normally wouldn't associate guerrilla and poetry, on Nov. 4, just that happened, as a small group of poets took over downtown London.
Guerrilla Poetry was a part of WordsFest, London's annual literary and creative arts festival. On Saturday afternoon, a small group of London poets gathered downtown and took turns reciting poetry. While some recited their own works, others read aloud their favourite classics.
Jaime Brenes Reyes, Guerrilla Poetry's event coordinator, has been involved with the event since it first started three years ago. He said Guerrilla Poetry attracted him because he's from Latin America, a place with a history of social and poetic movements. 
"Poetry can be a powerful tool to get people interested in any cause," he said.
He said poetry can be especially important in places like downtown London, where passersby often see aggressive preachers yelling in the streets.
"It's good to combat that aggression with verse, poetry and kindness," he said. "This is all about the community and getting people to come together."
The group took turns reciting poems in different locations throughout downtown, starting at the Covent Garden Market. Despite the cold weather, a small crowd gathered to listen to the poetry being recited.
Joan Clayton, a London resident who has participated in Guerrilla Poetry since it first started, said poetry is a simple tool to share ideas and emotions, which is why people are often drawn to it.
"Anybody can write a poem, and I think we all might have a desire to write or to listen to poetry when we're feeling any sort of emotion," she said.
This year, Clayton read a collection of her own poetry as well as some of her favourites, including The Raven by Edgar Allen Poe. She explained that participating in poetry events throughout London has become one of her favourite hobbies over the last few years.
While many have participated in the event before, Guerrilla Poetry also creates a platform for those who aren't used to reading their poems in front of crowds. 
"I hope this will help me develop a little bit of courage when it comes to speaking out in public and making myself heard," stated Catherine O'Neil, who has only recently become involved in the local poetry community.
O'Neill explained that, while performing poetry in front of people can be intimidating, it's ultimately a rewarding experience.
"I'm new to London, and in just the year that I've been here, the poetic community has been so welcoming and wonderful," she said. "I'm very grateful for it."
Another of the guerrilla poets, Colin Lee, is also new to London's poetic community even though he's lived in the city for 17 years. For him, poetry has become a fun hobby as well as a way to meet like-minded people.
"Poetry is telling stories in a different format. There's just the fun of writing it and reading it and getting to share it afterwards," he explained. "People might get a chuckle out of these, which is all I can hope for."
Though the group of guerrilla poets was small, they brought poetry into the lives of every passerby — even if only for a few minutes.