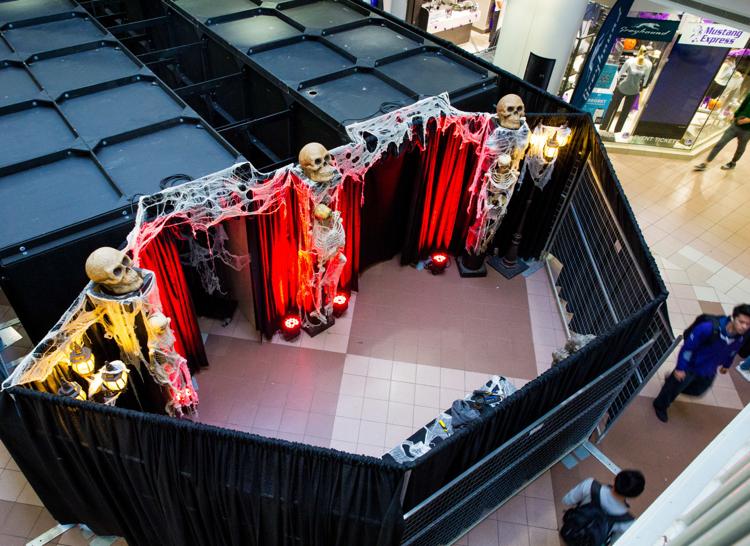 With Halloween approaching, Western is getting a little spookier.
The campus is prepping its annual haunted house, with the help of the University Students' Council's charity committee.
The event aims to fundraise for USC's Food Support Services, a student-run food bank where students can collect food anonymously. The event is open to all students for free, though they are encouraged to bring $2 or non-perishable food items as a donation to the food bank.
The long-standing tradition will take place from 6 to 9 p.m. between Tuesday, Oct. 22 to Thursday, Oct. 24 in the University Community Centre atrium.
Blaise O'Malley, a fourth-year medical science student who helped organize the event as the USC's Charity Coordinator, says this event is a great way to help the community and also have fun with your friends. 
"A lot of students don't know that Western has an on-campus food bank, and they also don't know that there are other students here facing food insecurity," says O'Malley. "So I think it's a really great event because it brings people together, it's festive in the spirit of Halloween, and also raises a lot of awareness about Food Support Services."
Students can also participate as volunteer makeup artists or actors inside the haunted house.
The haunted house is a long-running production and last year it raised just under $1,000 in monetary donations, plus many non-perishable items. 
O'Malley said they were aiming for more food donations this year, to help the food bank.
As the Haunted House is built up in the middle of the UCC, it's fenced-in and shrouded with black curtains. This year's theme hasn't been released yet, and O'Malley didn't give much away.
But she did promise a new escape-type theme. More information is available through promotional trailers online and the event booth in the UCC. 
"I remember doing it when I was in my first year and I went with my entire floor in residence and had a lot of fun! It's a great midterm de-stressor," says O'Malley.
Correction (Oct. 22, 12:35 p.m.): this article has been updated to reflect that the event raised less than $1000 last year, not more, and to add O'Malley's role in the USC.