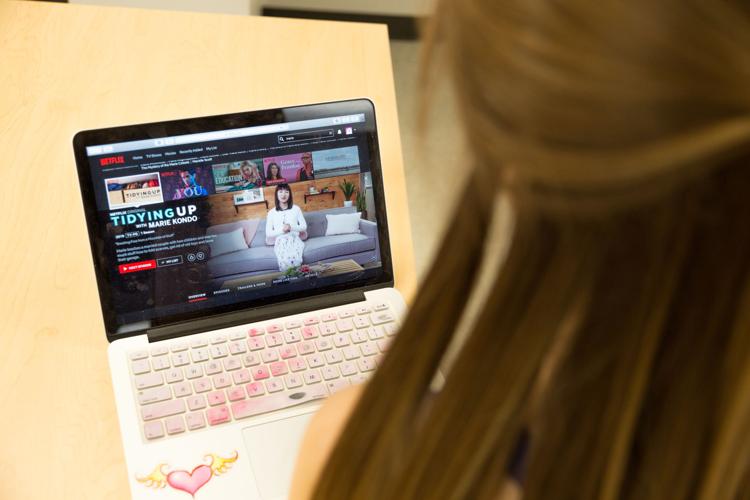 Her methods are ruthless, her stare unforgiving, and she has been referred to as the "messiah of minimalism." Standing at 4 feet, 7 inches, Marie Kondo is small, but she is mighty.
Kondo is Netflix's newest reality sensation, and she's taking social media by storm. Her show, Tidying Up with Marie Kondo, has aired in response to the immense popularity of her best-selling book, The Life-Changing Magic of Tidying Up: The Japanese Art of Decluttering and Organizing. The show has Kondo visit a different family in dire need of decluttering each week. Her relentless tidying has resulted in viral tweets, memes and articles with people both inspired and intimidated by her tactics.
Decluttering, minimizing and purging are not new concepts and many studies have linked minimizing to increased happiness.
In 2005, a study researched minimalism and its impact on happiness and well-being, finding that across populations, people who had fewer material goods reported higher life satisfaction and elevated positive emotions.
Fourth-year Western University software engineering and Ivey business student, Peter Aucoin, has been embracing the KonMari method since November 2018. Since he's started meticulously folding his clothes and decluttering his room, Aucoin has felt a level of freedom.
One 2011 study found that when the visual cortex (the part of the brain that processes visual information) becomes overwhelmed by objects, working efficiently and concentrating become difficult. 
On the other side of the spectrum, not everyone is so convinced by the power of minimalism. In an interview with CBC Radio in December 2018, Marvin Ryder, a marketing professor at McMaster University, adamantly stated that minimalism is a trend, cautioning people who are willing to hop on the bandwagon. He believes businesses selling minimalism are trying to capitalize on a market. In this case, individuals searching for methods to deal with internal turmoil are being sold the idea that organizing their surroundings will resolve this.
"This is how some people react whenever the world seems to be getting more complicated, more confusing," says Ryder.
Now, in 2019, with a net worth of $8 million, Kondo is monopolizing the minimalism market. She describes her mission as to "spark joy in the world through cleaning" at the beginning of each Netflix episode. It's no wonder she's referred to as a messiah; her tidying practices rival the 10 Commandments and have been coined "The KonMari Method" which consists of six rules tackling five categories:
The Rules
1)      Commit yourself to tidying up
2)      Imagine your ideal lifestyle
3)      Finish discarding first; before getting rid of items, sincerely thank each item for serving its purpose
4)      Tidy by category, not location
5)      Follow the right order
6)      Ask yourself if it sparks joy
The Categories
1)      Clothes
2)      Books
3)      Papers
4)      Komono (miscellaneous)
5)      Sentimental items
At first glance, the rules seem straightforward except for rule three, "sincerely thank each item for serving its purpose." Although unconventional, Kondo likes to think of wishing good riddance to inanimate objects as a way of culminating gratitude.
Aucoin believes that the "thanking" is an important step in the process, especially for those just starting to adopt KonMari.
"You shouldn't just toss [items] away because you no longer need them; you should realize you are letting them go and at one point they did serve a purpose in your life but that that purpose has since been gone," states Aucoin.
The sixth KonMari rule, "Ask yourself if it sparks joy," has also gained a lot of traction, with fans of the show branding it the "golden rule." The world of social media has joked that people should apply it not only to items, but to their job, degree and relationships. One Reddit user even posted that she "Konmari-ed My (Now-Ex) Boyfriend" saying, "he didn't spark joy at all anymore so, I broke up with him."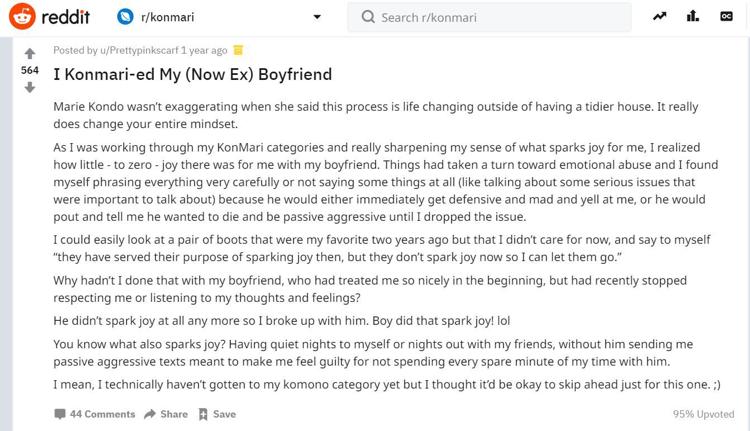 Although Kondo has received praise for her tactics, these extreme methods have also elicited some critics. For example, Kondo has a rule under her book category that one should only keep 30 books. Western professor Michael Gardiner strongly disagrees with this sentiment.
"Kondo's comment about books is deeply silly" says Gardiner, "Books should do lots of things — disturb, excite, challenge, frustrate, confound."
Gardiner's concern seems reasonable, as he raises the point that maybe not everything in our life should bring us joy. It's important for humans to live with diverse emotions. 
An interesting perspective to consider, but whether you agree or disagree with Kondo's mission, she has proven herself a force to be reckoned with, and if the KonMari Method is approached from an attitude of living more consciously among materialism, it's hard to go wrong.
"By having less, you appreciate more. Anything you choose to hang onto, you should invest in fully," says Aucoin.
And, hey, if you want to keep your 31st book, don't let Kondo stop you. Though, try not to let her find out — just to be safe.