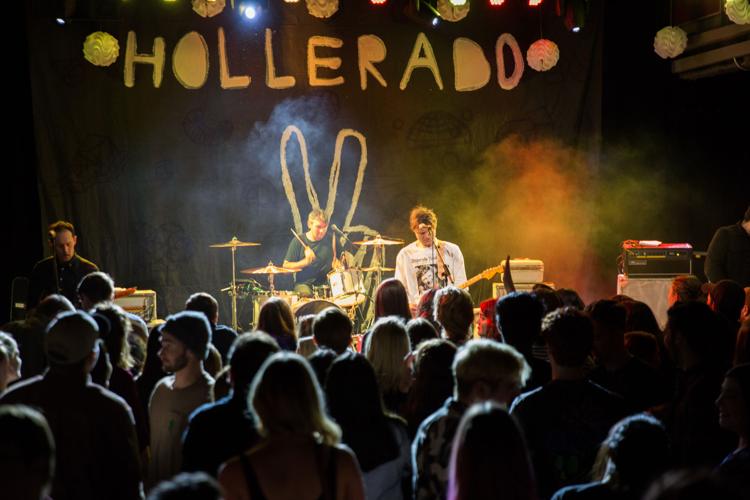 Even though it was their first show in three months, Ottawa indie-rockers Hollerado provided the perfect Thursday-night de-stressor for students, performing a psychedelic set with a number of light-hearted and well performed songs, humouring the crowd with hilarious stage banter and bringing out a couple of students to perform throughout the night.
On Nov. 22, the Wave was transformed from a chic, rustic restaurant into an intimate and energetic punk show hosted by Hollerado.
The versatility of the four-piece group was clearly evident throughout the night, with the band performing their recognizable melodious and energetic sound, which typically includes playful melodies accompanied by animated guitar licks and riffs. 
A powerful harmony was one of their strong points, with students dancing graciously to an upbeat "Grief Money," a slowed-down "I Got You," and the electric "Born Yesterday": all songs off their new pop-centric album Born Yesterday.   
By analyzing the energy of the crowd, it was clear that the Ottawa-bred indie-rockers' older songs from their 2009 debut album, Record in a Bag, took the forefront. A rambunctious "Juliette" — which was performed with the help of student-musician John Muirhead — is arguably the song that skyrocketed the band to fame, and the live performance had the whole room jumping in symphony. "Fake Drugs" set more of a calmer tone but still had the audience engaged, and "On My Own" provided and emotional outlet for the audience of 240 students.
The direct energy emanating from lead vocalist Menno Versteeg was clearly evident, with stage banter that kept the audience engaged between songs. In one instance, he poked fun at their tour mates Tokyo Police Club, jokingly calling them "crappy" artists and telling everyone to tweet at them to tell them they're bad. Versteeg was even able to get the entire crowd to be completely silent midway through a noisy "Eliose" while he and guitarist Nixon Boyd had a minute-long strum-off. 
The show wrapped up with the band performing a nostalgic cover of Blink-182's "Dammit," which left the crowd disoriented: the mosh pit was in full effect, and, somehow, students managed to get one crowd-surfer across the audience. 
Toronto-based punk quartet Bad Waitress delivered a zestful and raucous set consisting of songs from their first EP, Party Bangers: Volume 1, including a weary rendition of "Acid Brain" and a rigid and youthful "Let's Get Fucked Up" with furiously long guitar slides and a heavy reverb delivery that shook the entire restaurant, probably leaving students studying on the first floor below the Wave with veins popping out of their heads. 
Drummer Eva Moon's performance was astounding: her energy was supersonic while furiously drumming to the beat on "I Want to Die" and "Spit It Out."
Things were no different for the opening act, with Pacific Estate's drummer, Grady Evans, dripping with sweat by the time their set finished.
The Burlington-based band stepped onstage, and immediately, the mellow room transformed and became lively. Although there were only about 20 people in attendance, the band, led by Western's Cam Hart, brought the energy to the crowd to make the room appear fully saturated.
On vocals and guitar, Cam Hart was explosive. Although people were already dancing, his voice and the band's songs took some time to grow on other members of the crowd; after a few songs though, students were flailing their hands while dancing around and headbanging to songs, including an emotional "Second Chances," which works much better live compared to the album, and a heat-throbbing cover of All Time Low's "Dear Maria, Count Me In."
All in all, the event created an electric and buzzy mood in an intimate but uncommon punk-show setting.