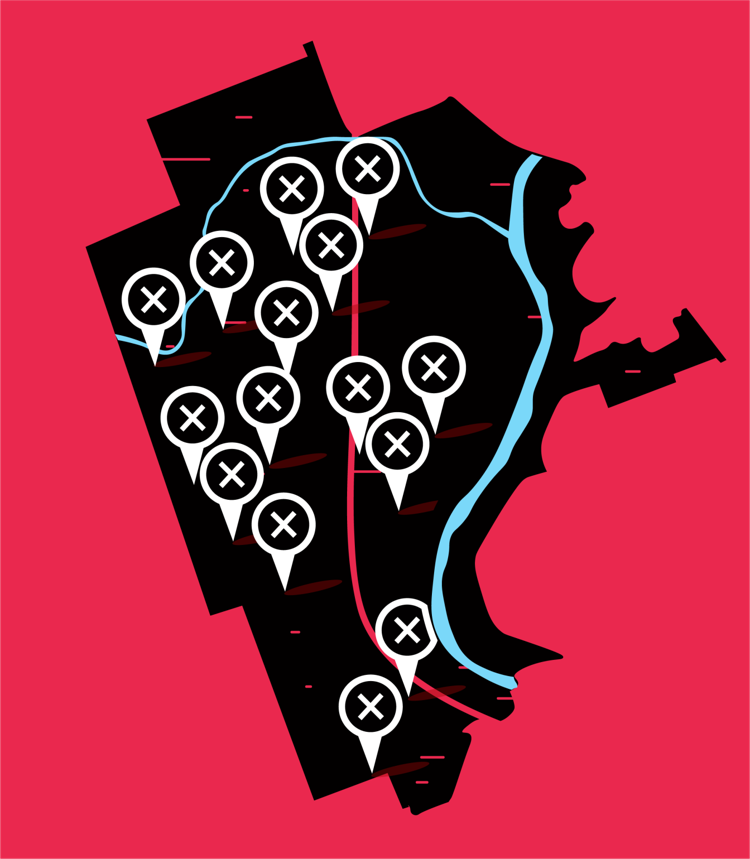 Content warning: This article discusses sexual violence against women. If you need support, call Anova's crisis helpline: 519-642-3000.
As a society, we are more aware than ever when it comes to social movements. Movements like #MeToo have created a culture of awareness that has prompted many women to come forward and share their stories of assault and harassment. Alongside all of this talk, different groups in London are taking action to bring the community together.
London has many existing resources, from crisis counselling at Western University to the London Abused Women's Centre. Despite efforts to curtail violence against women, these services are being used more than ever. According to Megan Walker, the executive director of LAWC, in the past year, they have served over 6,000 women, a 56 per cent increase from the previous year. Although it is a positive step that women are utilizing these resources, these numbers illustrate that violence against women remains a prevalent issue.
Sexual assault is rising in our communities. According to the Canadian Femicide Observatory for Justice and Accountability, a group that collects data regarding murdered women across Canada, between January and the end of August of this year, 106 women and girls were killed in Canada, predominantly by men. Fifty per cent occurred in Ontario and 33 of those women were killed by their intimate partners. According to those statistics, a woman or girl is murdered every other day in Canada. Walker cites these statistics in a media release, stating they "should be jolting."
"We can no longer minimize and ignore the lives of women and girls," Walker says. "We all have a responsibility to reach out and do what we can to ensure that women and girls live their lives in the absence of violence. And that's really what this campaign is about."
The LAWC pioneered the Shine the Light on Woman Abuse campaign, which aims to raise awareness and stand in solidarity with survivors of abuse. The LAWC encourages businesses, schools and community centres to "go purple" for the month of November. On Nov. 15, they ask individuals to wear purple to raise awareness for abuse against women. The annual campaign highlights and honours two women who experienced abuse: Shainee Chalk, a survivor of revenge porn, and Maddison Fraser, a young woman who was killed in 2015.
This coincides with the Ontario government's Woman Abuse Prevention Month. Walker says this is a huge show of support from the government, but she also states the importance of holding the government accountable for their actions. While it's important to listen to the experience of survivors, it's ultimately action that matters.
"We have high expectations of our government, not just to listen and give but to take action," she states. "We will continue to advocate that very strongly."
Along with LAWC,, Anova, a merger of the Women's Community House and Sexual Assault Centre London, has partnered with the city of London. Collectively, the pair is working towards making London Canada's third United Nations safe city.
AnnaLise Trudell, the manager of education, training and research at Anova, explains the project is currently in its first of five years, which involves collecting data about sexual violence in public.
"So that's putting some numbers and some understanding behind, 'What do we know about sexual violence in public?' We know a lot about private. We know about sexual assaults that happen in our homes and our spaces" Trudell says. "But we don't know as much quantitatively around what's going on in terms of street harassment, what's going on in terms of our workplaces, what's going on in our classrooms and our schools."
This data is being collected through a crowd mapping service called Safe City London. Through their website, Londoners can anonymously pinpoint where they feel safe or unsafe on a map of the city. These don't have to be instances of violence, although those can also be pinned. A spot on the map could be anything from inadequate street lighting to being honked at. There are anonymous questions to answer after pinning a spot in order to differentiate these incidents, but that information is only available to Safe City London.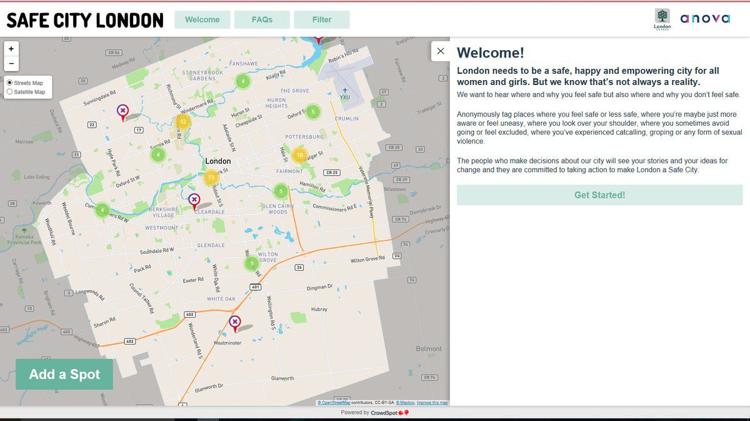 Currently, there are over 2,000 dots placed around London. The website will continue to collect data until late December, at which point the data will be presented to city council and inform the next four years of active change in the city.
"Actions can look like mandatory training for all bar staff in local bars. It can look like different awareness campaigns on our buses," Trudell explains. "It can look like policing of different areas in a different way. It can also look like doing different urban design, which is why having the city on board is really important."
Another goal of this partnership is to bring different groups together for a more coordinated approach. This means bringing new actors to the table, as the city has not previously been involved. Both Fanshawe College and Western are involved with this project, which is an important step in further integrating the schools into the London community. Trudell believes that this united approach will prompt the action needed to match the increased speech surrounding abuse.
"When I go into classrooms on campus and talk about consent and prevention, people's knowledge of the topic is way different than it was two years ago, but we're still having way less people report to the police than we actually were ten years ago," Trudell explains. "Our available services are going down and being cut. So in terms of actions, we're not actually seeing enough." 
Trudell encourages students to use the Safe City London website. With this data, the city of London councillors will be able to turn increased speech and awareness into tangible change.