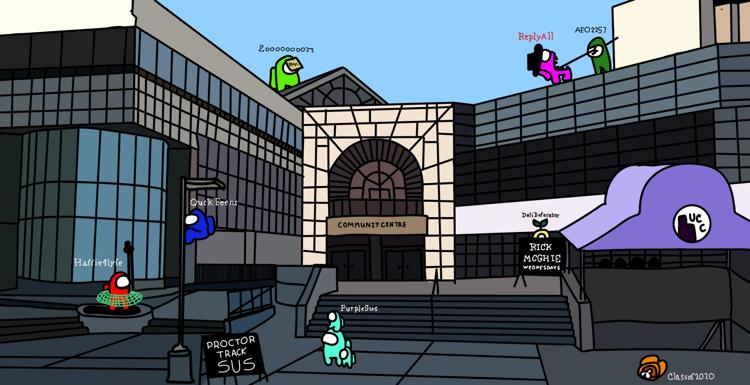 The idea is simple: you are on a spaceship with up to nine other crewmates, you must complete your tasks as quickly as possible to win the game. But wait — there's a catch. There is an "imposter," among the group whose sole objective is to sabotage the ship and murder everyone on board.
Whatever you do — do not be "sus."
In just over a month, the online multiplayer game Among Us catapulted its way out of obscurity as arguably one of the most popular games of this year. Despite its release in 2018, the video game amassed over 41 million downloads in the first half of September alone.
Since then, the game has only become more prevalent, regularly topping Twitter and TikTok trends, as well as maintaining a commanding position on top of the App Store's Top Free Games chart chart for over a month.
The multiplayer game, developed by Innersloth, follows a simple format: the player is either a "crewmate" or an "imposter."
Crewmates must complete their tasks as quickly as possible and decipher who the imposter onboard is. This is all done while the imposter tries to sabotage the ship and kill all the crewmates before they finish their tasks.
September 23, 2020
The game offers a distinct twist on the party genre, swapping out gaming skills such as pure talent and experience for less concrete tactics like manipulation and deceit. The best player is one who can convincingly assure the other crewmates that they are not the imposter.
Lauren Jarman, third-year music education student, echoes this sentiment.
"It keeps your brain active, while at the same time de-stressing. I feel like that's also why people like playing it," she explains. "It's entertaining and it's fun, but you also feel like you're doing something more productive."
This is one of the main appeals of the game — its distinctiveness.
Many other popular games on the market, such as Fortnite or PlayerUnknown's Battlegrounds, need the player to be of a certain skill-level to be competitive. These games can also be time-consuming and do not have the allure of being completed quickly in one-sitting — one match can even drag on for over 30 minutes.
Among Us is different.
"The game is very quick to play. You can sign up and play for like ten minutes, finish a round and then go do whatever you have to do," points out Jarman. "I think it's nice as well, if you're studying for three hours straight and you need a little break."
me self reporting in among us pic.twitter.com/QXRDAo3Jd7

— miss btrd (@ladybturd) October 18, 2020
Although distinct in its own right, Among Us offers a nostalgic experience similar to early 2000s online games, most notably Club Penguin. Similarities between the two games are uncanny, with colourful characters vying to complete tasks, mini-games and an engaging chat function. This gaming style takes players away from the stresses of the current coronavirus pandemic to more youthful, childhood gaming experiences, which may explain the game's newfound status as a sleeper hit.
And while ease of play, nostalgia and short game duration contribute to the game's rapid rise in popularity, one aspect cannot be overlooked — social media.
The game seeped its way into TikToks, viral tweets and countless YouTube videos. Speaking purely by the numbers, #AmongUs and other related hashtags amassed over 18 billion views on TikTok and over 1 million posts on Instagram. This is not even considering the millions of views Among Us-related videos garner on YouTube. This feat is even more astonishing since the game only entered public consciousness in early September.
Terms such as "imposter" and "emergency meeting" have taken on new double-meanings in everyday discourse. 
At Western University, Among Us has also entered the mainstream, however not in the way you might expect.
This academic year is especially difficult for student groups on campus, given the restrictions on in-person events. Playing games and socializing, while previously a staple of club events, have now become obsolete and difficult to execute virtually. Groups such as the Hong Kong Students' Association, EnviroWestern and the Faculty of Music Students' Council have capitalized on the immense popularity of Among Us and introduced the game as a part of their club events.
The latter of which sought to use the game as a unique way to provide students with an opportunity to socialize and make friends virtually.
Orko Oyon, third-year music education student and the commissioner-at-large for the FoMSC, brought up the idea of having an Among Us social event to Jarman, who is also the VP of events of the FoMSC.
"I also had a conversation with a guy who said that most of his classes are online and he couldn't really find friends. [Then] one day I was playing Among Us and I thought that maybe we should do this as a faculty mixer, so people can meet new people," says Oyon. "And that's when I brought the idea to Lauren [Jarman]. Among Us is a simple enough game that is accessible to everyone."
The two hope the event will help foster these relationships in a fun and entertaining way.
While the popularity of Among Us cannot be understated, the question still remains of whether it will sustain its popularity in the coming months or if it will fade into obscurity, just as quickly as it rose. 
Regardless of what happens, Among Us will remain an interesting chapter in this otherwise "sus" year.