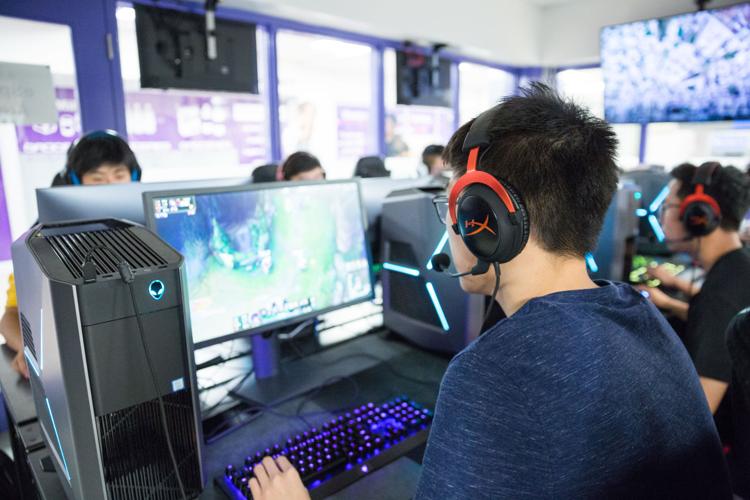 Down in the UCC basement, Western has built its own Crystal Colosseum.
Walled in by windows, between a pharmacy and a grocery store, it's an array of blinking black and neon rigs — 12 gaming computers Western University has plugged into campus for its eSports community.
The University Community Centre got its cyberpunk makeover in the tight space once occupied by the computer and cellphone repair shop.
Tristan Coysh, a web developer for Western Retail Services, oversaw the room's planning, construction and eventual opening.
"Gaming and eSports are really big, growing interests," explains Coysh. "And for a lot of people it ends up being a career."
The arena administration has pre-loaded dozens of the most popular multiplayer games such as Fortnite, Overwatch, League of Legends and PlayerUnknown's Battlegrounds. And more games could come by suggestions of students.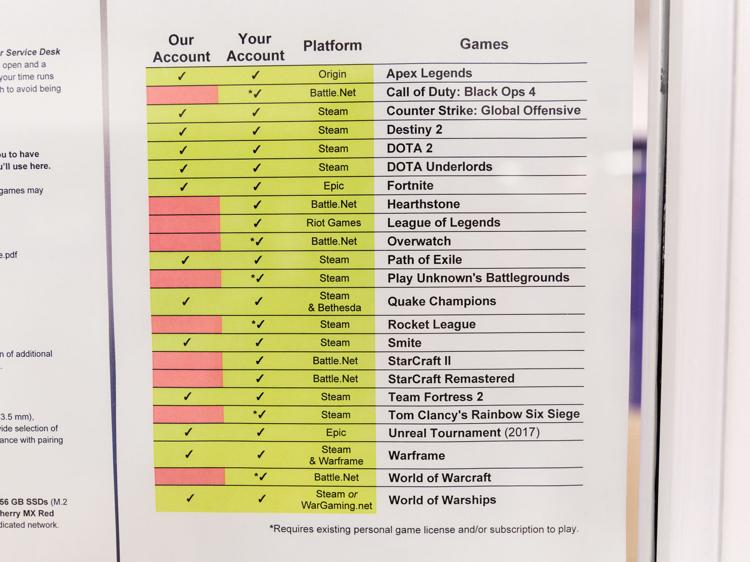 Games that require a paid license however, such as Rainbow Six: Siege, require students to pre-own the game on a corresponding account. They can then log in and use the arena's neon powerhouses to play on their home accounts, which are normally logged into a Macbook or a dusty tower from 2015. For less graphic-intensive games like League or DOTA 2, this is akin to powering a Victorian bicycle with a jet engine.
The current pricing scheme involves students paying for hourly sessions at the nearby Campus Computer Store. They can then load and use those hours on the systems as dictated by their arena account (account credentials are not tied to any student information but do require a username, password, and email)
The pricing model is currently five dollars per hour and three dollars per half hour.
The room is equipped with 12 custom-built Alienware desktop PCs; each of which contains an Nvidia GTX 2070 graphics card, Intel Core i7-8700 processor and 16GB of DDR4 RAM. Each system is also equipped with a hyperX Cherry MX Red mechanical keyboard, matching mouse and monitor.
The arena will be open to students from 11:30 a.m. to 6:30 p.m. on Monday to Thursday, and 11 a.m. to 4:30 p.m. on Friday. Then, students can use the hardware to play a wide variety of popular multiplayer games.
These hours can change during the course of the arena's current "soft launch" phase — until the grand opening on February 5th — and students can give arena supervisors feedback about its hours and gaming experience. Up-to-date operating hours and a list of playable games can be found outside the arena entrance.
Students will be sharing time on the rigs with campus esports athletes, who inspired the PC lab's creation.
Build it, and they will come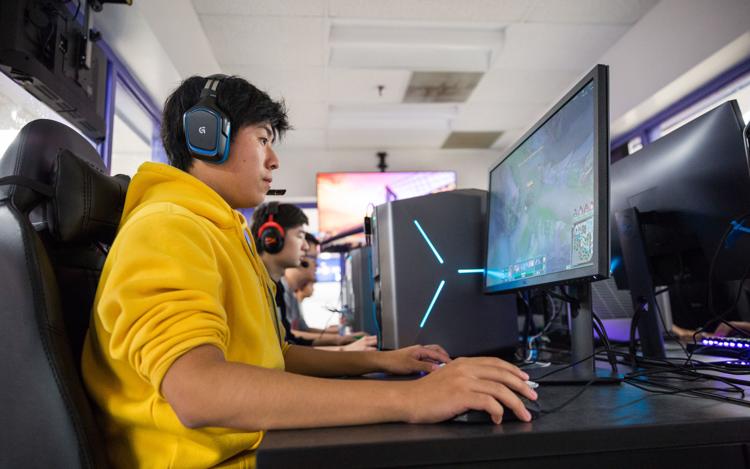 The initiative behind the room's rapid summertime launch was a combination of a growing interest in, and the underdog success of, the campus League of Legends team at their collegiate finals in May.
"[They] came to our attention and we wanted to move forward with a project to help support the team and engage the student body at large," explains Coysh.
Competing against the best schools in North America, the unsanctioned and un-sponsored team represented Western on the global stage for an audience of more than 25,000 live viewers on twitch.tv at peak.
The team placed second after an underdog victory against University of California at Irvine — the 2018 champions and one of the most heavily-sponsored teams at the event.
As a three-time eastern conference winner, and Western's team captain, Kyle Raposo has high hopes for the upcoming main season in January. The team is university-recognized now too.
"[We're] going by the official name Western Legends now," says Raposo. "Effectively it means that we're starting to make more progress with university administration, and we have a great working relationship with the computer store to help promote esports on campus."
Western, however, was not the only organization to take note of the team's success.
Golden Guardians, the affiliate professional eSports team of the Golden State Warriors, recently announced their Academy roster for the upcoming 2020 professional circuit. Among their members is Alex Gorica, a former Western team member and the Guardians' AD Carry (which is like a shooting guard or striker).
Essentially, a Western talent was good enough to get drafted into what is League's version of the NBA's G-League. In a game with millions of active players, a solid chunk of which have professional aspirations, Gorica's placement stands out.
While Academy players mainly play in their own league to train in preparation for the pro circuit, they also serve as substitutions for the team's main roster like most development leagues.
Western Legends will commence their main collegiate season on Jan. 25. Although no concrete plans are in place to stream the games to students passing by via the arena's window-mounted, outward facing TVs, Coysh believes it's the logical next step.
"We definitely want to move into more streaming," says Coysh. "Right now, just getting the room up and running and has been our primary focus; but the next step is for sure getting more streaming set up."
While the university has no formal expectations for the team despite their generous support, Raposo and his teammates are approaching this season with the same zealous ferocity that fuelled last year's championship run.
"We're one of the top returning teams from last season that pretty much everyone counted out and we proved them wrong," says Raposo. "We're definitely going to be coming back with a vengeance to win it for Western."