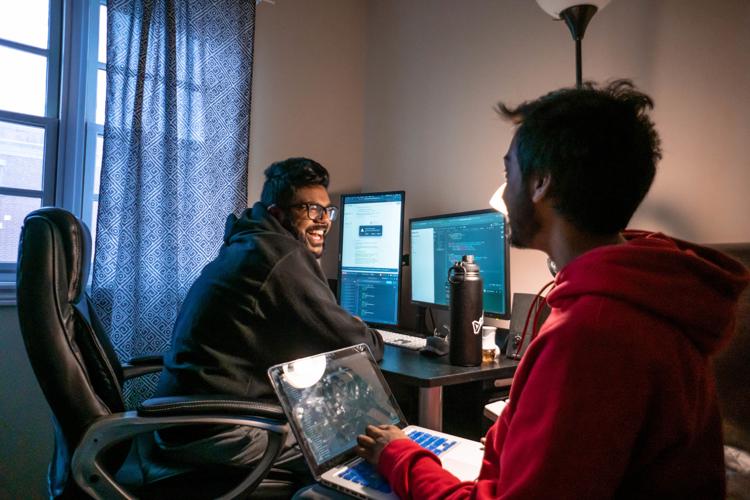 Having a roommate means sharing a washroom and kitchen and cooking meals together. Most of the time, it can be both fun and rewarding. However, sharing your living space with another is not without its difficulties. If you don't want to be the person who always leaves their dishes in the sink and parties obnoxiously until the small hours, here are some helpful tips:
1. Be friendly
It takes seconds to say a quick, "Hello, how are you?" to your roommate. It's understandable that not everyone is up for a full conversation after they've just rolled out of bed or if they're coming in from a busy day of work, but a smile and a friendly greeting will go a long way in keeping up good relations with your roommate. There is nothing worse than living with someone who always acts miserable and seems like they have no time to even acknowledge who they live with. 
2. Be clean
No one is expecting a student house to be spotless. We're all in the same boat, drowning in work and trying to balance extracurriculars and work experience with some semblance of a social life. Free time is not something any student has in abundance. But living with other people does come with the responsibility of being clean. So, if your dishes have been left for more than a couple of days, maybe take 10 minutes to wash them up; if your hair is clogging the drain in the bathroom, maybe take some time to unclog it for the benefit of your roommates. No one wants to go into a shower to find the drain blocked by a hairball the size of a fist. There's no pressure to keep your house pristine, but just make sure your living environment is comfortable and reasonably tidy. 
3. Be reasonable
If you're planning on hosting a party or pre at your house, it's always a good idea to check in with your roommates beforehand. Most of the time people are very accommodating and will let you party to your heart's content. But there are occasions, like if someone has an exam or an assignment due, when a party is not the best idea. If someone is kept awake until 3 a.m. by Kendrick Lamar on full volume when they have an exam the next day, you can expect to have a very angry roommate on your hands. Just be sure to ask in advance and be respectful of who you are sharing a house with. 
4. If you have issues, talk about them sooner rather than later 
If you have an issue with your roommate, it is much better to bring it up in a calm and reasonable way early on, rather than let it build up and explode further down the line. If it's a small issue that you feel like you'll probably just forget about, then by all means sweep it under the rug. But bigger issues will find a way to come to the surface. Most of the time people are understanding and will change their behaviour if they realize something is bothering you, so bring it up sooner, rather than later. There is nothing worse than internalizing all your issues with a roommate, you will just end up resenting them. Nip problems in the bud! 
5. Respect your roommates' space 
If your roommate is out and you need to borrow something from their room, it's always a good idea to drop them a quick message before you go rifling through their stuff. Always ask for permission before using your roommate's belongings or eating your roommate's food. There's nothing worse than coming home after a long day's work to find that someone has eaten all your leftovers and used up all your milk. It's soul destroying. Just try not to borrow things excessively, unless agreed upon. Stealing some shampoo if you suddenly run out is fine, but don't take advantage of the people around you. Also, knocking before you enter your roommate's bedroom can save you from a lot of awkward situations. 
Living with a roommate is a new experience for a lot of people, and although there may be bumps along the road, for many it is rewarding and enjoyable. After all, your roommate could be a best friend in the making!