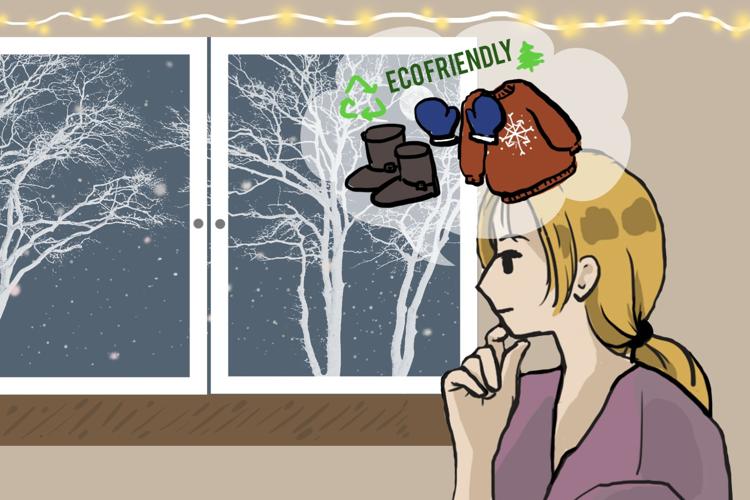 Fall came swiftly and as winter creeps over the horizon, the community waits anxiously to see just how much snow and slush campus will get.
With growing concern about climate change and impending environmental doom, individual efforts may seem menial, but there are small (and easy) changes you can make this winter to soften your carbon footprint and be ethically responsible. 
Natural fiber clothing
Bundling up is the best way to keep cozy in the winter,  but nobody likes walking into a heated building in their stuffy winter coat. Body odour and perspiration are often overlooked in the winter months, but it does happen, especially in those awkward outside-cold, inside-hot situations.
When looking for sweaters, keep natural fibers in mind, they are more breathable, which means they do not hold on to odour and don't need to be washed as often. Avoid synthetics like viscose, rayon, polyester and nylon, all of which are more common than you'd think. Not only do these fabrics stink, they are also harmful to the environment.
Polyester and nylon are by-products of petroleum, non-biodegradable, and like most other synthetic fibers, they create micro-plastic pollution when washed. 
Cruelty-free and eco-friendly parkas 
Not all man-made materials are bad. In the case of insulation for winter coats, innovations like lightweight down alternatives and recycled plastic have become popular in recent years.
A myriad of brands have found ways to use recycled materials  A rising clothing brand called Pangea offers jackets made from recycled water bottles with insulation from flower fibers. The North Face brand has committed to using 100 per cent responsible insulation in its parkas, as well as creating a new line of outerwear made from recycled plastics called ThermoBall Eco. 
Eco-conscious boots
For many, the most frustrating part of winter can be finding a pair of snow boots that keep your feet warm and aren't extraordinarily ugly or expensive. Luckily, the recent push for more economical and sustainable options has impacted the industry.
Hunter has always made vegan products, but they have now dedicated an entire section of their website to this cause, found under their 'Vegan Edit' tab.  Popular brands like Sorel, Columbia and Bogs also offer vegan styles. As most winter boots use plastic and rubber for their lining and soles, brands like The North Face and Merrell feature products made from recycled plastics, rubber and ethylene vinyl acetate (EVA). 
Wool alternatives
Wool can be hit-or-miss. While high-quality, ethical wool is a warm, soft, and sustainable, most wool products are low quality and stretch the material as far as it can go, resulting in a rough and itchy fabric. Sheep depend on humans to shear their coats and humans in turn use the wool for materials. However, the ethics of animal treatment is often overlooked. PETA investigations have found that mass manufacturers grossly mistreat animals, and while many wool producers claim their wool is cruelty free, it is hard to prove.
It may be best to steer clear from wool and opt for cotton flannel unless the wool is small batch made and certified by the Responsible Wool Standard. For your winter accessory needs, find products that offer hats and socks made of RWS wool and nylon blends, from companies who show concern for the environment.