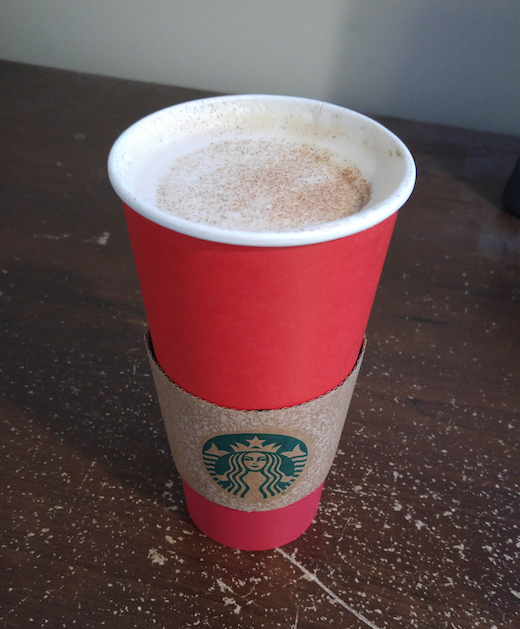 It's that time of year where pumpkin spice lattes turn into gingerbread ones.
As delicious as these drinks may be, no student is looking to break the bank on Starbucks prices. But, coffee addicts and tea drinkers alike will know how hard it is to stay away from the caffeine monolith, so instead, here are a few tricks to lower the price of your Starbucks order.
Bring your own cup
Not only does bringing your own mug help the environment, but it also saves you 10 cents on orders. Other perks to bringing your own cup include being able to comfortably drink on the go and keep drinks hot much longer than the disposable Starbucks cups maintain.
Free Refills
If you plan to sit around in a Starbucks for a while you could be eligible for a free refill if you order a brewed coffee — iced, hot or cold brew — or tea. Some locations may charge 50 cents if you are not a part of the Starbucks Rewards Program.
Cheap Ice Latte Alternative
An iced latte can run you around four dollars, but, there is a way to get a similar drink for almost half the price. Order three shots of espresso in a cup over ice. You can add the milk at the condiment counter for a discounted iced latte. 
Avoid Milk Alternatives
If your dietary restrictions allow you to order regular two per cent milk, it will save you a couple of dollars over time. Starbucks charges around $1.50 extra for milk alternatives such as almond and oat milk. 
Order the Correct size
Starbucks has a variety of sizes that you can save money by taking advantage of. For example, you could order a short instead of a tall or grande if you crave a bit of a treat. Also if you plan on ordering a drink with a friend, order a venti drink with two cups on the side — or bring your own — and split the cost.
Make your own drinks
The key to finessing Starbucks is to figure out exactly what you want. Try to avoid ordering specialty drinks directly from the menu and instead focus on the flavours you're looking for. For example, you can order a dark roast coffee with a creamer, syrup or sweetener to replicate one of the specialty drinks. You can narrow down what you want to order and the estimated price by going on the Starbucks website, looking through the menu and creating drink combinations to your taste.
By using these tips and tricks, you can get your coffee fix and save a few bucks down the road.