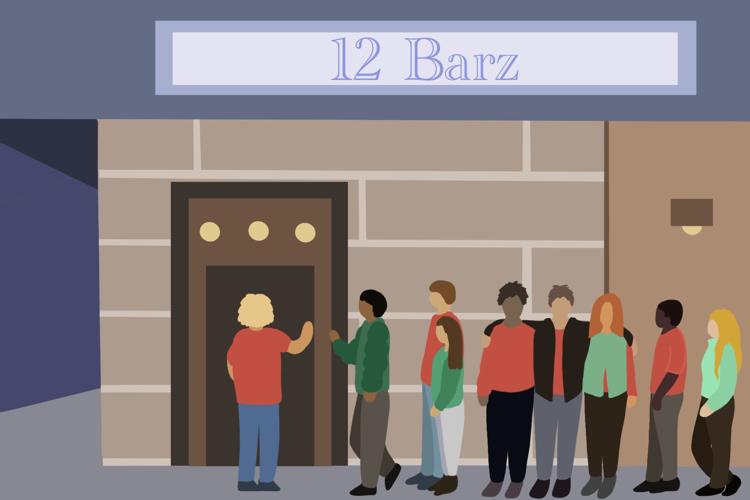 It'll soon be the most wonderful time of the year: 12 Barz.
The largest pub crawl in North America, taking place Wednesday, Nov. 27, started in Waterloo in 2004, and has since expanded to more than 30 cities. Over 45,000 people have taken part in this tradition since the event's inception.
Every year, participants receive a red or green t-shirt with a list of tasks to complete. These tasks range from going live on Instagram to taking a body shot.
Though not impossible, 12 Barz is no easy feat. Here's a guide on how to actually "win" this challenge.
Find people with high tolerance
With the purchase of tickets, you select a team to join. Each team travels to different bars, with all the teams finishing at the final bar all together — if you make it, that is. This year's event will have 14 teams to choose from, with 125 to 250 people on each team. 
Go with friends who have a higher alcohol tolerance (and are responsible), and you might make it to all the bars. 12 Barz is a long night with a lot of booze, so you'll want to maximize the time for you to complete the challenges by going earlier.
Dress practically
This year, the pub crawl is going to six bars on Richmond Row, including The Barking Frog, The Ceeps, Jacks, Warehouse, Revolution and Tabu. The lines are usually pretty long to enter the bars, so you'll be waiting in the cold for extended periods of time.
However, once you get inside, you'll feel like you're in a sauna — there'll be so many people in close proximity that you'll feel like you can't breathe.  
As you'll be going from two drastic temperatures, you may want to consider an outfit that'll provide some warmth in the cold, but is easy to take off once you get inside.
Getting hypothermia or paying $3 for coat check six times definitely won't be the highlight of your night. 
Be open to trying new drinks (but don't blow all your cash)
12 Barz also tasks participants with drinking 12 shots from a selection of drinks to complete the challenge. The previous year's selection of shots included polar bear, viva puff and Jägermeister. Bars will also offer specialty drinks and deals, ranging from three to five dollars per drink.
While you might try all the shots and drink some other liquid courage, be mindful of how much you're spending. You'll need enough money at the end of the night for an Uber home.
Meet new people
A lot of the challenges involve interacting with strangers, like kissing a random person and buying new friends a drink. 
Don't be afraid to open yourself up to new people; you may meet your newest drinking buddy. Just make sure there's always consent in all the tasks you do.
Combine all of these, and you've maximized your chances of winning 12 Barz. What exactly do you win? A hangover that'll last you until exams start. But hey, you'll have memories that'll last your whole undergrad — if you remember anything the next day.