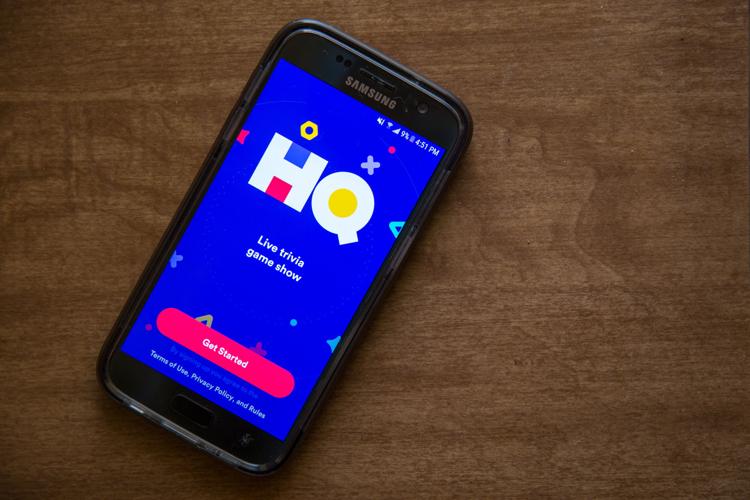 It's 3 p.m. at the Spoke, and the throwback playlist that usually fills the room is deafened by the voice of Scott Rogowsky. It's like a scene out of Black Mirror: groups of students forget their upcoming midterms and huddle together to listen to the commands of the man in their phone. 
Meet HQ, a live trivia show app where you can win real money. The catch? There isn't one. 
To win, you have to get past 12 questions with three multiple choice answers to choose from. The questions range from laughably easy to obscenely hard.
First-year media, information and technoculture student, Zach Mckone, cites HQ's millions of users as one of the reasons he loves the app.
"I loved showing my friends and family [the app]. Watching everyone take 15 minutes out of their day to come together and try to win is magical," Mckone says. "Even my anti-technology nana loves the app."
Sometimes, you start off with a question about fidget spinners and end on a question about Epipremnum aureum, a flowering plant also known as devil's ivy. If you win, you either split the cash with the other finalists, or if you're the sole winner, you take it all for yourself. 
The show is normally hosted by comedian Scott Rogowsky; although they sometimes switch it up with big names like Jimmy Kimmel or Bert from Sesame Street. The live game show takes place daily at 3 and 9 p.m. on weekdays and 9 p.m. on weekends. The cash prize typically ranges from $2,000 to $15,000, depending on the night.
The app was created by the same minds behind the app Vine. HQ has grown rapidly over the year, with games typically including over a million live users. 
On a night with a $12,000 prize, only two people won. The two winners go by JaimieLovely and caseydonahue, and they now top the all-time leaderboard with $6,000 in winnings each.
Stuart Brown, a fourth-year global economics student at Western University, has experienced the thrill of winning.
"It felt awesome to win. I was nervous by the last question, and I was scared the app might crash," says Brown.
Brown only won $4.87 playing HQ, but the pride in winning is what matters most. "Being one of 411 winners out of almost a million people is cooler than the five dollars."
But sometimes, for Brown, it's a group effort. When he does play with others, his strategy is to have his friends all choose different answers if they're unsure. 
"I play [HQ] because the trivia is fun and it's unique how everyone is getting the same questions at the exact time instead of preset trivia," Brown says. 
Mckone and Brown learned of the app's existence by word of mouth, and like the many Western students who play, they're hooked. 
So whether you win $4.87 or $6,000, you may be looking at your next round of dollar beers.