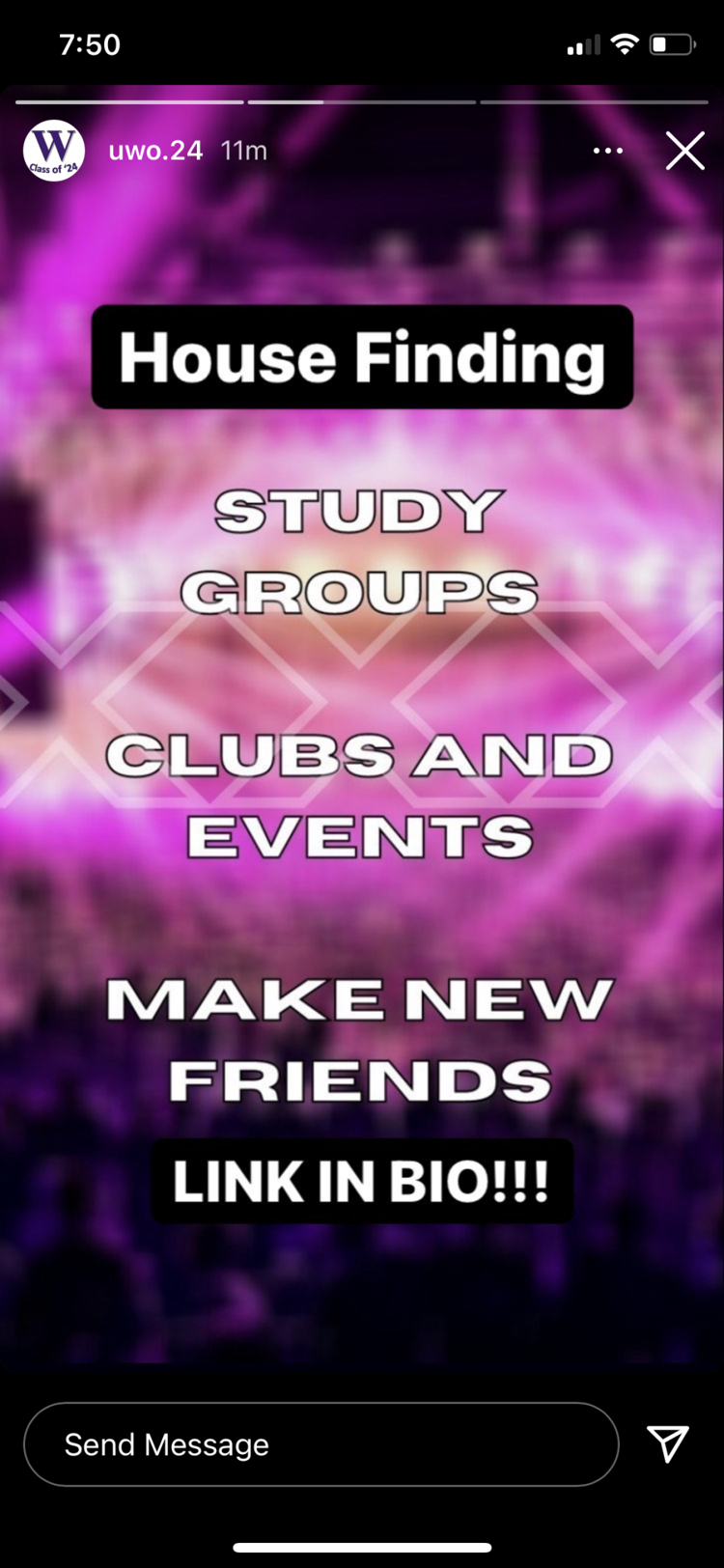 From jokes about online classes to drinking games, partying accounts on Instagram have a reputation of reposting anything and everything wild — even sometimes questionable.
But these accounts — university-based Instagram accounts that repost videos of students' drunken shenanigans — have taken a turn this year. With the coronavirus putting a damper on social interactions and stern advice from the university and public health authorities, the creators of prominent party accounts have taken a step back from snapshots of crowded bars and adapted their role.
Walking a fine line between partying and the pandemic, the uwo.24 account administrator, second-year Business Management and Organizational Studies student Daniel Hubbard, says he is more conscious about what he posts. The private Instagram account was created for first-years — the class of 2024 — and boasts almost 9,000 followers.
Hubbard hopes to promote safety among first-years by shifting the focus away from partying in residence, while still trying to develop community.
"Yeah, I'm a party account," Hubbard says. "But this year is different."
With the pandemic, the account has expanded the content it reposts — now advertising public health information from the Middlesex-London Health Unit among submitted videos. Well-established party accounts, like Western Savages with 38,300 followers, also reposted health unit guidance in September, when Western was first struck with a student outbreak.
Additionally, the account owner says they filter their feed, only posting videos and photos if people are wearing masks or are in small enough groups. There have been instances where the account didn't repost videos submitted by students due to COVID-19 restrictions.
"I don't want to see a stupid amount of people in the video," Hubbard says. "It's not happening. If I see a bunch of people without masks … I'm not posting that because I'm not encouraging that action."
Only days after the Saugeen-Maitland Hall outbreak, the partying account posted an Instagram story condemning residence parties.
"I'm … hearing about people continuing to party even now," reads the uwo.24 account story posted the same day as the Perth Hall outbreak. "Willingly and knowingly putting others in harm's way, as well as seriously affecting others' lives through selfishness is not okay."
As an alternative to partying, the account has changed course and promoted other social opportunities for first-years, such as a chat room, to help people connect, find housemates and study groups. 
"I think one of the most beautiful things about this account … [is that] some of the content that gets posted, a lot of the times it's not [from the account owner]."
During a year where normal social interactions are non-existent, the uwo.24 account has expanded its role beyond the realm of a traditional partying account to emphasize social connections — something that is paramount to the first-year experience.