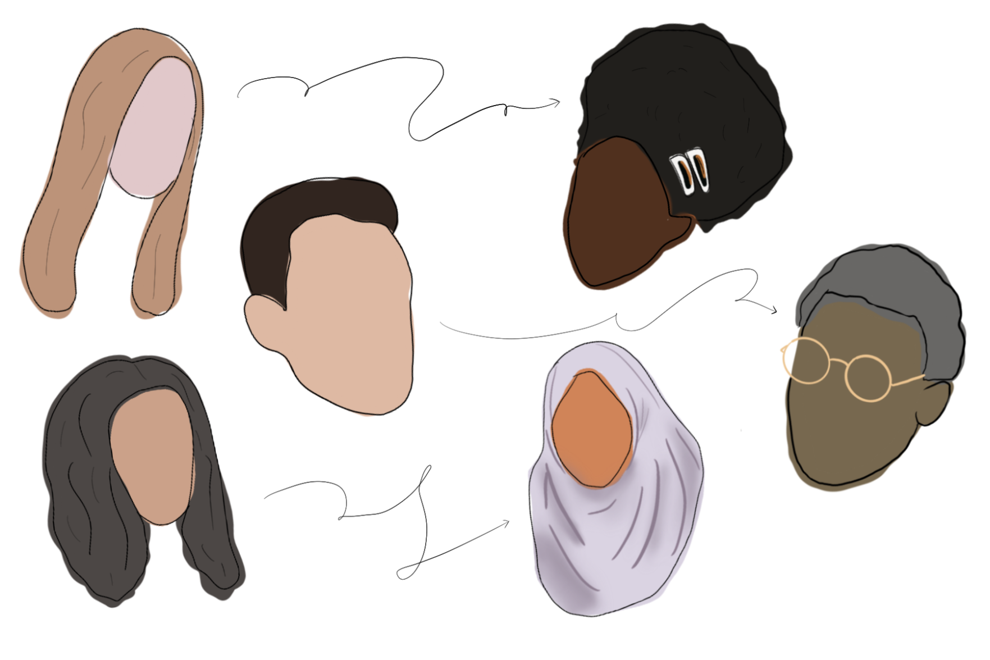 The beauty industry is worth an estimated $532 billion. Streaming services dominate our screens, with Netflix alone boasting 183 million subscribers worldwide. And even with a global audience, beauty and media industries continue to cater to Eurocentric beauty standards.
And this emphasis on predominately white features impacts daily life: makeup companies face controversy for limited shade ranges, 78 per cent of models worldwide identify as white and few diverse television shows exist. This has ingrained children with inaccurate standards of what is and isn't "beautiful."
"I was the only Indian person in my grade until Grade 6," says second-year management and organizational studies student Jasleen Dhillon. 
She grew up in a predominately white school, where her looks deviated from the norm.
"I would get picked on because I looked completely different than [the white girls]," she says. "White girls had more structured, thinner eyebrows. I had dark, big eyebrows and I was really self-conscious of that. I had a unibrow and I had hair on my arms and you can see it."
Like many people of colour, Dhillon saw white-beauty as the only accepted kind growing up. She recognizes how years of bullying warped her perception of beauty and, at times, ostracized her from her culture.
"I was so young when I started shaving my arms and I was so self-conscious about things like facial hair and unibrows that I would sit in school [with my hand over my face] just so people wouldn't see my face," Dhillon explains.
The effort to blend in London meant leaving behind parts of her family's culture.
"When we went out to events, my mom and my sisters wore our cultural dresses and I would not," says Dhillon. "I would hate to wear it, because I thought it looks ugly and no one else is wearing it."
"I still feel … I'm influenced by it. Like 'oh I don't want to go in the sun, I don't want to get dark.' Or 'oh I got to do my eyebrows every week to make sure they're not messy.'" 
The persistence of Eurocentric beauty standards — that being Caucasian is the universal ideal and anything that deviates from typically white features is undesirable — is an active attack on the self-esteems people of colour growing up
Sophie Wu, a second-year math and School for Advanced Studies of Arts and Humanities student, grew up in a white neighbourhood in Oakville.
"I remember I didn't realize I was Asian until fourth grade," Wu says. "It was a lot harder for me to think of myself as attractive or good looking. As a kid, it didn't matter too much, but it wasn't until puberty hit that I was like 'ah fuck. This might matter.'"  
While her 12-year-old sister is able to see people who look like her on television — like in Kim's Convenience and Crazy Rich Asians — Wu couldn't relate. 
"She does this thing where every time she sees an Asian on screen she's like 'oh look, that's an Asian' and I never got to do that as a kid," she explains. "You would watch TV and read magazines and see that no one was Chinese. I think London [Tipton] from the Suite Life of Zack and Cody was the only Asian character I saw on TV, and she wasn't a super multi-dimensional character."
According to a study by Nielsen, a company that studies media representation, people of colour people make up 39.5 per cent of the population of the United States but represented 27 per cent of characters on television. In contrast, their white peers are represented more than 80 per cent on television, but only total 60 per cent of the population.
And although some representation does exist, it's often lacking. 
Tyrese Walters, a third-year music and political science student, noticed that representation of Black people is often pigeonholed. They looked and acted completely different to how he identified as a Black person.
"I think that the media portrays specific stereotypes, especially around Black men in media always being the strong, burly, big-type, masculine [and] athletic," says Walters. "That's something I would always see in TV shows, like with High School Musical's Chad. I was so young watching that and people would always liken him to me because I was tall and Black."
Colourism, colonialism and archetypal characters revolving around people of colour are not limited to North America. Zahra Fatina, a third-year health studies student, grew up in Bangladesh and lived in a multicultural neighbourhood upon moving to Canada. While she didn't feel ostracized as a child and in Canada, returning to Bangladesh was a different story.
"Growing up I was told to stay out of the sun because it would make me darker," explains Fatina. "I was around 12 when I went back to visit home for the first time, and the first time I saw my grandmother she was very upset with me because I had spent the whole summer playing in the pool and I was really dark, and she wouldn't talk to me for a few days." 
"It felt weird experiencing those European beauty standards not just from a Westernized country but in a country in the south," she says.
European beauty's tied to looking forever young can be traced back to the rise of Christianity in the Middle Ages in Europe. Blonde hair, fair skin and blue eyes was considered "the light of God," according to Mark Tungate in his book, Branded Beauty: How Marketing Changed the Way We Look. Lighter skin was also considered higher class, as it meant people did not have to work in the sun as opposed to their darker-skinned counterparts.
When the European colonizers went to Asia, Africa and Latin America in the 15th century, they brought these white beauty standards with them. When the colonizers left, their legacy had already cemented itself in these cultures.
"I remember one summer I was out for too long, and I was crying before I had to go to school because I was like 'people already think I'm dark and ugly and they're going to think I'm darker and uglier,'" says Dhillon. "After that summer, I tried to avoid going in the sun, [that was] when I was 10."
While the effects of colonization continue to ripple through modern society, people of colour are finding subtle ways to reclaim their culture. Walters does so through his hair.
"I would always cut my hair really short," Walters says. "I never thought anything of it, I just thought that I liked my hair short and preferred it that way. I was making excuses for myself. As a musician … I wanted to make my own image and be my own person. I don't want to be the next Khalid, I don't want to be the next The Weeknd, that's not who I am. I wanted to take back and own my hair in whatever ways I want to." 
Fatina's experiences with Eurocentric beauty standards led her to pitch and co-run Ethnocultural Support Services' The Colour of Beauty campaign. The goal of the campaign was to encourage students to challenge Eurocentric notions of beauty and appreciate ethnic features.
"We really wanted to uplift BIPOC students and people in general because beauty should not just be one thing," says Azza Osman, a third-year nursing student who was also in charge of The Colour of Beauty campaign. "There's beauty in all different types of features, and we tend to forget that because we live in a society where you need to have straight hair or a certain nose shape."
While representation has increased in the media and beauty, Wu explains the best way to have better representation is through highlighting authentic stories.
"A big part is telling more authentic Asian stories and more stories Asian or BIPOC people can relate with in general, because generally their voices have been excluded," says Wu. "So I don't think it's enough to say 'we want more people cast in specific races,' that doesn't lead to anything other than BIPOC kids saying 'oh that's me on screen.' We need more than that."
Streaming services like Netflix and Amazon Prime Video are starting to introduce people of colours' stories, like Netflix's Never Have I Ever and Malcolm and Marie. Amazon Prime Video also committed $1.3 million to support BIPOC Canadian television and film production.  
While this shift in the streaming services is a great start, Osman notes that there is still more that needs to be done.
"There's still much more [room for] improvement," says Osman. "I feel a lot of racialized groups are portrayed in certain ways on television still, like in terms of Black women, or colourism, or having certain features. Although BIPOC people are being portrayed more, there could still be more inclusivity among that, [including] improvement in terms of intersectionality."
"I want the next generation of children to grow up with a more inclusive idea of the world," says Fatina. "I want to see more [LGBTQ2+] representation with BIPOC. Not having them there for a specific trope would be something I would value, but I think the steps being taken now are something to celebrate."