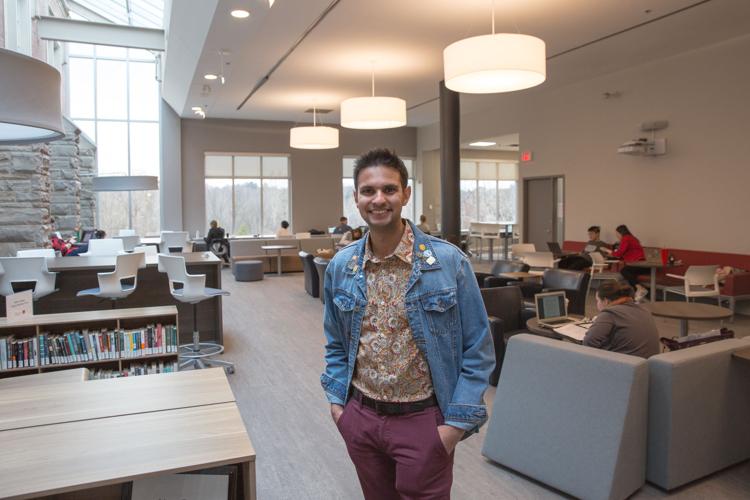 Inam Teja visualizes the week ahead and then meets his goals.
Game-planning life's hurdles this academic year supported Inam while he balanced being Huron University College Students' Council president, chair of the University Students' Council's advocacy standing committee and – as he says, most enjoyably – captain of his intramural water polo team.
"The only thing stopping me from doing everything I want, a lot of times, is myself," the fifth-year global studies and Ivey business student says.
Our campus community drives Inam in these pursuits. A soph in his earlier undergraduate days, Inam's favourite thing about Western University is the people. And in return for his immense service, his peers offered something in return: the nomination and win for our 2018-19 Student of the Year.
Inam says he's elated to win the award (without even knowing about the gift card or the T-shirt). The feeling of having others' beliefs is a driving force for Inam and one he knows well.
"It's always the best feeling in the world that people trust you to look out for their student dollars or execute on their interests," he explains.
People might remember Inam from a satirical attempt to take student interests to the artificially intelligent side of campus life with Team AI. Partnered with Faculty of Information and Media Studies president Ariana Magliocco, the pair presented an alternative to the traditionally high tension University Students' Council elections.
As an opportunity to draw peers into the political sphere (including a Reddit AMA), as well as a vehicle for taking himself less seriously, Inam describes the campaign as the highlight of his year.
Privately, time spent with friends, whether through breakfasts and dinners, board game gatherings or weekly euchre nights, keeps Inam focused on what matters. As a fifth-year — or as he remarks, "the old guy" — Inam's watched his graduated friends begin new chapters. But he remains focused on the now, and entered this year determined to balance a life that left out the extra, unnecessary slots on his schedule.
Publicly, given his senior political role on campus, this has looked like advocacy. Inam's work pressing to improve campus, along with a heightened attention to the Ontario government's effects on daily life — such as from repealing the sexual education curriculum — placed an onus on him to effectively perform.
He recognizes the needs of others. He also sees himself as someone who can address those needs. This is evidenced by Inam's upcoming fellowship, where he'll support the economic development of a remote Tajikistani town.
In his early 20s, with a strong educational backing and healthy family, Inam believes now is the time to deliver on his potential to global society.
More specifically, he wants to help people defy the odds. As a "not straight, not white, not exceptionally wealthy" fraternity member (who also doesn't drink), he's used to challenging the norm. 
In a few months, he'll depart Western and the community he loves. Though in turn, he'll find more groups who can use his passion for people and service. And he wouldn't want it any other way.
"What I want to do with my life is really deliver prosperity to the people who need it most," Inam says.
Student of the Year voting was open to the campus community online from March 29 to April 4.