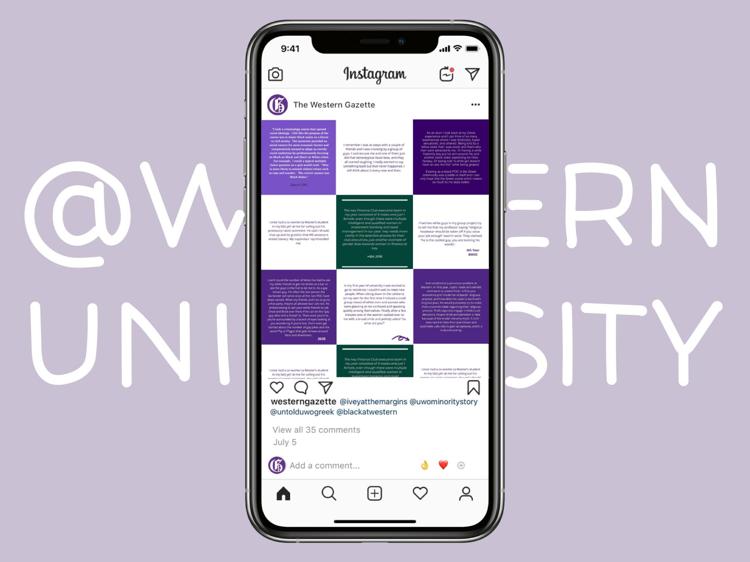 Content warning: this article includes quotes with racial slurs.
"I was a Black student at Western. In my first year I was excited to be in one of the 'party' residences. One Sunday morning, my friend walked into our floor study room and saw in angry capital letters, scrawled across the whiteboard: KILL ALL [N-words]"
This was the first of many anonymous responses submitted to UWO Minority Story, an Instagram page which shares students' stories of racism and discrimination at Western University, sparking a renewed awareness of racial injustice on campus.
The page has amassed nearly 4,000 followers since it was created over the summer and inspired a slew of similar pages, each seeking to discuss discrimination at Western.
In a matter of days, pages such as Ivey at the Margins, Black at Western and Untold by Western Greeks emerged, providing more platforms for students looking to share their stories.
Even beyond Western, schools such as Queen's University, McGill University and Dalhousie University have seen their own iterations of pages documenting discrimination.
Vanessa Patterson, a Western alumna, created UWO Minority Story after seeing the Black at Harvard Law account, which was created to call attention to anti-Black racism at Harvard Law School.
Patterson realized that racism in post-secondary institutions was not solely an American problem, acknowledging the role Canadian universities play as well.
Although these pages seemingly spawned overnight, they are a product of the advocacy by Black individuals in society and their calls to change the oppressive status quo.
International news stories over the past few months have brought conversations about discrimination and racism to the public consciousness, specifically addressing anti-Black racism. These discussions made their way to Western through the work of campus cultural clubs and president Alan Shepard's Anti-Racism Working Group, the latter of which provided documentation of racist incidents experienced by students and staff on campus.
These discussions created the perfect opportunity for the Instagram pages, as they now had the momentum and the wider public awareness to have these serious conversations.
Despite the page's  popularity and national media attention, Western has not addressed the allegations and did not provide comment when asked.
Since the first post on July 8, the page has published nearly one hundred submissions, ranging from inappropriate microaggressions to overt and blatant acts of racism. At the time of publication, the account has 89 posts.
And while Patterson reads the experiences of others, it was her own endurance of racism during her time at Western that inspired her endeavour.
She recalls the lack of accountability taken by her residence advisor when she and her friend found the words, "kill all [N-words]" in a study room at Saugeen-Maitland Hall.
"What ended up happening is [my residence advisor] didn't take any pictures to have evidence," explained Patterson. "I don't know if the residence manager ever heard about the incident, but I was never spoken to. The four Black students on the floor, no one followed up with them and that was the end of it."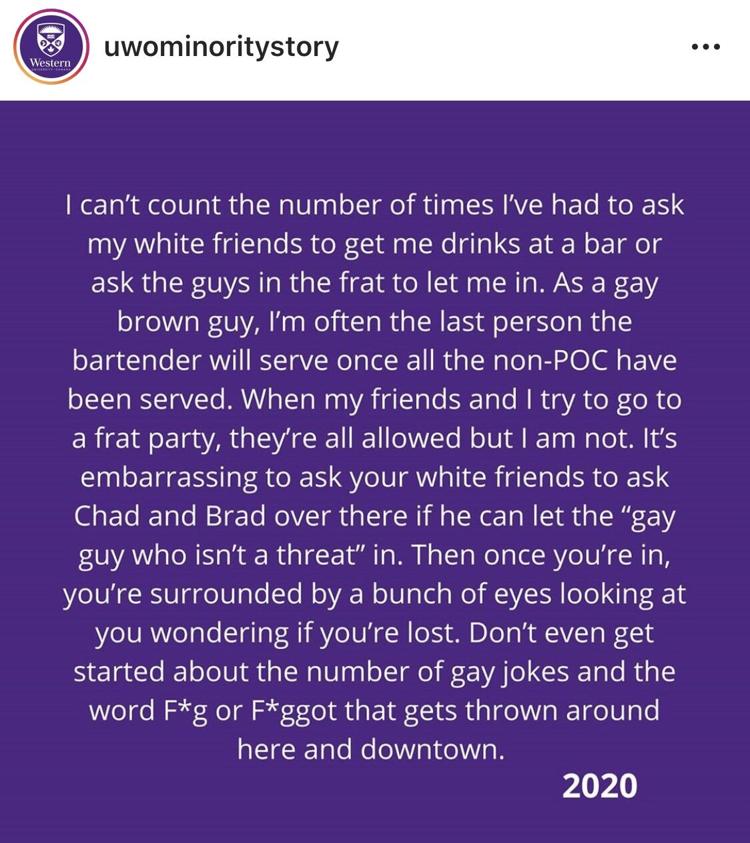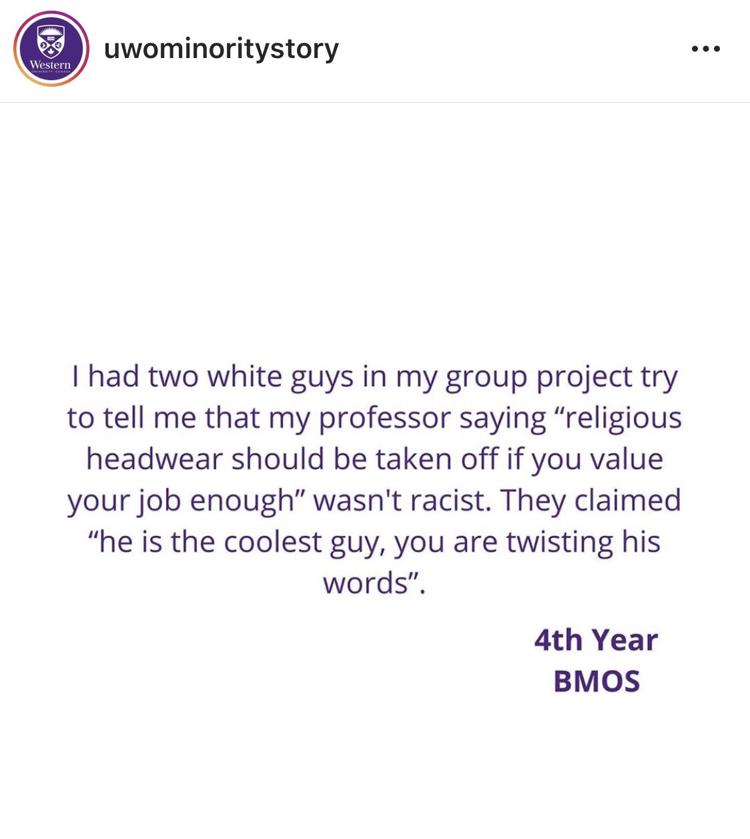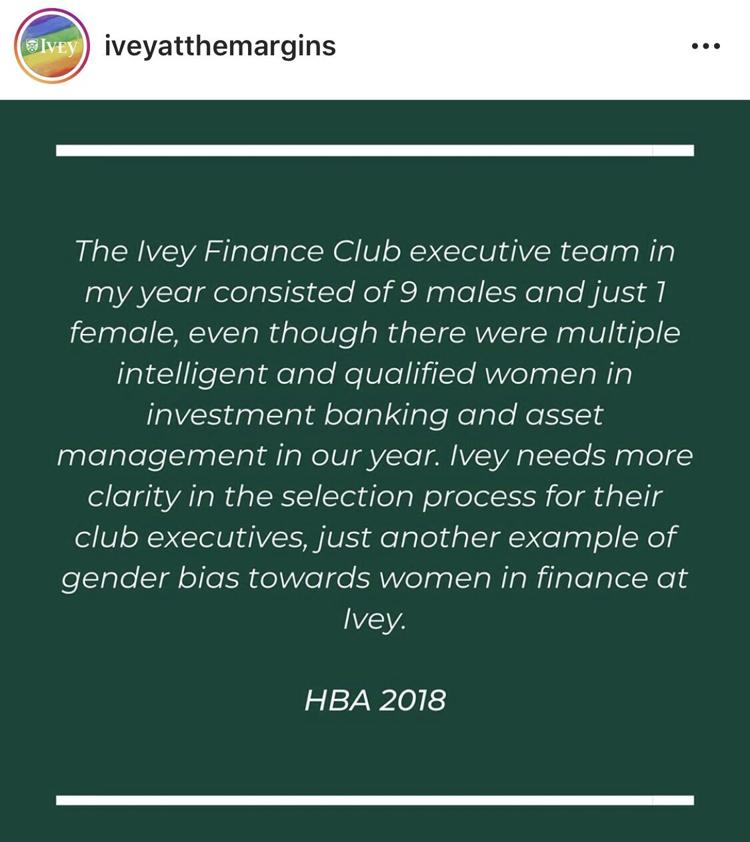 A similar sentiment was felt by the creator of the Ivey at the Margins account, who asked to remain anonymous for fear of academic repercussions. She also credits inspiration for her page to personal experiences of discrimination in the honours business administration program at Ivey Business School.
"When you're marginalized, you feel as though this is an experience that only you are feeling, because people don't speak out. You think it is something about you or about the way you present yourself or some fault within yourself," she said. "But when all these stories come out, you see it is a much larger systemic issue."
She explained the anonymity of the submissions allows individuals to feel more comfortable reporting incidents.
"It is much harder to speak up when you see something for the fear of being socially ostracized. Ivey loves to stress that 'your classmates are your future co-workers.' You don't want to gain the reputation of being difficult early on," she said. "I think that makes a lot of people less inclined to speak out. I thought an anonymous platform would be a great way to get at that."
The account amassed over 4,000 followers since its first post in early July, the page has received hundreds of submissions documenting myriad experiences of discrimination at the school.
So far, reactions to the pages have been overwhelmingly positive, with professors and students alike praising the role it plays in holding the institution accountable.
Craig Dunbar, a professor of finance at Ivey, spoke of the importance of these discussions surrounding diversity and inclusion at the institution in a LinkedIn post.
"Over the past several years, I've been more mindful of my own actions in the classroom. I've also been more outspoken about the need for diversity in our field, and the fact that everyone can learn finance," said Dunbar. "I don't think it's been enough. I need to do better. So I'd like to hear from you."
Other faculty members such as Nicole Haggerty and Frank Li have taken a pledge to stand in solidarity with marginalized students and acknowledge the severity of the page's accusations.
Ivey released a statement on July 10, just a few days after the first post, acknowledging the nature of the submissions on Ivey at the Margins and addressing the importance of having these conversations about inclusion and diversity. The institution vowed to put forth an action plan to combat discrimination in the near future.
The Instagram page, Black at Western University, was created for Black students and alumni to share their experiences encountering anti-Black racism on campus. Some of the incidents documented occurred as far back as the 1980s, during the time Philippe Rushton was conducting racist research.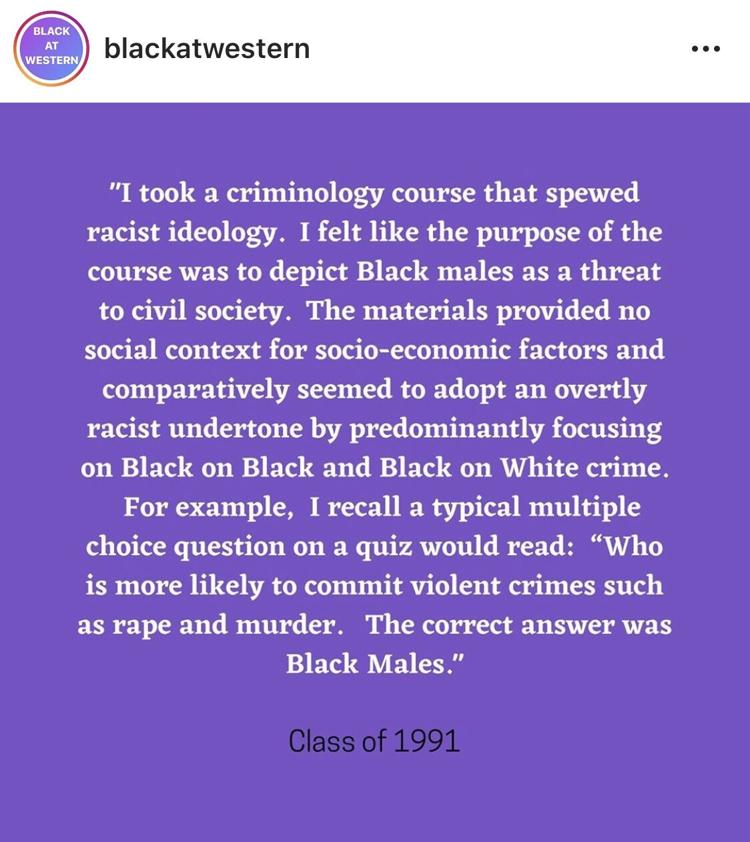 Untold by Western Greeks serves as a platform to share marginalized-student experiences in fraternities and sororities at Western. The page highlights discrimination, racial stereotyping and sexual assault allegations in the Greek scene.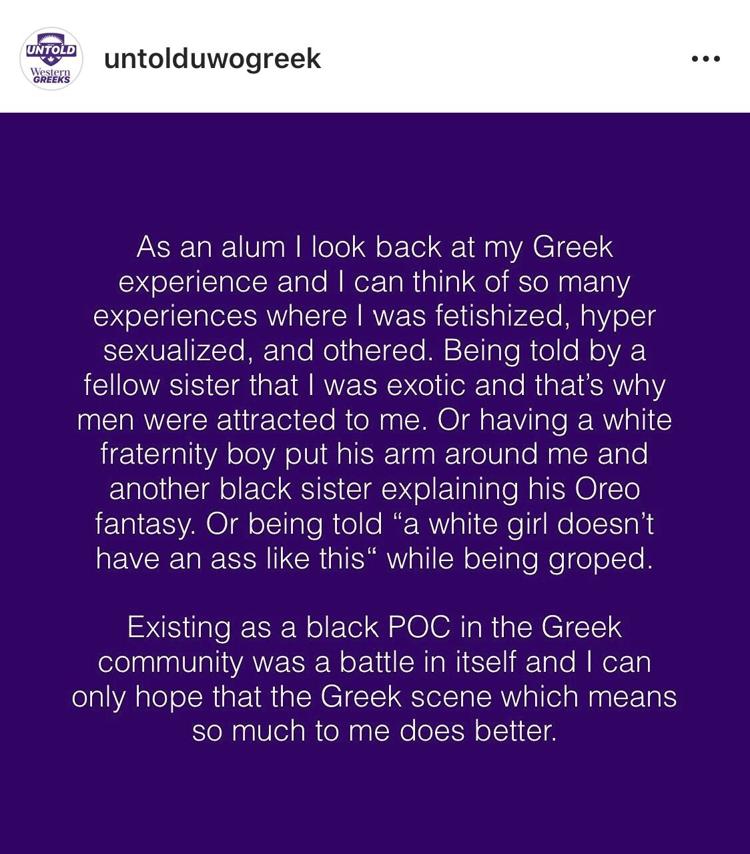 But, not everyone took a liking to the online acknowledgement of discrimination and racism on campus. The Instagram account Ivey Appreciate was created in rebuttal to the seemingly negative portrayal of Ivey on other pages. The since-deactivated page sought to discuss only positive experiences of students at Ivey. 
Critics of the page said it undermined the valid experiences of racism and discrimination experienced by other students. Some of the page's comments even equated its emergence to saying "All Lives Matter."
"We don't need to talk about how great Western and Ivey are, they are already celebrated institutions. What we need to talk about is how we can prevent the incoming students of marginalized background from having to experience the stories that I shared on my Instagram page," explained Patterson. 
Both women are confident about the role their pages serve in documenting incidents of discrimination at Western.
"I'm optimistic about the future of change and how this account can help raise awareness, so there is more of an impetus to act," said Ivey at the Margins' creator. "It gives quantitative data points and a better sense of what types of issues need to be tackled." 
Patterson stressed the importance of structural and systemic change at the university. She suggested more practical anti-racism and anti-discrimination training for all faculty, staff, sophs and student leaders at Western, saying it should not fall onto students and alumni to bring forth the change needed at the institution. 
"I want Western to recognize that this type of racism, queerphobia, ableism et cetera is not just in the social circles," said Patterson. "It's in the classroom, it's in residences, at the soph rallies — it is everywhere. It is up to Western to make sure this behaviour is not tolerated." 
These accounts are hoping Western will understand these incidents have always occurred, they are simply now being broadcasted. 
---
This article is part of our annual Frosh Issue, read the full issue online.