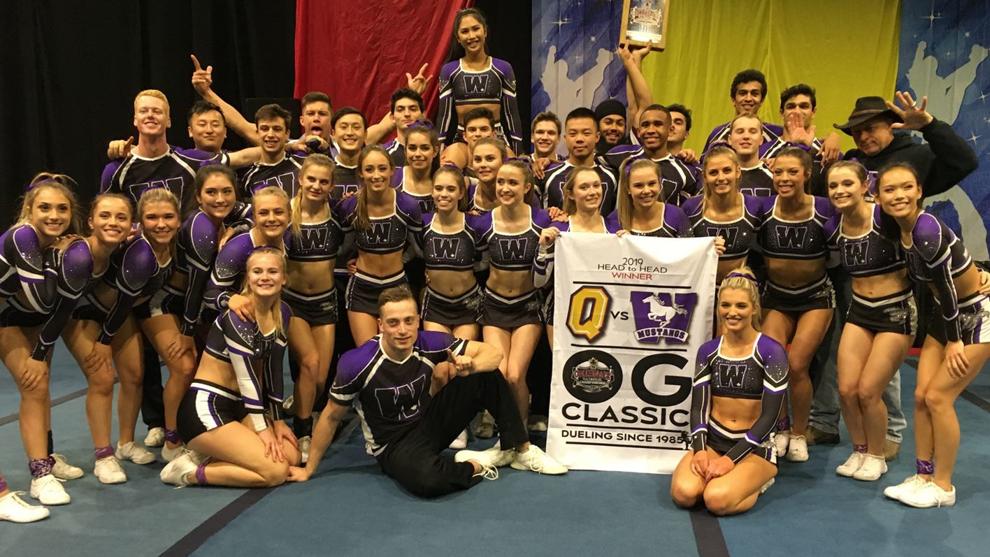 Cheerleading is often ostracized from the world of athletics, as people think of sassy scenes from Bring it On or Veronica and Cheryl Blossom's cheer-off from Riverdale rather than trained athletes.
The sport has long been disputed to be just that — a sport.
But cheerleading isn't simply standing on the sidelines screaming "Rah, Rah Mustangs," nor is it a dance routine with the occasional cartwheel. It has been a long-lasting part of Western University's history and is an astounding display of athleticism that only few are privy to.
Cheerleading began at Western in 1924, with head coach David-Lee Tracey — affectionately nicknamed coach Trace — directing the show for the last 41 years. As a cheerleader turned coach, he's had the opportunity to see how the sport developed in real-time over decades.
"I'll admit it wasn't the most athletic [sport] but it was certainly highly acrobatic during the 60s and 70s. There were the gymnasts that would go out and do flips and build pyramids and stack themselves on top of each other — and that's kind of what drew me into it originally," says Tracey.
"I felt like if I want to be a part of this thing, I want to make sure that it's as athletic a model as I can find. Making sure we train intelligently, increase our capacity and abilities — let's strength train properly … we wanted to make it real."
He took Western's team to the United States in the mid-1980s, competing in the summers and heading back to Canada in the winters. By the 1990s, they started winning.
"[After that] we thought 'hey, we're not really just this B-level team from nowhere.' That really sharpened our teeth," says Tracey.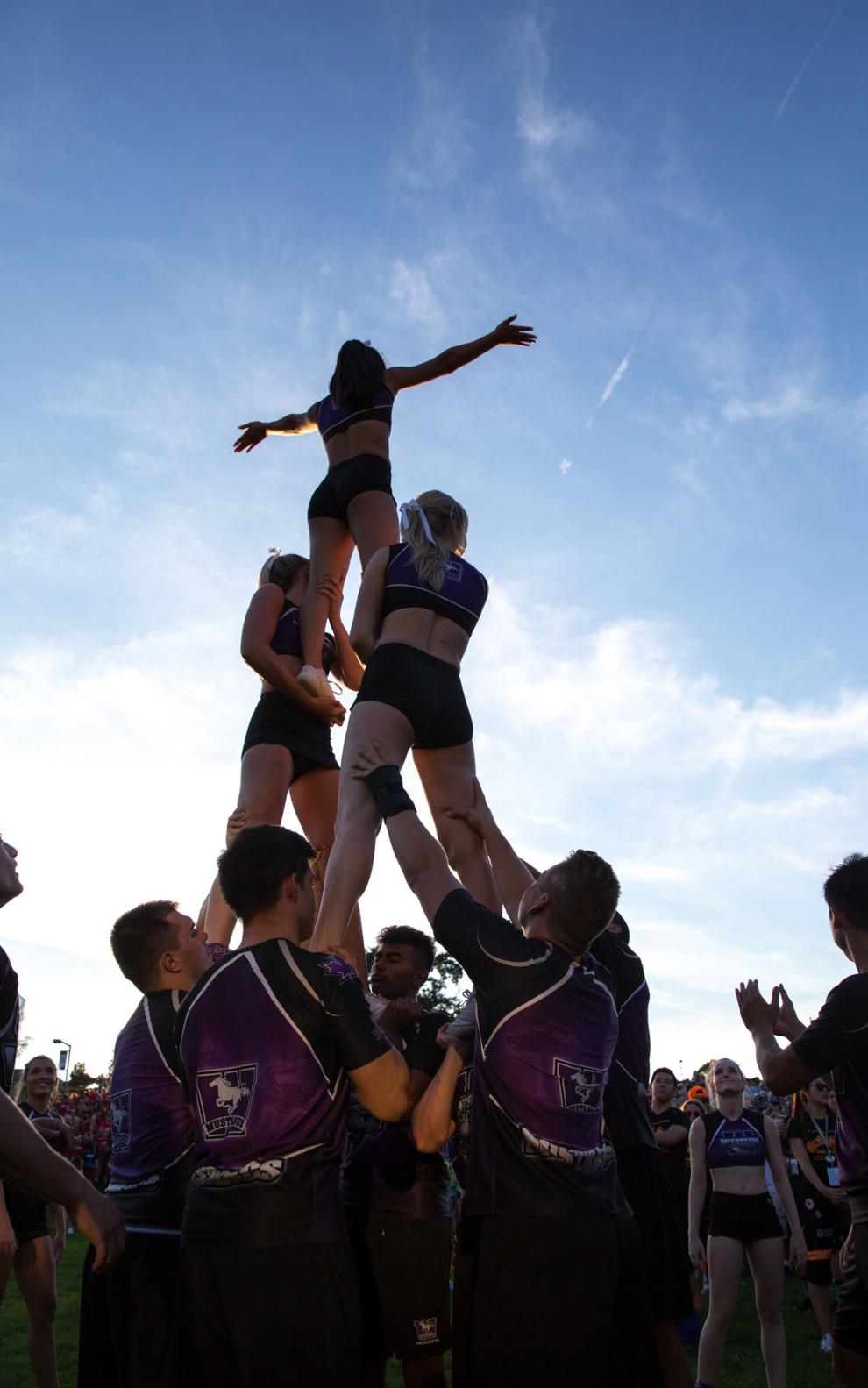 Students often see Mustang Cheerleaders as entertainers: performing stunts and routines at sports games, events and orientation week. Little do most students know, behind the scenes, these athletes are "kicking ass" at the same time.
"In the past 35 [Power Cheerleading Athletics Collegiate Nationals], Western has won 34," says Tracey.
With weight days littered in-between, the Mustangs practice Tuesdays, Thursdays, Fridays and game-day Saturdays, plus Sundays as nationals approach. They practice indoors on nine-panel mats, outdoors in paved parking-lots before football games and then on a field in front of spectators. Rain or shine — these athletes are ready.
"It's not simply using cheers that prepares us for nationals, which is two and a half minutes. A game is three hours plus … you need to have good stamina to be able to lift, catch and all that stuff. And then do it in the rain, the cold — if need be," explains Tracey.
"So that's why and how I train the athletes. I like to say it's my little version of the Marine Corps., we just train the living crap out of them, so they can handle it and make it look easy — smile while they're doing it."
What they don't do, however, are half-time game shows. Firmly believing that Mustang Cheerleaders are at games to enhance the sport, Tracey has always hated the mentality of saying "hey everybody, stop what you're doing and watch us."
"We're not the Dallas Cowboys Cheerleaders," laughs Tracey.
In his iteration of cheer, the athletes on his team are simply fans, spectators and students at games — the same as everyone else but in matching clothing.
Their real test comes at nationals and beyond, as they train to join Canada's national team.
Despite the sheer amount of time, athleticism and mental flexibility required to be a cheerleader, there is still a stigma the sport just can't shake.
As a male cheerleader, third-year criminology student Zachary Bethell knows all too well how the sport can be perceived.
"Growing up with [cheer since I was eight], it was looked at as a girl's sport. I've had to convince people I'm around, my friends and family, that it's really not," explains Bethell. "There's a lot more to it, it's not just frilly pompoms and dancing. It takes strength, it takes a lot of skill — it's very on par with gymnastics. Nobody ever looks at a guy gymnast and thinks that they just dance around."
However, with an image of high-school clout chasers and ditzy girls, the media is doing the most to stagnate how the public sees cheerleading.
"Before I was a cheer guy, when I was playing football, I hated cheerleaders. I thought they were the dumbest thing in the world — and I can say this 'cause I'm one of them," laughs Tracey. "They were the kids who had no athletic skills, so they ended up cheerleading. That's what I believed as a high school kid … I thought this wasn't a sport, it's not anything, it's like the school play."
"People think it's dancing. I cannot dance, like if you see me at a bar or club I am not dancing," laughs Bethell. "But I don't have a problem cheerleading. We're doing stunts, flipping girls into the air — tumbling across the mat."
Second-year medical sciences student and Mustang Cheerleader Anna Kasztenny is familiar with these misconceptions. After transitioning from gymnast to cheerleader, she holds a high appreciation for the coordination required to make a strong team.
"It takes a lot of training, and a lot of different skills from a variety of people, not just one person. Some people on the team have cheered for years, and for other people, Western is their first time. It's 40 people coming together, with different skill-sets, to do these big tricks or these pyramids. I really do think it gets portrayed differently than what it actually is."
"It's high energy, athletic … it's strong, it's fast, it's fun," adds Bethell.
With the onset of new TV shows, like Netflix's Cheer, cheerleading is beginning to enter the public perception in a way it hasn't in the past. Now that cheerleading may enter as an Olympic sport, these athletes may be given the opportunity to get the recognition that is well deserved.
Past being known as Western's public relations and spirit spokespersons, these Mustangs are, more importantly, one of the university's most coveted athletic teams.
So, is cheerleading a sport?
Both yes and no.
"There are many times that we are not a sport. We are not a sport when we're at a football game, saying 'Go, Stangs Go.' We are not a sport when we're at Orientation Week, saying 'Welcome to Western' and flying through the air. But we are a sport when we're in a controlled environment, on set, formatted, nine-panel mats on the floor," says Tracey.
Cheerleading, like gymnastics, diving, figure skating or any other judged sport, is a sport when it follows a model — a degree of difficulty, execution and any other criteria that can be judged.
Existing at an odd duality of being a sport sometimes but not all the time means that Western's cheerleaders are training to be both — both national champions and school leaders.