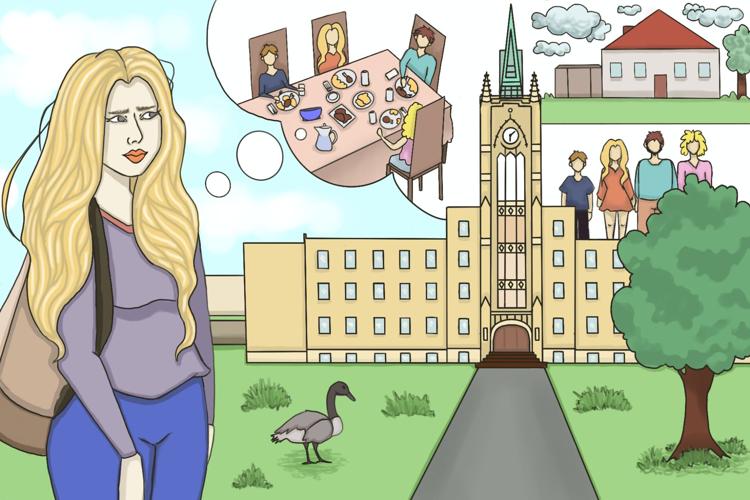 When you are homesick, everything that goes even slightly wrong can feel like it's the end of the world. 
Although I thought my friend was being a bit dramatic when she first told me this, she knew what she was talking about.
She said stepping outside of your comfort zone can be unnerving, and for some people, moving away from home for university is far outside the realm of comfort.
Difficult assignments, disagreements with roommates, or even learning how to ride the bus can truly feel like it is the end of the world, making you wish you were back home where everything was predictable and safe. 
To be honest, I still long for the comforts of home every now and then. What triggers these feelings can be inconsistent and unpredictable. Homesickness is not something that can be cured overnight, but as time passes it will be easier to cope with. 
Really, feeling homesick is about longing for a place that feels familiar.
Bringing some consistency into your life could help with missing home and feeling overwhelmed. Start by finding a place you can repeatedly visit throughout the week to get a sense of familiarity.
Lucky for you, Western University has a beautiful campus so you will have lots of great options to choose from for a regular study spot. Another strategy you could try is sitting in the same seat for your classes — if you can get there early enough to do so. 
Your closest connection to home is always your friends.
Keeping in touch with them is important and you should continue to make that effort. But, they don't have to be your sole support system.
University is an opportunity to meet new people and build new friendships. When you are exclusively relying on the support of your old friends, you could be closing yourself off to new and potentially valuable relationships. 
In fact, sharing how you are feeling with your new friends may make you feel more connected to your new home at Western. Taking the time to chat with your roommate about even small things could lift your spirits.
And eventually, your "home" will no longer be home. It will be Western.
It can be empowering to know you are capable of taking care of yourself in a new place. And knowing this can help you become excited for your new life and miss home a little less.
Although I am not advising you to neglect your parents or loved ones, you should make a conscious effort to be independent. You chose Western because you thought this place could help you grow academically and as a person. It's time to give it a chance to accomplish just that.
Call your parents at the end of the day or when you really need to. If you stay on the phone with your mom every time you leave to eat at your residence cafeteria, people may have a hard time getting to know you (yes, I am speaking from experience.)
At the risk of sounding cliche, you should give yourself a pat on the back. Doing all this takes courage. You cannot expect yourself to smoothly integrate into university life after living with your parents for 18 or more years. Feeling homesick is a universally experienced emotion, so just remember that it is okay to talk about it.
Although adjusting to your new life may feel like the end of the world right now, who knows?
Perhaps you will feel homesick for Western by the time you return home for the holidays.