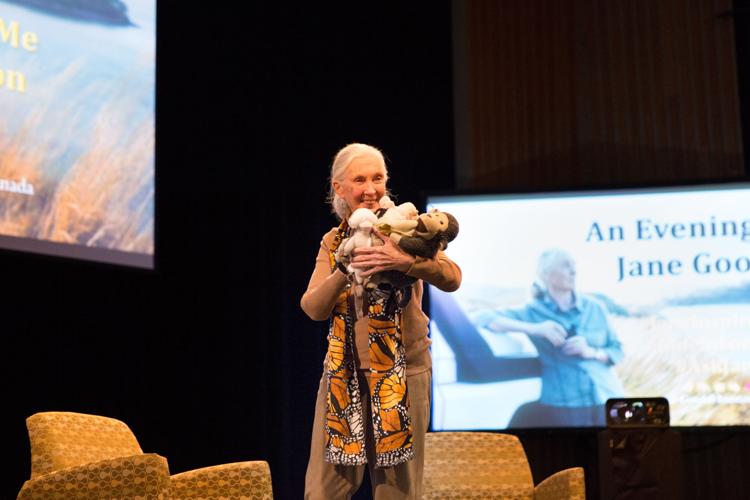 Through her heartfelt dialogue, witty punchlines and unequivocal optimism in humanity, world-class primatologist, ethologist and anthropologist Jane Goodall shared stories from her past with about 1,600 people on Wednesday night during her event, An Evening with Jane Goodall. 
Goodall, considered the world's foremost expert on chimpanzees, is best known for over 55 years of study focused on wild Tanzanian chimpanzees. This led to breakthroughs in the study of animal behaviour and intelligence and challenged the male-dominated, elitist scientific communities of the '60s.
"Because the chimps are so like us, [my research allowed] science to come out of that ridiculous little box in to which it had hemmed itself. You know, 'We are so special,' 'We are so different,' 'We're totally unique primates.' That's just bullshit," says Goodall.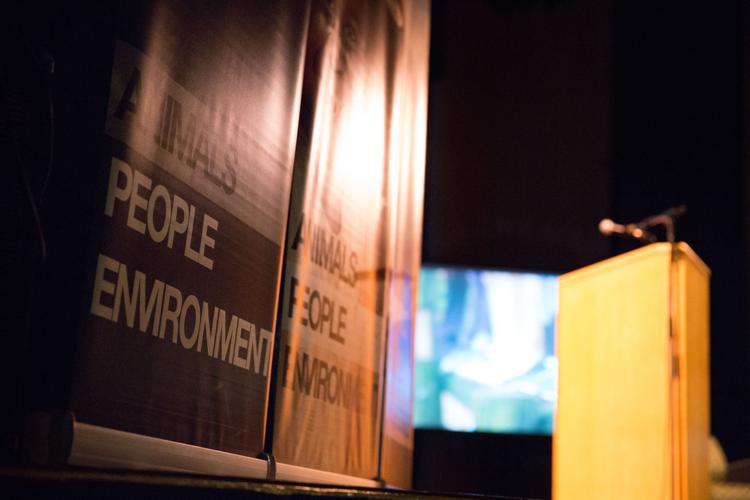 Rather than observing these animals from afar, Goodall immersed herself in their natural habitat at Tanzania's Gombe Stream National Park, giving each chimpanzee a name and recognizing their diverse personalities. 
Her fresh angle of observation was one of the reasons she was able to make such a breakthrough in research. Her study proved two things: First, like humans, chimpanzees make and use tools. Second, chimpanzees are omnivores, not vegetarians. 
During her speech, she recounted the first time she saw a chimpanzee, named David Greybeard, use a twig as a skewer to extract termites from the ground.
"It was exciting because, back then, scientists had decided that humans, and only humans, used and made tools," recalls Goodall, smiling.
She was characteristically straightforward and plainspoken during her speech, a humbling quality she's well known for in her documentary narrations and interviews. Whether Goodall was talking about chimpanzees, octopi, crows or pigs, her charisma and fascination with animals radiated onto the audience at Centennial Hall.  
Even as a little girl, Goodall was passionate about animals, going as far as to name a beloved childhood chimpanzee doll Jubilee. She had obsessed over the thought of going to Africa to study the continent's animals from an early age. 
Goodall praised her mother throughout the night, stating that she had supported her endeavours to travel to Africa and live with wild animals, even when she was told by teachers and classmates that she shouldn't do it because of her gender. Her mother told her that while it might take a lot of effort, she couldn't give up on her dreams.
That dream finally came true when she was appointed as secretary to world-renowned Kenyan archaeologist Louis Leakey, who took her under his wing despite her having no formal scientific background nor a degree. Instead, she had the determination to observe chimpanzees with a mind uncluttered by conventional scientific methods.
Although, as noted in her speech, Goodall continued to face adversity from a close-minded scientific world when she entered Cambridge University to get her doctorate in ethology, the study of animal behaviour. Her professors told her she shouldn't name the chimpanzees or try to define their personalities, calling it "unscientific." However, once she brought one of her professors to see the chimpanzees for himself, the scientific community started to believe that Goodall's studious work was actually a scientific fact as opposed to a mythical observation. 
These days, the 84-year-old travels the globe 300 days out of the year, raising awareness around climate change, environmental stewardship, habitat restoration and illegal animal trafficking.
Last year, Goodall received an honorary degree from Western University — the highest honour to be bestowed on an individual by the institution — for her renowned contributions to the scientific world. 
She also launched conservation projects through the Jane Goodall Institute, founded in 1977, which strives to rescue orphaned chimps, conserve at-risk habitats and raise awareness on a number of endangered species. Goodall has received many awards and accolades throughout her career; she's an UN Messenger of Peace, and she received the British Academy's President's Medal in 2014.
Amy Timmerman, fourth-year international relations student and volunteer at the event, has been following Goodall's work with precision for the last eight years.
"I really find it very inspiring and empowering that she was able to make those discoveries and now translate that into a worldwide movement not just to conserve chimpanzees but also to conserve all wildlife, all biodiversity and the environment," says Timmerman.
Few academics have received such widespread respect and acclaim for their work as Goodall, and judging by the outstanding reaction from Wednesday's crowd, her flame will always ignite London.
All proceeds from the event went to the Jane Goodall Institute.