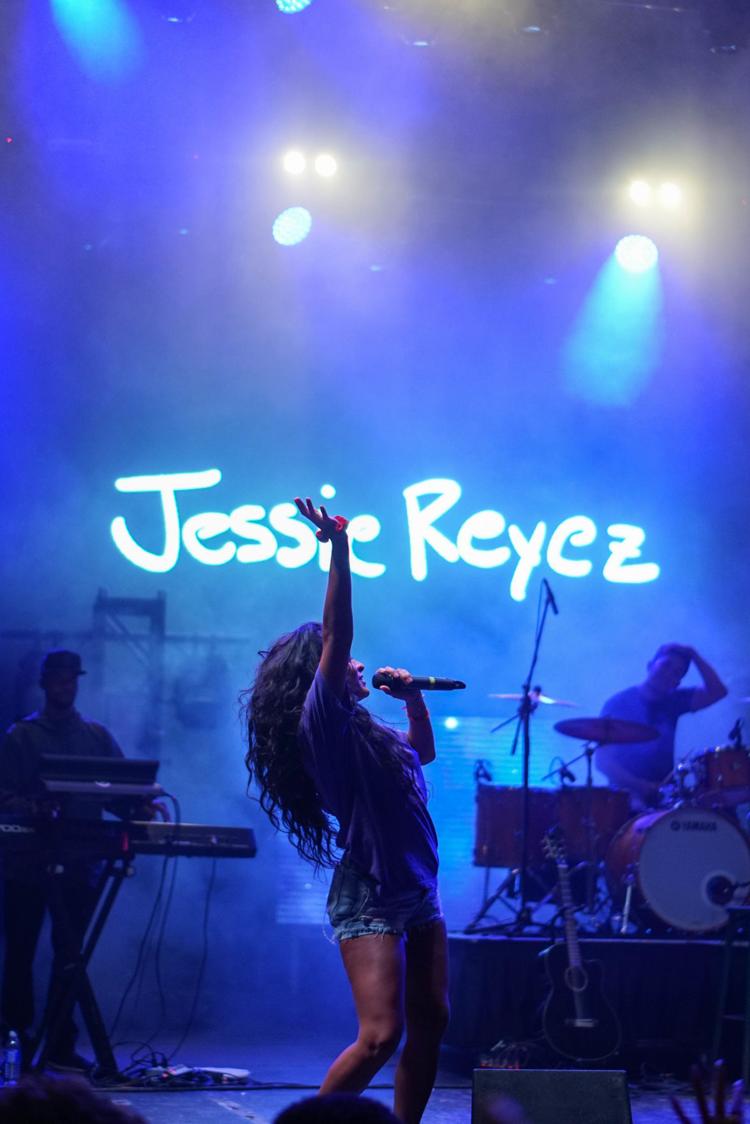 Jessie Reyez is happy to have made it this far. That is to say, she was happy, outwardly so, to be performing in front of an enthusiastic and sold out crowd at the London Music Hall on Monday night.
The 27-year-old Toronto native is not shy in admitting the trials she's endured on her way to becoming a chart-topping, Eminem-collaborating, The Tonight Show-performing pop star.
These trials have come in many different forms and fashions and are often the subject of Reyez's deeply intimate and, often times, equally aggressive brand of R&B infused pop.
During her Nov. 26 performance, Reyez effortlessly drifted between slow burning acoustic ballads and mosh pit-inducing pop-rap.
This versatility was evident from the second she took the stage, as Reyez went from bombastically jumping around, performing "Fuck Being Friends," an energetic banger criticizing a lover's apprehension to commit to a relationship, to calmly sitting on a stool performing "Sola," an acoustic lament, with lyricism that focuses on not being the kind of woman that men want to introduce to their mothers, which she sang entirely in Spanish.
Reyez's full range of emotions and energies was clearly evident throughout the night, with the Toronto-based songwriter performing light-hearted pop songs celebrating female sexuality, including her 2018 hit "Body Count," and pain ridden breakup songs, such as "Shutter Island," a fan favourite song which she performed while donning a straight jacket.
The highlight of the night was Reyez's powerful rendition of an intimate "Gatekeeper."  You wouldn't expect the performance of a song explicitly detailing Reyez's firsthand encounter with sexual harassment to be particularly uplifting, but through the lens of the Juno award-winning songwriter's awe-inspiring resilience and commitment to her beliefs, it becomes just that.
That a song, which stems from such a dark place, manages to be a triumphant "fuck you" to the people who use their power to manipulate others is no small feat, but it's one that seems to come naturally to Reyez.
The heaviness of this performance was quickly followed by a celebration of the success Reyez has encountered, despite her countless hardships, as she "flexed" the fact that she appears not once, but twice, on the newest Eminem album Kamikaze.
This display of hubris led into a performance  of the bass-heavy Eminem collaboration "Nice Guy"; during the performance Reyez encouraged the crowd to open up a mosh pit so they could let out any of their unreleased anger.
Reyez closed out the show with the performance of her highest chart-topping, solo track, "Figures." Before going into the performance, which featured a cameo by her father, who strummed an acoustic guitar for the opening of the song, Reyez offered one final anecdote.
She remarked that she had gone into the studio and recorded the song after a long bout of depression and that it was that depression which had prompted her to give such a heartfelt studio performance of the song, a song which ultimately earned her the kind of success she had been working towards for so many years.
The moral of her story was simple: no matter what hardships you're going through, prosper and persevere, because you never know how close you are to emerging in to the bright side.
As Reyez and her band left the stage, the packed crowd immediately began chanting for an encore.
Reyez complied and returned to the stage to perform the bass heavy anthem "Blue Ribbon," which spurred another mosh pit that included Reyez herself leaving the stage in order to crowd surf over her fans.
Moments before the final drop of the song, Reyez said that she came out for the encore because she didn't want "Figures" to be the final song of the night. In her words, "I refuse to leave you guys on some sad shit."