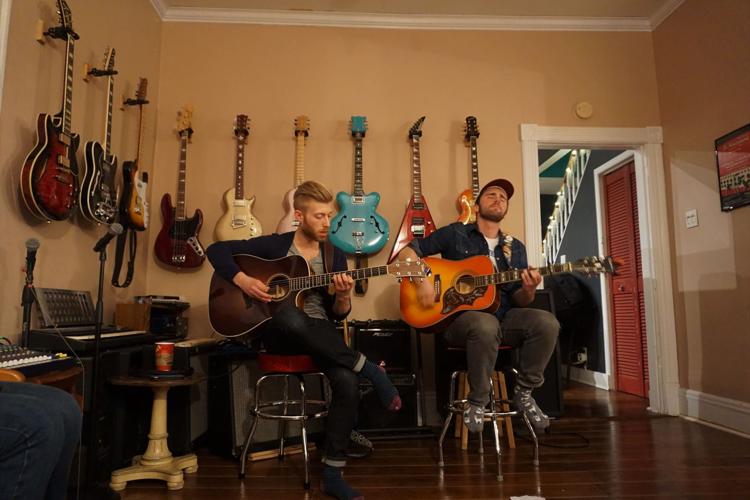 If raves aren't your style, read more on how this low-key concert left a big impression.
A small crowd of students and London locals gathered in a cozy living room on Cheapside Street to watch John Muirhead, indie musician and Western University student, perform with fellow musician and Western alumnus, Justin Maki. The duo wanted to do a joint concert for a while, and they finally brought to life their idea of a JM Singer/Song Writer Circle — an idea sparked by their shared initials. As opposed to a concert, Muirhead and Maki posed questions to each other between songs, facilitating an open environment to listen and discuss their music. Hosted at Maki's home, the two put care into setting up couches, blankets and tea for guests in attendance.
"We're using it as an opportunity to showcase and collaborate with other artists from London to Montreal," says Muirhead.
It's the first of many shows to come for Muirhead, who embarked on his latest Ontario tour on Saturday night. Teaming up with another local London artist with the same indie style, Ben Heffernan, Muirhead will be touring all of January and February hosting similar song-writing circles in towns across Ontario and Quebec.
Collaboration is a key component for Muirhead; he delights in discussing his performances with Maki and Heffernan, diving into their songs, playing an impromptu solo and learning chords on the fly.
Muirhead attributes his ability to successfully self-book, promote and play his own shows to his time spent attending and performing at Western.
"It's been an awesome experience to take my knowledge from Western, doing business and music, and [to put] it all together in one package," says Muirhead. Having applied the knowledge he accumulated in university to execute his summer 2018 tour, Muirhead refers to this as his thesis project. One might then call his Songwriter Circle Tour his unorthodox master's. Endearingly passionate about his music, Muirhead is eager to chat but even more eager to play.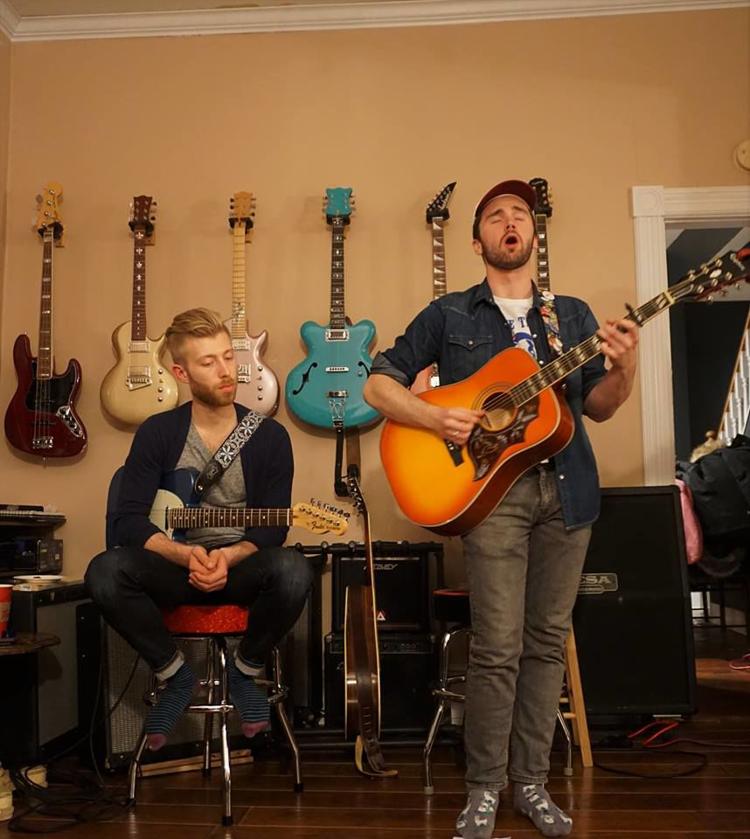 As Maki and Muirhead took their places at the front of the room, the audience began to quiet down. Separated from the crowd by only about 30 centimetres, no microphones nor amps were needed for the pair's voices and acoustic guitars to fill the room.
Muirhead performed about 10 songs, highlighting some of his older tunes like his slow, soothing "Yesterday's Smile" contrasted with "Ambition," which has quiet verses leading up to an unexpectedly hard-hitting chorus. Muirhead also shared recently written songs which fans can look forward to on his upcoming first, full-length album. Muirhead is a skilled guitarist and almost every song features intricate finger picking. Missing a key piece of his ensemble, his harmonica, Muirhead made up for this by having the crowd hum melodies behind his vocals.
It was an intimate affair as Muirhead gave context to his lyrics between songs, describing various memories and emotions that accompany them. Common themes for Muirhead are the struggles and joys of working hard for his music.
He told the crowd he wrote "Ambition" as an apology to his family and friends for neglecting to keep them a priority. He played an unreleased song, "Nicotine," drawing parallels between returning to a bad relationship and returning to an addiction. To close the show, Muirhead performed "I Can Sleep Anywhere," his latest single, which is a testament to the love he has for his lifestyle, with his music being the cornerstone.
Partnering with different artists in every city and encouraging audience interaction, fans can expect each show to be unique. Muirhead did an incredible job of reading the room and working off the audience's energy. He's hoping to show a different side of singer/songwriters and bring to light the behind-the-scenes work that goes into his music.
"I hope there's a lot of storytelling, people being engaged with songs and looking at them in a completely different way," he says.
This year, Muirhead is excited to attend Folk Alliance International — an event put on in Montreal to bring together Canadian folk artists. He is also looking forward to touring the West coast of Canada for the first time and seeing how far his music can take him.
Starting in Toronto on Jan. 30, 2019, John will work his way across Ontario into Quebec and then finish his tour in his self-described homebase of London, Ont. on Feb. 24, 2019. For more updates and a full list of tour dates, you can follow John Muirhead on Facebook.