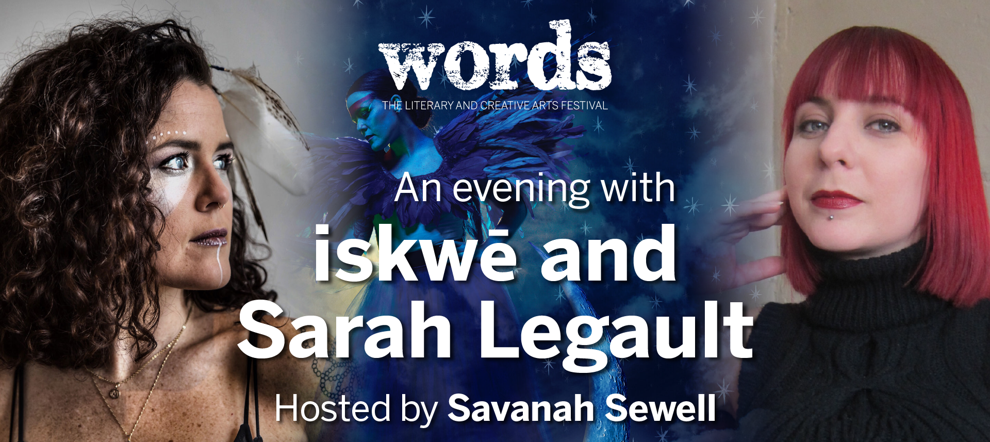 It was a night of laughs as iskwē, a Juno award-nominated electro-pop artist, and Sarah Legault, a London-based animator, chatted about art and life at Wordsfest.
The Nov. 19 event host, Savanah Sewell, talked to the pair about their relationship, the Junos and their award-winning collaboration on the song "Little Star."
"Little Star" talks about iskwē's response to media coverage of Gerald Stanley and Raymond Cormier's trials — the two men charged and acquitted for the deaths of Colton Boushie and Tina Fontaine.
The evening was an opportunity for the artists to reflect on their work, from iskwē's powerful lyrics about justice for Indigenous peoples to Legault's animation that won her the 2020 Juno Award for Music Video of the Year.
"Winning [the Juno] was definitely a shock," said Legault. "I remember when they announced it there was another person nominated with the name Sarah, and when they said my name, I was like 'woah, which way is this gonna go?'"
She sat in front of 41 miniature dolls through Wordsfest — each handcrafted for the "Little Star" stop-motion music video. Legault's Juno award also rested behind her.
"It's heavier than it looks," she said, holding up the trophy.
As conversation continued, the pair had palpable chemistry despite the virtual chat's limitations; it's no wonder they worked so well together.
"I tried calling Sarah after she won and texting and screaming, but her phone literally blew up from the notifications," iskwē laughed.
iskwē said she was emotional first time she watched Legault's animation for "Little Star."
"I was sitting in the studio with my producers and the three of us were crying like that emoji — you know, the one with the round face and faucets are just pouring out of its eyeballs," said iskwē.
"It sounds heavy, but it was actually quite cathartic," she added. "['Little Star'] was my baby and to see it treated with such care … my heart just felt so good."
The pair worked non-stop on the video, something Legault says was a rewarding experience.
"I think [working with iskwē] is amazing," Legault explained. "When we sit together in a room, we'll stay up for hours and hours to the point where she's like, 'Sarah, I have to go bed!'"
Everything changed for the duo when the pandemic hit. Legault recalls waking up to a call from iskwē telling her not to get on the plane to the Junos initially scheduled for March. iskwē remembers her manager telling her to unpack and not get in the car.
"On the bright side, I'm sitting on a substantial flight credit," iskwē joked.
The evening ended on an uplifting note as Sewell asked the pair to reflect on the positives of 2020.
For iskwē, the pandemic came at a time when she felt burnt out.
"One day I woke up and I was like, 'nope, I am going to rest now.' And I think it saved my life, to be honest," she said. "I rested for like six months straight."
"I actually spent most of my time outside gardening," Legault added. "I built a greenhouse, and I just had so much fun."
Wordsfest may have been virtual this year, but that didn't stop iskwē and Legault's infectious passion from reaching the audience.
"It's nice that even in such weird times, we can still connect in brand-new ways and I don't feel so far away from everyone," said iskwē.