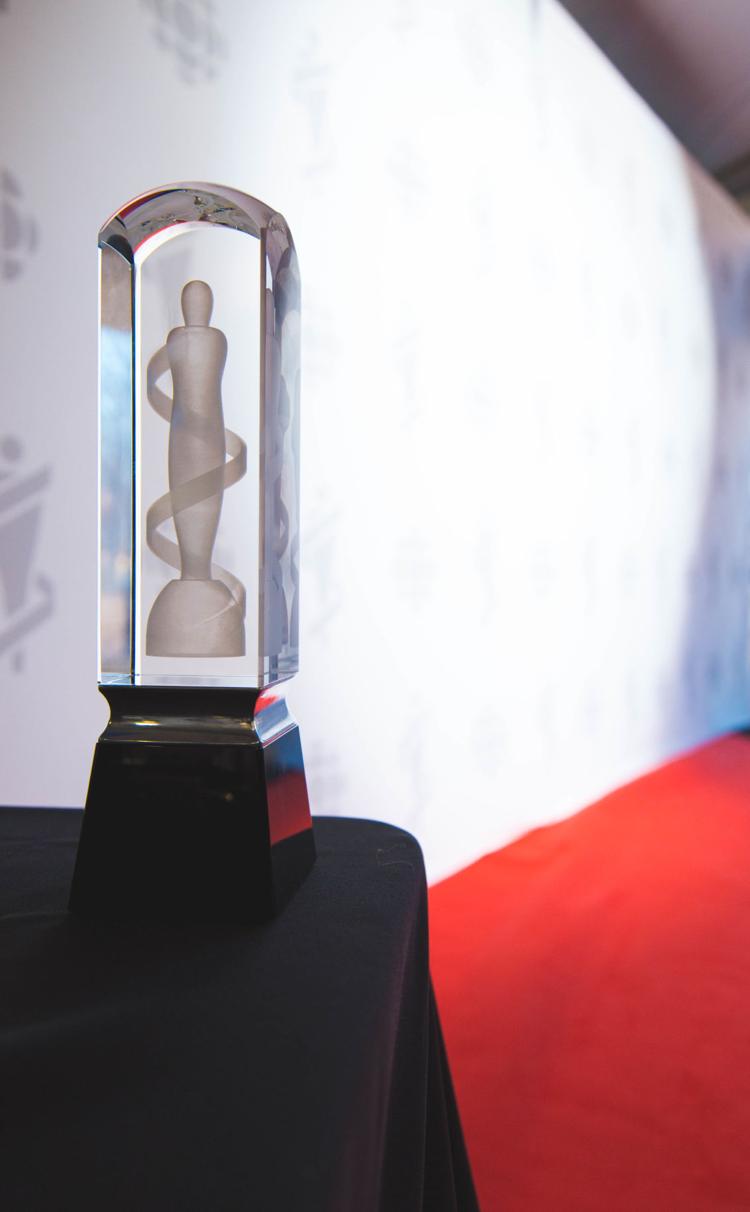 The audience chants along with an announcer, counting down the seconds until the show starts. The Western Mustangs Band and Western Mustang cheerleaders wait in the wings, ready to join in symphony alongside the performance of DJ duo and Western alumni Andrew Fedyk and Joe Depace of Loud Luxury.
They burst onto stage clad in purple, accompanied by the Juno Award-winning track "Body" at the Budweiser Gardens. The audience waves purple pom-poms in tune, bringing a Western flare to the show.
The Junos have come to light up the Forest City.
---
The 48th Juno Awards came to London this year to honour Canada's best and brightest performers. The award show honours albums, songs and artists from a range of genres, from classical to reggae to pop, each year.
Shawn Mendes was the frontrunner for awards this year, winning five of the six categories he was nominated for, including major sections like Artist of the Year and Album of the Year. Mendes, unfortunately, wasn't there to receive his awards as he is touring Europe. Instead, the star was streamed in for a video performance.
Host and 12-time Juno Award winner Sarah McLachlan opened the show poking fun at Canada's neighbours south of the border. She explained how these bad neighbours go around putting up random walls and how all you can do is hope that they'll be "gone by 2020" — a criticism for which she only received one critical social media comment, she told the press later. She gave the audience encouraging words of unity and confidence while celebrating the music that comes out of the great white north because, as McLachlan succinctly put it, "Canadian music kicks ass."
"I just couldn't imagine living, planting my home and my heart anywhere else," McLachlan said about her love for her home country. "I get to be me. I think that's the beautiful thing about Canada: we do really celebrate our diversity and our inclusivity and the fact that we all come from away."
The stunning host sang alongside husband and wife folk rock duo, White Horse, making a quick costume change from a rose-embellished black suit to a blue, 80s-inspired velvet top and leather pants — just two of the five distinct looks McLachlan wore over the course of the evening.
The official award show night, on March 17, saw a live audience of around 9,000 and reached tens of thousands via national broadcast. The broadcast awarded six Junos and inducted Corey Hart, the man behind "I Wear My Sunglasses at Night," to the Canadian Music Hall of Fame.
The Juno Awards always promise a star-studded night, and Sunday's show was no exception, bringing Olympic gold medalist Tessa Virtue and Canadian comedian Rick Mercer together to announce the Arkells on stage. However, not every featured guest is ready to be inducted into the hall of fame just yet, as the Junos also shone a light on up-and-coming artists in the music industry, such as pop artist bülow, who performed a mashup of her two biggest singles just before receiving the award for Breakthrough Artist of the Year. The ceremony featured 13 performances, nine of which made their debuts at the 2019 Junos.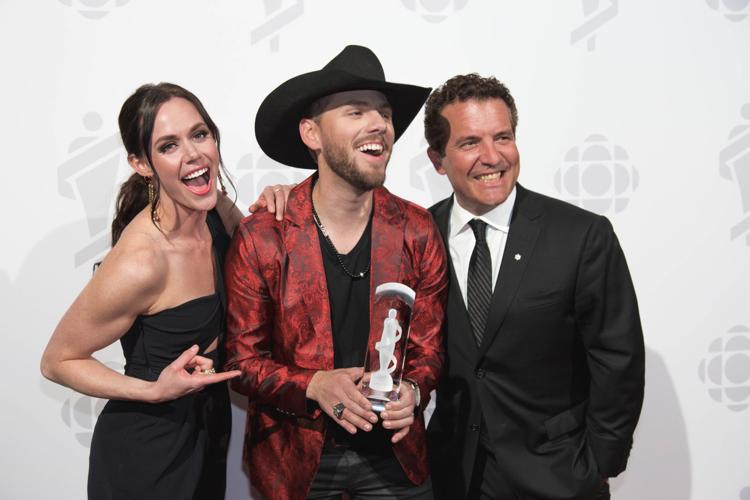 The bulk of the awards were given out the previous night at the industry-exclusive Gala Dinner and Awards, co-hosted by the Juno Award-winning lead singer of Billy Talent, Ben Kowalewicz, and Julie Nesrallah from CBC Music. The pair gave out 36 awards and three special achievement awards. Kowalewicz opened the show, introducing it as "the longest night in Canadian music" and promised that he was there to "Marie Kondo this shit" and keep the pace moving.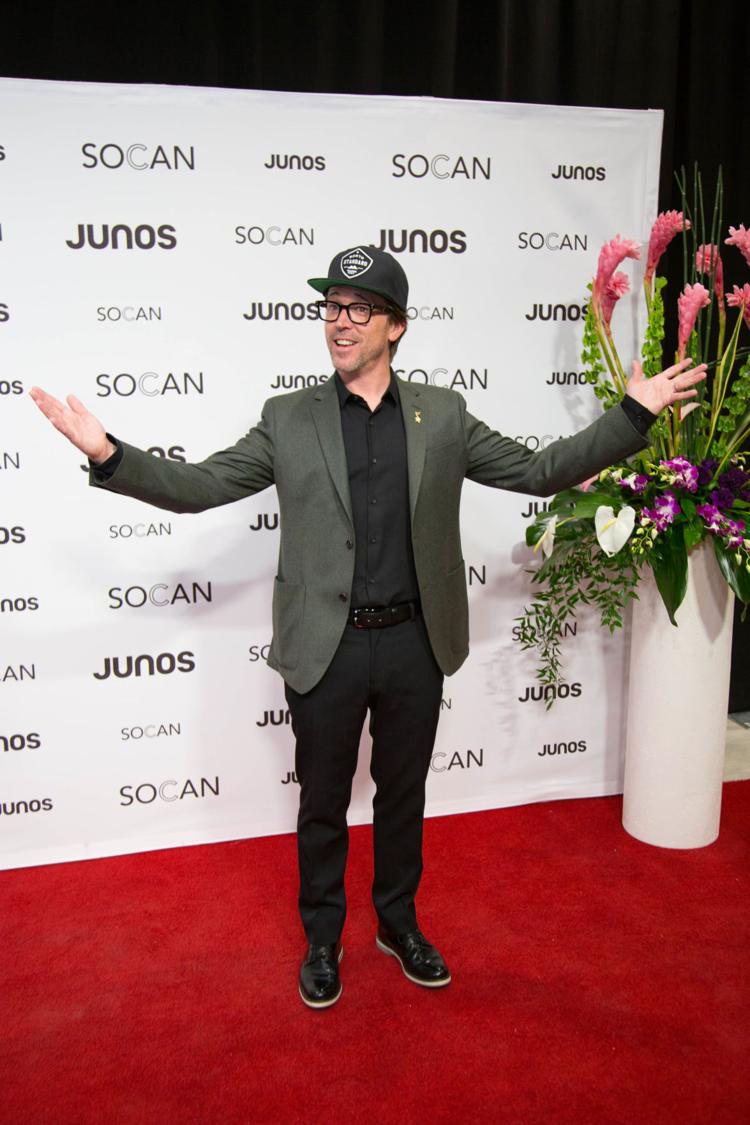 Hamilton-native band Arkells remained strong and steady, opening the night by winning Group of the Year and closing with a confetti-throwing performance of "Hand Me Downs" off their new album, Rally Cry, which won Rock Album of the Year the night prior. Eric Ratz, who worked with the group on their singles "People's Champ" and "Relentless," took home the Jack Richardson Producer of the Year award, giving the band a trifecta of Junos.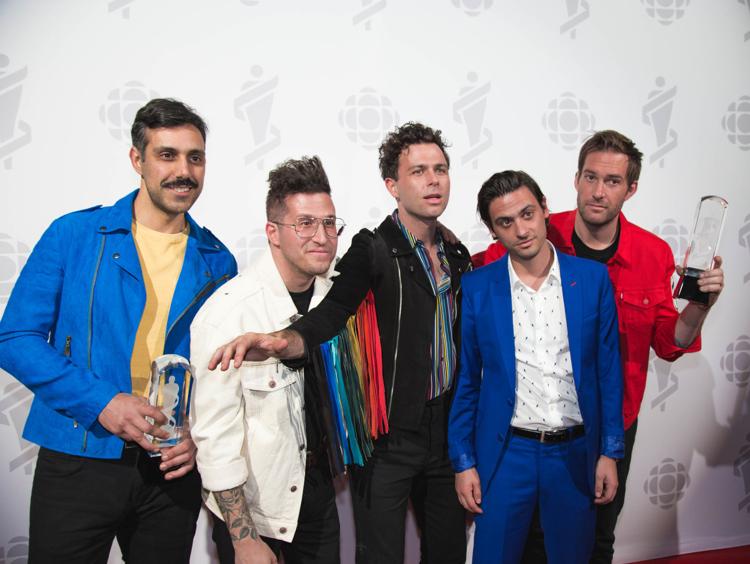 After being awarded Rock Album of the Year, the group brought Jeremy Dutcher, Indigenous Music Album of the Year winner, onstage. Kerman then offered Dutcher the chance to finish his acceptance speech, which had been cut off earlier in the evening, to which he thanked the Arkells for "giving space."
"This is what it looks like, you know. We talk about these words all the time — reconciliation — but what does it actually look like?" Dutcher later said, reflecting on the moment. "It's meaningful relationships; it's allies holding space so that voices that haven't been heard for a very long time can come forward."
He said he is grateful to the Arkells and commended Kerman on his work with the Gord Downie and Chanie Wenjack Fund, which supports Indigenous communities across the country.
Dutcher proceeded to complete his speech, adding that Indigenous music is not niche and should not be siloed into one category as every nomination is vastly different in style and celebrates the culture of different Indigenous communities. He hopes to see Indigenous music nominated in other categories, for example seeing Snotty Nose Rez Kids nominated for the Rap Recording of the Year category.
Dutcher was a captivating speaker with wide eyes and an immense amount of hope for the future. Performing on stage, he said, "feels like possibility."
"I didn't have this when I was growing up, representation. These bodies on stage, I didn't see that. It gives me hope for what's to come. Kids now, they can go and see queerness, they can see Indigeneity, they can see all of these beautiful, diverse things on a stage. What kind of possibility does that breathe into their life?"
If the Junos gave out an award for best dressed, Dutcher would have stolen the show, donning a mesh bodysuit and tights and cloaked in a cape with a flowing train that needed to be carried down the aisle by his accompanist. The cape featured an outside layer of beautiful floral, while the inside was a dark blue with white symbols.
"This cape is a representation of the relationship between land and language," he explained, draping it over his arms. "Outside we have the land, and inside we have Cree syllabics. This was by a designer in Edmonton named Luxx, and it says 'We will succeed' in Cree."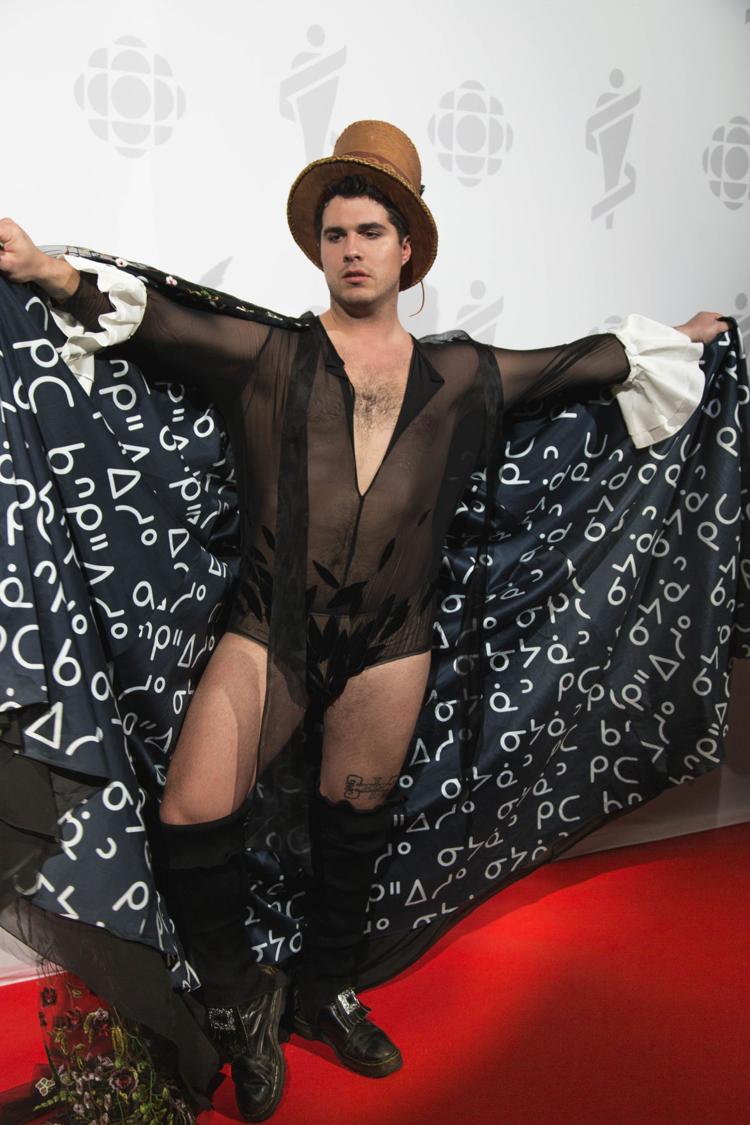 Dutcher performed a number from his Juno Award-winning album Wolastoqiyik Lintuwakonawa for a nationally broadcasted audience, accompanied by Classical Album of the Year nominee Blake Pouliot on the violin. Pouliot is the first classical album nominee to play the Junos main stage in over two decades.
Francophone music also had a night of firsts at the Junos. This was the first year a Francophone artist played the main stage at the Junos, as nominees Coeur De Pirate and Juno winner Loud took the stage after being announced by fellow nominee Hubert Lenoir. Lenoir was also nominated for Album of the Year for his jazzy-pop album Darlène, among other nominations. Lenoir performed "Ton Hôtel" from his album at the Gala Award night, running around the stage, kissing his guitarist and flipping off the audience.
"I'm a doll," Lenoir said, explaining the inspiration for his yellow, clown-like face paint and the rosy circles on his cheeks. "Cause the world is plastic, I decided to embrace that fact." He did not elaborate.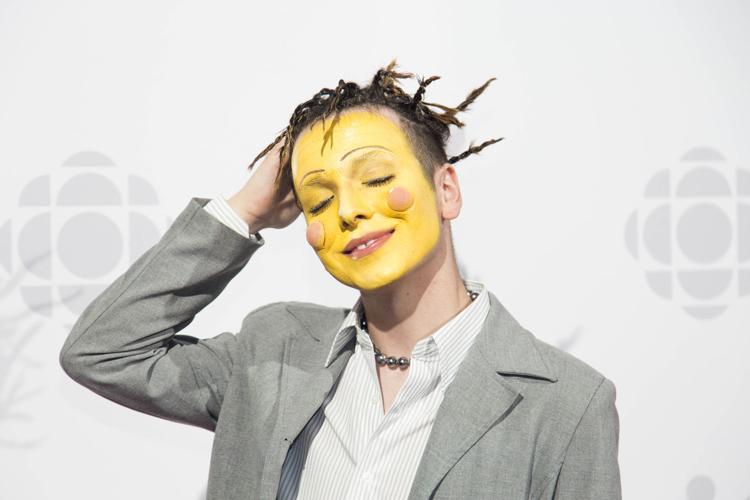 Afie Jurvanen, better known as Bahamas, performed from his breezy, Juno Award-winning album Earthtones. Jurvanen took home the award for Adult Alternative Album of the Year, and director and puppeteer Ali J Eisner brought home their first Juno for Video of the Year for the Bahamas song, "No Depression."
The video only features one scene of Jurvanen, which is by design. He explained his favourite music videos are the ones where he is in them the least, and also wanted Eisner to have full creative licence. The video featured a puppet version of Jurvanen singing along and wandering through the forest, only to reveal the real Bahamas sitting around a campfire, roasting hotdogs at the end.
Eisner has always been interested in puppets, and was able to make a career out of it after they auditioned to be a host on children's network YTV. They were able to combine their love of music and puppeteering, appearing with their puppet, Jay the Blue Jay, on TV Ontario to pre-school-ify famous songs by Canadian artists for a young audience. Having worked in these fields for years, Eisner said it was a no-brainer when Jurvanen approached them about making a music video.
Eisner explained that Jurvanen was incredibly trusting and gave them full control over the project, giving no notes and only coming onto set for the scenes he needed to film.
"One thing I love about Afie is he's an authentic, honest performer. He doesn't like to do the same thing twice." Eisner said. "So while I had to get a 'roasted weenie' segment, we had to do it a couple times to tweak lighting or camera; he gave me something different every single time."
The award night came to a close as the Fan Choice Award was announced after viewers were encouraged to vote over the duration of the show. This is the only award Mendes was nominated for that he did not take home, with award instead going to Avril Lavigne after her triumphant return to the music scene with her latest album Head Above Water.
Newly minted Canadian Music Hall of Fame inductee Hart took the show home with his 80s hit "I Wear My Sunglasses at Night," and was met with more than a few audience members pulling out their shades. 
As McLachlan told the audience as she opened the show, music is a uniting force. The Junos show the world that Canadian music is a force to be reckoned with as Canadian performers make headlines internationally.
A complete list of winners can be found on the Junos website.