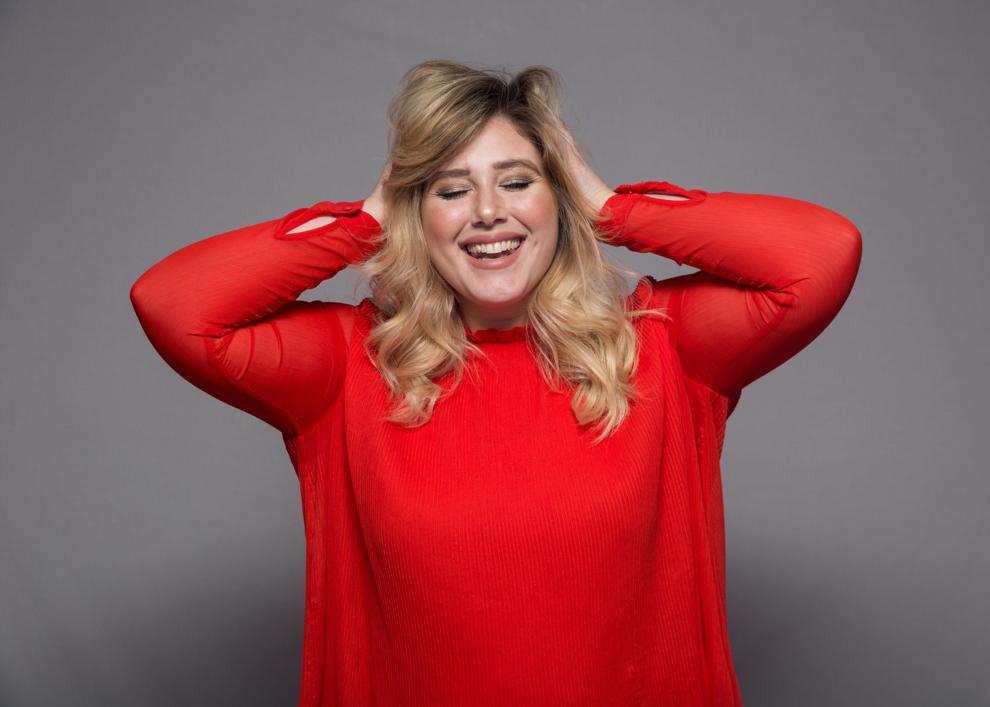 Whether graduate student Kelsey Bush is wearing red silk or diamond-studded black, she's a prominent lingerie model in the university's fashion scene, strutting down the runway for clubs — including Purple Spur Society and Canadian Asian International Students Association — for the past three years. 
To onlookers, it's clear that the 25-year-old walks with purpose while onstage; she reps a confident and comfortable stride, proclaiming a sense of belonging on the runway.
Currently enrolled in Western University's master of media in journalism and communication, Kelsey's assertive demeanour is not a facade — far from it, in fact. But as one of the university's only plus-sized models, one who saw almost no representation in campus shows before she strut out herself, it was nerve-racking for Kelsey to start.
Those nerves led Kelsey to almost walk out on her first audition three years ago, intimated by the fact that all eyes were on her during the tryout for the Purple Spur Society's fashion show in 2017.
"The whole time I was like 'I don't think I fit in.' I just felt so different compared to everybody else," says Kelsey. But after chatting with the judges, who were supportive and conversational, she felt a sense of belonging she still holds today. 
Not only that, but she has an abundance of friends that support her during her performances. Preparing for her first debut, she would take notes on how to walk and pose from friends who wanted to see her modelling debut come to fruition. And even though Kelsey was still agitated during the show, she felt confident, seeing friends cheer her on through the limelight. 
"I still to this day remember walking and not falling, but I remember almost falling. I still get nervous, but it's a different kind of nervous, and I feel like it's changing every year," says Kelsey with a smile.
Last year, those nerves were sparked by the fact she would be modelling in front of 1,500 people at CAISA's fashion show. Having already performed once, she was enjoying the spotlight the second she got on stage. Now in her last year at Western, Kelsey has put a certain level of pressure on herself to inspire and empower other plus-sized students to take the stage and feel the same sense of euphoria.
"What you see in the media very much defines what we understand as beautiful. It's important to have representation of everyone, and I don't feel like in the modelling industry there's a good representation of curvy women," states Kelsey, who's hoping to change that perspective during the weeks leading up to this years CAISA fashion show through her "Thirty Days to Show Day" challenge.
The "Thirty Days to Show Day" Instagram challenge is a medium where Kelsey posts one photograph each day, sharing insight on her performance preparation, among other topics, including self-love and body image in her day-to-day life. Through the challenge, not only has Kelsey had others reach out to her to communicate their gratitude for her openness, but she's also felt a closer bond with friends who are reaching out in support of her. 
While body-positivity has become a prominent trend on social media, she thinks most of these posts are too coated in happiness.
"It's great, don't get me wrong. But I think that self-love is accepting that we have ups and downs," says Kelsey, who states that in her youth, she would often try to hide through her clothing in order to fit in, often wearing whatever would attract the least attention. Although, since then she's completely come out of her comfort zone, describing her fashion sense as classy and simple, often mixing in a pair of high boots to add some extra flair. 
"I don't really have one fashion sense, it's really just a hot mess. I'm trying to make it more professional now, but it's whatever I'm feeling," explains Kelsey. 
But today, she's already had a successful career representing plus-sized individuals in the modelling industry, walking the catwalk on campus several times and even modelling for L'Oreal. She hopes everybody can feel comfortable with the idea that they too can pursue modelling inside and outside of Western.
"Change is slow. I hope that we get to a point where everybody feels like they can model," says Kesley. "Where companies dress you even though you're five-six and not tall enough."