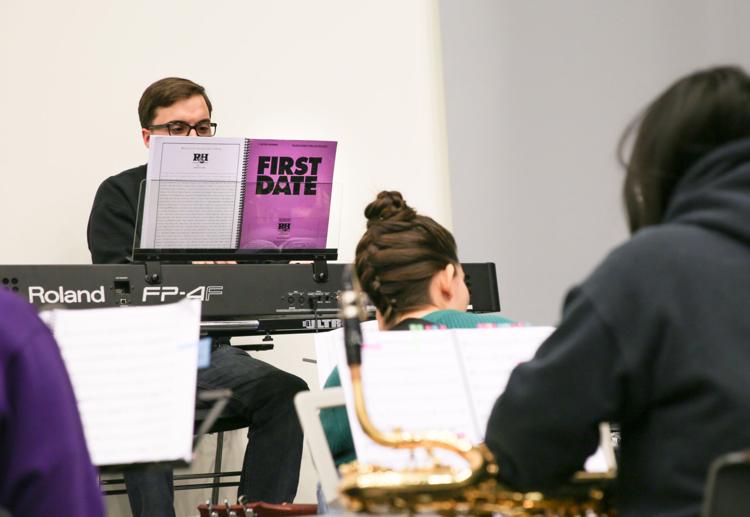 King's Players' "First Date" makes all the second hand embarrassment and awkward moments of a blind date fun. "First Date" follows the meeting of nerdy businessman Aaron (played by Brent Miller, a second-year nursing student) and indie, art-gallery-working Casey (played by Simmie Patoka, a first-year vocal studies student). They go back-and-forth arguing about religion and commitment.
The show tackles issues of modern dating, including how the internet has changed social interaction. A high energy is maintained throughout, from classic show-tune style dancing to personifying Google in a boa-clad kickline.
The show begins with lounge-style singing from the production's vocal coach and music student Tatyana Austrie. The production follows on a strong note, jumping right into songs about religious crises and awkward pauses between conversation topics.
The production starts off with a high energy song, "The Girl For You," as Aaron finds out that Casey isn't Jewish. This is a deal breaker for Aaron, who then spirals into a musical number in his mind, which features his dead Grandmother Ida (played by Thalia Ranjbar), Casey's imaginary Christian father (played by Jack Sizeland), and their future son (played by Ben Jones) whose conflicted religious upbringing has turned him to nihilism.
The leads are strong, never leaving the stage, and are well supported by the ensemble. The waiter (played by David Carlson) breaks the tension from the date with his broadway style dance numbers ("I'd Order Love"). Casey's best friend Reggie is played by second year student Joshua Patrick, psychology and vocal studies student. Reggie calls three times to bail Casey out of a bad date from the song "Bailout #1" onwards. His overactive imagination leads him to storm into the restaurant thinking that Casey has been killed by her date.
The ensemble also plays figments of Aaron and Casey's imagination. As they needed advice, patrons at the restaurant jump up to become Casey's sister Lauren (played by Grace Campbell) and sleazy exes (played by Alex Bogaert and Ben Jones), as well as Aaron's manipulative ex girlfriend Allison (played by Hayley Tubrett) and his best friend Gabe (played by Ben Jones).
Aaron's angry monologue "In Love With You" is a highlight of the show, as Casey convinces him to mentally confront his ex-fiancé in order to get over her. He chases her around the stage, singing to her about everything he has wanted to tell her. The song maintains the high energy even as the plot delves more into the character's emotional issues.
The production relies heavily on the use of romantic comedy tropes and stereotypical characters. However, throughout the show the audience learns not to trust their first impression of the characters, just as Aaron and Casey must look past their first impressions. The romantic comedy style makes the plot predictable but loveable, as the audience audibly swooned at the classic romantic ending. Miller and Patoka are well suited for their roles, creating a fun relationship that the audience roots for.
The production as a whole is incredibly fun. Although it tackles the awkward nature of contemporary dating, as people worry about their biological clock and internet stalking, the show primarily presents an opportunity for the audience to sit back and laugh for an hour and a half.
King's Players' "First Date" shows from Jan 31 to Feb 3 at the Joanne and Peter Kenny Theatre. More information can found on the King's University College website.