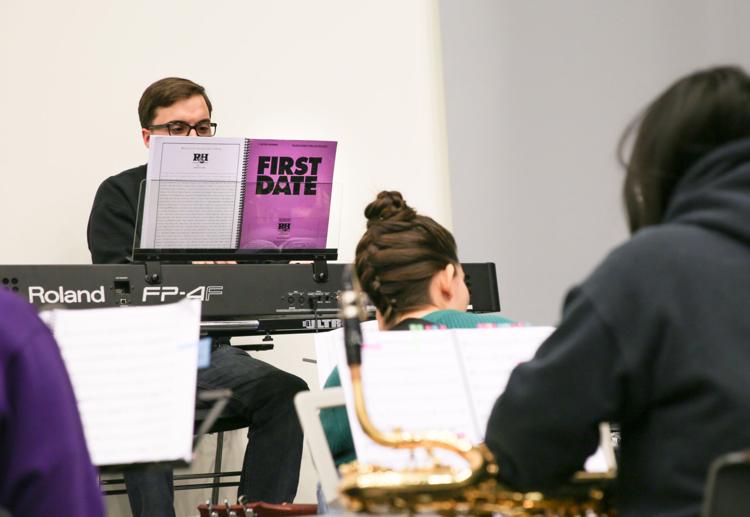 Join the King's Players Theatre Company for their second show of the year, First Date, as they tackle awkward first meetings through song and dance. The King's Players are a student-run theatre company within the Western University community.
Community extends beyond the cast and crew — the show relies on the Western community to come out and enjoy the show. The club is open to students from main campus and affiliate university colleges. They host a variety of events from improv every Thursday to multiple shows a year, including a winter musical, fall play and smaller productions in between.
The show promises laugh-out-loud humour as Casey (played by Simmie Patoka, a first-year vocal studies major in the music faculty) and Aaron (played by Brent Miller, a second-year nursing student) are set up on a blind date. From there, questions of commitment and religious quarrels ensue.
Director and third-year international relations student, Cassandra Di Felice, says the humorous and relatable aspects of the show make it a perfect musical to indulge in escapism.
"Especially in today's political climate, sometimes it's nice to just kind of escape from everything," Di Felice says. "As much as [theatre] is driving a political agenda and sending a message, sometimes it's just nice to be able to sit down and kind of escape the troubles of day-to-day life and laugh at some people on stage."
The goal of King's Players is to "put the 'community' in community theatre," says Di Felice. Producer Shelby Price, a fourth-year criminology student, explains that this is the King's Players slogan. King's Players prides itself on creating productions for students by students.
The crew is made up of Western students from all campuses, which creates an interesting dynamic for putting together a show. The cast comes together with completely different schedules and levels of experience. As Di Felice explains, they try to maintain a balance between friendly support and a professional atmosphere.
"It's hard because your peers are also the people that you're teaching and sometimes, not sometimes, it's always difficult to find that line. But everyone here knows that everyone has a role to play" she explains. "When we're here, we all know that we have a common goal to put together, and I think everyone really respects that."
This sentiment of a positive student-run experience is mirrored by leading actor Brent Miller, second-year nursing student. He says this environment allows the students to express their passion and dedication to the arts.
"We're all in the phase of our life where we're extremely motivated; we're extremely dedicated to school and that can translate into the production where you're going to have a lot of fresh ideas and a lot of really passionate people joining," Brent states. "The passion is still really burning in all of us."
This community also includes the student band accompanying the show. Ben Liebovitz, a masters in musical theory student, is the show's musical director. With past music teaching experience, he explains the importance of creating a culture that provides students with the opportunity to lead.
"Working with sort of my age group, with my peers, is really rewarding to see all of us in such a vital growth stage in our musicianship," Liebovitz says. "As we go through undergrad, we evolve a lot, not only as students, but those of us in the band and the cast as musicians. And it's a critical time for that sort of evolution."
The musical score features fun numbers that express the character's inner monologues. From numbers such as "The Awkward Pause" and "The World Wide Web if Forever," the musical numbers offer a humorous outlet for the characters to express their discomfort. Liebovitz explains his main goal is to maintain the authenticity of the original musical score, while still making it personal to the students involved.
"To be able to sort of put our own personal stamp on this show and other productions as well I think is what makes community theatre so special," Liebovitz states.
More information can be found on their Facebook page (@kingsplayerskuc). The musical runs from Jan. 31 to Feb. 3 at the Joanne and Peter Kenny Theatre at King's University College. More information about tickets can be found on their website.