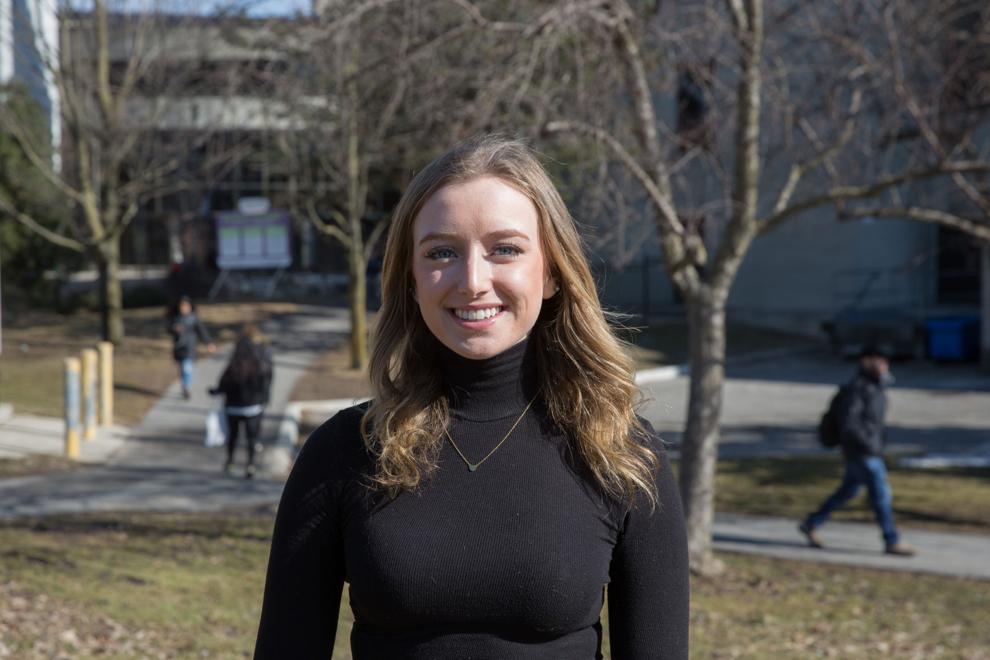 Kyra Keer is a name to remember.
The fourth-year bachelor of medical sciences student is a driven, self-described people person. As a Science soph, Kyra found space to connect students around a common purpose. And it's within this vein that she's produced a venture built on improving communities well outside of Western University.
In fall of 2018, Kyra began Forget Me Not Awareness, a company that sells apparel and other goods with all profits going to the Alzheimer Society of Canada. Her aim is to promote conversation around Alzheimer's while encouraging people to share their own experiences with the disease.
"That's what I'm just trying to do: get people to talk and realize they're not alone," Kyra says. "And then, by sharing stories and hearing other people's experiences, you can find new ways to cope with your own experiences as well."
As a medical sciences student, her interest in health care started early. Her mother, a nurse, would bring Kyra to the hospital where she learned about its workings. This period, combined with an interest sparked in biology during high school, forged a deep interest in pathology.
But as Kyra explains, it was her own personal experiences with Alzheimer's that drove her to specifically focus on growing its awareness.
Growing up in Strathmore, Alta., a town of less than 14,000 people, Kyra's grandparents live two minutes down the road from her. They have a close bond, something Kyra's grateful for. While in Strathmore, she sees them almost every day.
Kyra's grandfather, one of her best friends, is at the root of her Forget Me Not drive. It was over the last five years that her family started noticing changes in him.
Kyra says he began forgetting things, had rising anxiety and wouldn't fully know what was happening around him.
It was two years ago that her grandfather was diagnosed with Alzheimer's.
She didn't discuss it with anyone for about a year. "I felt like our family was the only family that was dealing with this," Kyra says.
But when she did start discussing her grandfather's diagnosis, it became abundantly clear that many people were in a similar position. As Kyra notes, the disease is a common one — 747,000 Canadians are living with Alzheimer's or another form of dementia — so it made some sense that others could relate to her experience. It also showed there was a disconnect in what was happening and what was being discussed.
"That kind of led to the question: So why don't we talk about it more?"
Bouncing off this, Kyra began Forget Me Not. She asked her grandfather to handwrite the phrase on paper, and now uses that writing as a part of her designs.
Kyra hopes to continue growing the company — of which she is its only employee — into one with a larger consumer base. She wants to hire a graphic designer to produce new designs and refine her own, as well as hire someone with a business background to compliment her own academic base.
As an initiative, Forget Me Not is fresh. But Kyra's underlying motivation is not.
Since the age of 14, Kyra's been driven to start a non-profit or charity.
While in a leadership class at school, she needed to fulfill volunteer hours; there, spending time at women's shelters and retirement homes, she found an interest in volunteer work.
"I used to snowball ideas off my mom, like, 'What if we did charity car washes? What if we did a charity golf tournament?' " Kyra says.
Her mom would respond, "Okay, but what for?" 
These days, it's safe to say Kyra's found her "what for."
"I've thought about it for a long time; a million different things have crossed my mind, and this was the only one that clicked," she explains. "I was like, 'This is important. I know how to do this. And I can do this. So I'm going to do it.' "