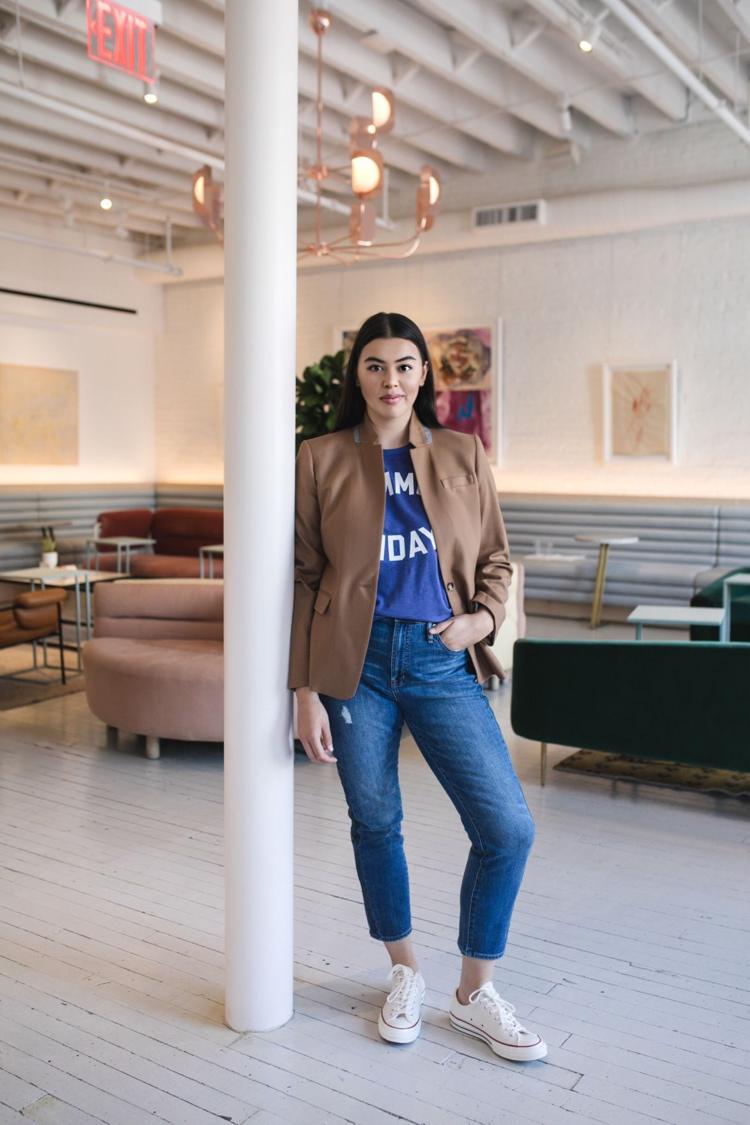 "This is the most New York thing ever. Take me back to Toronto!" Lauren Chan laughs as she scolds her dog, Pepper, for chasing a rat in the backyard of her Brooklyn apartment during our interview.
The Canadian city slicker grew up spending her free time on basketball courts and collecting Vogue magazines. She still has the 2004 September issue, the one that really made her fall in love with the industry.
She was recruited to Western University for the women's varsity basketball team in 2008, where she studied French and sociology. She took the only fashion class available at the time: Writing 2293 with Claudia Manley. Now, as a female fashion mogul and former fashion features editor for Glamour magazine in New York City, Lauren Skypes into the same class every year, inspiring students to follow their creative passions and to make moves by breaking down boundaries.
Four days after graduating from Western, Lauren went on a road trip with her dad to a Ford Models casting call. She was signed that day. Though she had been applying for writing gigs while at university, no company was prepared to give her a work visa as an assistant or junior editor, so she tuned to what made her different in the competitive industry: her size.
It wasn't easy on her, though.
"When I first started out in the fashion industry, individuality and authenticity wasn't as 'in,' and it's a shame that it took someone more than myself to tell me that," she explains.
Plus-size modelling began as a side hustle. Lauren's real focus was on interning in every department she could — from bookings to the news team to programming — and attending various panels and workshops in hopes of landing an interview with a big magazine. She did this all while writing for free and putting her body at the forefront of her work.
After almost three years, a piece she wrote for Refinery29 about being a plus-size model was read by an editor Glamour. She was hired as the associate fashion editor two weeks later.
At first, Lauren shied away from her experiences in the plus-size industry.
"Even though I had been freelancing about the plus-size industry and had been modelling in it, I didn't want to touch the plus-size market. I really wanted to fit in."
But the fear of pigeonholing herself into one market and ostracizing herself from her peers and competition didn't last long. 
"I realized that I wasn't going to have a leg up on my peers if I didn't lean into what was unique about me," Lauren says.
She pitched her friend, Ashley Graham, now a supermodel, for a two-page feature on plus-size inclusivity in the magazine. The positive response was undeniable. After proving to her editor-in-chief that the plus-size market was a valuable space for the magazine to grow, her personal monthly column, "Style Your Size," was born. The column is dedicated to covering fashion for all sizes, bodies and occasions. From there, she launched a vertical stemming from the column, directed 10 clothing collections for Glamour x Lane Bryant, helped fellow Canadian designer Tanya Taylor launch a plus-size collection and got invited to sit on shows like Good Morning America and NBC's Today show.
But Lauren's success at Glamour was more than a personal feat. 
"It was the validation that editors were realizing that the plus-size market was worth covering and that the fashion industry was finally going to open up to talk about women of all sizes," she says.
During her time at Glamour, Lauren realized that her goals had changed. A career in fashion became less about being a big-time editor and more about including the women in fashion who had been left behind because of their size.  
That's where her new clothing line comes in. In 2019, Henning will launch as a direct to consumer brand with 10 contemporary work-wear staples to start.
"It's all of the clothes that I wish I had when I was in the corporate world," she explains. "My bosses were wearing Céline every day, and I was in Forever 21 because that's the only place I could get a longline vest in size 16 when they were in." 
What's unique about Lauren's venture is that her brand is based entirely on her own experiences. She knows the styling tricks that make plus-size clothing wearable, from secret buttons to sweat-proof fabric. 
She feels impassioned to be a part of the inclusivity movement because she understands first-hand how it feels to have your worth determined by the number on your clothing labels. 
"When you grow up as someone who didn't fit into clothes and didn't feel represented, it's really hard to undo that messaging mentally," she shares. "I want to be someone who's leading a charge to tell younger women that they never have to feel left out for being something that isn't part of the norm."
Lauren says that the fashion industry for plus-size women is changing — after all, brands can't ignore close to 70 per cent of the U.S. population, or 100 million women, forever. 
And to those who have doubted themselves based on their individuality, Lauren has words of encouragement:
"Really and truly, what makes you different is what makes you great. The less time you spend thinking otherwise, the better off you'll be."