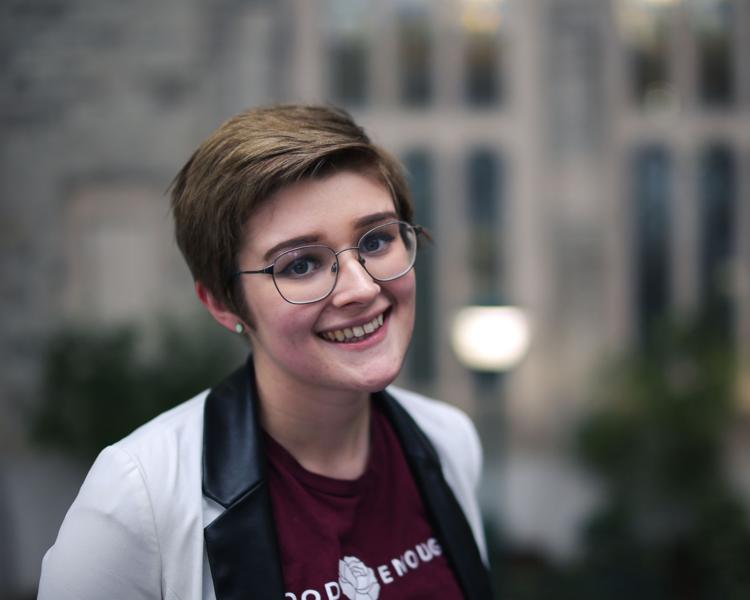 For Layne Clarke, finding a sense of home has never been easy. 
Like many Western students, Layne grew up far away from London, Ont. Their family owned and lived on a logging camp in Holberg, B.C., a 350-person town in northern Vancouver Island. Layne described it as idyllic, rural and homogenous. Shy and soft spoken during their youth, Layne says the internet didn't come quickly to Holberg like it did other cities. 
"It was a bubble," Layne says. "[My hometown] was an hour to the closest town and grocery store."
With few queer individuals around and no way to reach them, Layne was determined to start university on a different note. After Western University accepted them, they applied for a floor that would help them foster a sense of community in Elgin Hall: the rainbow and ally floor. 
"We had a really great queer community on the LGBTQ+ floor," Layne says. "But there really needs to be more opportunities to expand and meet other people [at Western]." 
Layne says joining the floor gave them a sense of safety and security within the wider Western campus — finally, a sense of home. Although Layne appreciates the advocacy Western has done for LGBTQ+ issues, they wanted to create more opportunities for social programming.
Layne wasn't alone in this thinking. They say many of their queer friends also expressed a need for a social group because this sort of social atmosphere was hard to find at Western two years ago. 
That's why Layne started Spectrum, a University Students' Council social club that builds a sense of community for queer students. Currently, they're the president of the club with an aim that's simple: Spectrum facilitates friendships by creating bonds through board games, trivia nights and study days — some of Layne's favourite activities. When Layne isn't running activities for Spectrum, they're reading historical books or watching comedies. Their favourite show is Arrested Development.
But starting Spectrum was a bold move for Layne at the time. Layne didn't always have confidence in their leadership abilities. Although Layne started building these skills in high school by going on exchange to the Netherlands, it wasn't until they became a soph at Ontario Hall last year that Layne began to develop more confidence.
As a soph, Layne helped first-years navigate the unique struggles of transitioning to university life and directed them to resources as needed. With their experience as a mentor, Layne noticed a lack of resources and community spaces for queer students.
One day, Layne hopes to work with minorities in the field of global health, and apply the experiences gained from running Spectrum and apply them to their future career. 
But for now, there's work to do.
"In the future, hopefully Spectrum will grow and we'll do more events," Layne said. "I would like to reach out to affiliate colleges. We're hoping people will come, meet each other and build a sense of community for queer students."