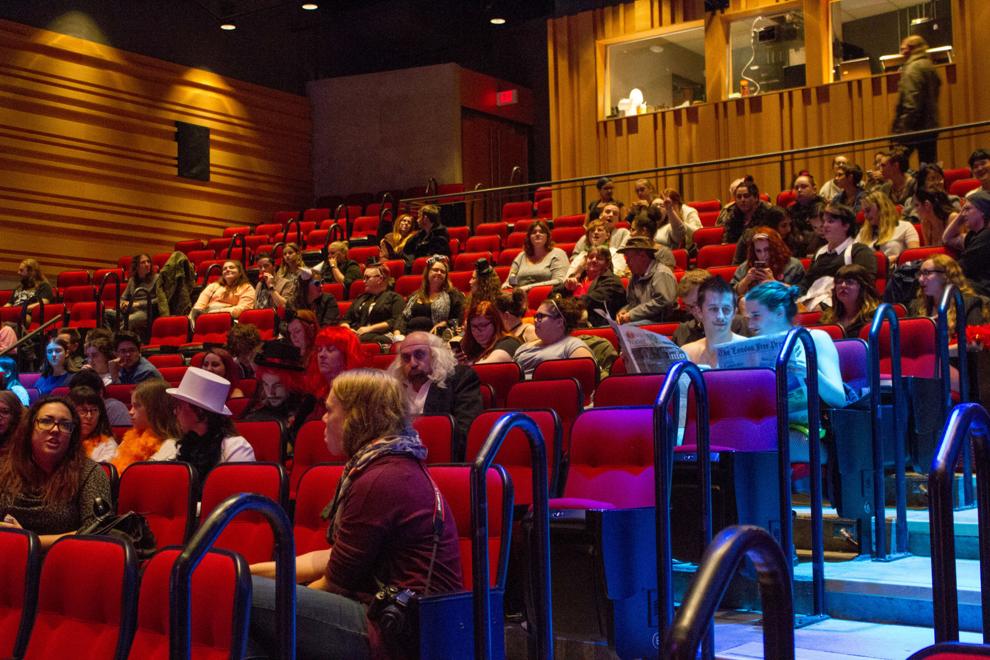 Richard Renaud, Imperial Prince Royal of the Sovereign Court of London Southwestern Ontario and the creator of ProjectBE, is dressed as Dr. Frank N. Furter as he greets guests. From the heels and fishnets to the elbow-length gloves and overdrawn eyebrows, the costume is spot-on, despite it being a last-minute effort. Only the "virgins" (newcomers to live Rocky Horror) aren't in costume.
Rocky Horror follows the newly engaged Brad Majors and Janet Weiss as their car breaks down on a road trip. They walk to Frank N. Furter's castle looking to get out of the rain and enter the groovy world of Transexual, Transylvania and all of its characters.
The Rocky Horror Picture Show gained its cult status in the 1970s, as midnight moviegoers began interacting with the screen, typically by yelling or throwing items like toast and playing cards at the strange science fiction production. The show engages directly with the audience, as the Criminologist explains the story to viewers and Frank N. Furter breaks the fourth wall to share a brief glance with the audience at least once a scene.
Rocky Horror collection 1
Many audience members cite the interactive nature of the show as their favourite part. Fans yell and cuss at the characters as they sing along or throw food at the screen. For example, as characters Brad and Janet approach Frank N. Furter's castle, Janet holds a newspaper over her head to cover herself from the rain. The audience does the same, donning newspapers over their heads for the scene. This is one of the least vulgar actions that accompany the movie, as audience members also ad lib profanity to accompany the dialogue.  They call the characters names like "asshole" and "slut" every time Brad and Janet introduce themselves (which is more often than you would expect). To help new audience members, this screening was accompanied by prompts on the screen, instructing audience members when to chant and throw props.
ProjectBE, an event production company in London specifically for LGBTQ2+ programming, hosted the event. ProjectBE also hosts events like drag shows, club nights and sessions for corporations in efforts to raise money and awareness for the LGBTQ2+ community. Renaud organized this event with the goal of raising money for three different charities: All Breed Canine Rescue, Camp Wendake and Camp Wendake.
He first saw Rocky Horror when he was around 18 years old and has been engrossed with it ever since. Renaud claims that the movie "speaks loud" upon first watching it, due to the wild dance numbers and unpredictable characters; people have never seen anything like it.
Public screenings of the show provide an entirely new experience. Renaud, as well as many other viewers, have seen the movie numerous times because of the message of self-acceptance. With the taboo use of drag and experimentation with sexuality and promiscuity, the movie taught many of its fans to be themselves, even if it goes against societal norms. As Frank N. Furter sings in his final ballad "I'm going home", "don't dream it, be it."
"I think people like the risky element, I think that's why people like to dress up and attend the event — to have fun but also to say it's OK [to be who you are]," Renaud explains.
Moviegoer and longtime fan Ruth "Buzzy" Mccormick echoes this sentiment. Mccormick saw the movie for the first time when she was 15 in Detroit, and she's seen it countless times since. She dressed as a patron of Frank N. Furter's castle for this show, in a silver shirt, funky heart-eyed glasses and a sparkly top hat. She believes that self-expression is the heart and message of the movie.
"Do whatever the heck you want!" she exclaims. "Have fun, party, dance, be who you want to be!"
Brooke McGuire, a fourth-year childhood and social institutions major at King's University College, says that she was dragged to the show by her mom. Having never seen the movie, she didn't know what to expect other than the Time Warp. Her mother, Gena Burnitt, believes that everybody should see the show at least once in their lives.
"I've lived in some cities where they show it every week, like the Friday night midnight show, and it's packed every single time," Burnitt explains.
Renaud's goal for this show is to cultivate this adoration of the show and popularity from a London audience. His best piece of advice for a Rocky Horror showing? "Don't be shy!"