Growing up in the prairies, I always felt as though I didn't belong. Being the only Black girl in my grade, I realized things about the world that my non-Black peers may have not understood. I felt as though I was a representative for my entire race. Due to the colour of my skin, I was constantly worried about being overlooked for positions despite being qualified.
I was constantly wondering whether my personality was "too much" or if those around me thought I was "too Black." Saddled with the desire to truly find myself, discovering the Black Students' Association was a godsend. It gave me the chance to understand myself better, meet other Black people and be unapologetically Black. At events, you look around and you see different types of people who also look like you. It's a fulfilling feeling.
Since its inception in 1993, the BSA has been a socio-political club dedicated to supporting the Black community at Western University. We are a collection of individuals who, despite sharing a lot of similarities, encompass so much excellence, diversity and courage. 
We are no stranger to the stereotypes that have been eternalized by the media. Black students at Western and around the world are changing society's narrative of what being Black truly means. From generation to generation, we see the constant pattern of endurance, resilience and bravery exhibited by Black people. 
Society was not constructed in our favour. Laws were written and constitutions were created to place Black people in positions of powerlessness and keep them there, further perpetuating the negative stereotype of Black people. In the US and Canada, wealth is unequally distributed among minorities, especially Black and Indigenous people. 
Housing, the healthcare system, the justice system and much more were created on the premise of keeping Black and Indigenous people in check. As a collective, we have been put down and beaten to nothing. Despite all of this, we are still here and still fighting. The colour of our skin has come to signify our bravery, endurance and resilience as a collective. 
The world woke up to the oppression of Black people on May 25, 2020. The murder of George Floyd was broadcasted internationally and the world fell silent. The horrific murder while in custody of white police officers was brutal, inhumane and evil. For some people, that was the first time they had seen such a senseless act of racism towards a Black person. But for Black people, this was not news.
Seventeen-year-old Trayvon Martin was murdered by George Zimmerman in 2012, a neighbourhood watch captain; Philando Castile was shot during a traffic stop in 2016; Sandra Bland was hung in her jail cell in 2015 and Breonna Taylor was shot eight times while sleeping earlier this year.
The list is never-ending. Of every person I have mentioned, not one of them received justice — all of their killers were acquitted or haven't faced criminal charges. Crime or no crime, no one deserves to die at the hands of those who are called to protect. The Black Lives Matter movement was created to dismantle white supremacy and find liberation for the Black struggle. 
It is 2020, our voices are just beginning to be amplified, but we have been crying out for generations. We have not been silent. Issues of police brutality, racism and injustice are not new to us. The only difference between now and other instances is that we are finally being heard. 
We are not asking for much. We expect to be treated fairly. The system should not have been created to make us fail. We are calling for systemic change in society. Performative allyship — surface level activism, like posting a black square on social media but still saying the N-word — is a mechanism that has been used and abused in order to distract and deter us from the bigger picture. 
When it comes to the issues of Black people, people want to do things that look like change — renaming streets, taking down statues, marching in solidarity despite having the power to do so much more — but are really just taking the spotlight away from the real problem. We say Black lives matter because they do and should be treated as such. We are tired of having to diminish our pain to make others feel comfortable.
Change needs to happen. Black students and the BSA are fighting to see change at Western. We commend Western and president Alan Shepard for the creation of the Anti-Racism Working Group and we hope to continue this work in the future to create a safer environment for Black students. However, this does not simply erase Western's dark history of racism. 
Philippe Rushton was a psychology professor at Western who exploited and ridiculed the intelligence of Black people with his futile research. Last year, a white English professor used the N-word in class and when a student spoke up, she received death threats. These two incidents are examples of overt racism, but Black students also face microaggressions every single day on campus from their peers and professors. 
We are here to take charge of what happens in our life. This should not be an argument. It's always been this way, information has just become more accessible. Black people are a resilient group of people and we will never allow ourselves to be bound by the ropes of a society built to keep us down. We will fight until our voices are heard and our demands are met. The BSA gives Black students a space to feel comfortable at a predominantly white institution.
Over time society has tried to make Black people feel as though they are less than. Black Lives Matter is popular now but what about next week? Next month? Next year? Will Black lives still matter when it's not plastered all over social media? It's so unfortunate that it took a nine-minute recording of a Black man's death to wake society up to what's been going on for years. 
Black people didn't just start getting murdered by police in a day, it started with racism that officers were taught from young ages. To kill the racism we see on the streets, we need to start by killing the seed of racism in our hearts. Though it is in the system, it is also something that we have been taught and reinforced with throughout our lives, and something that will take a lot of unlearning to fix.
---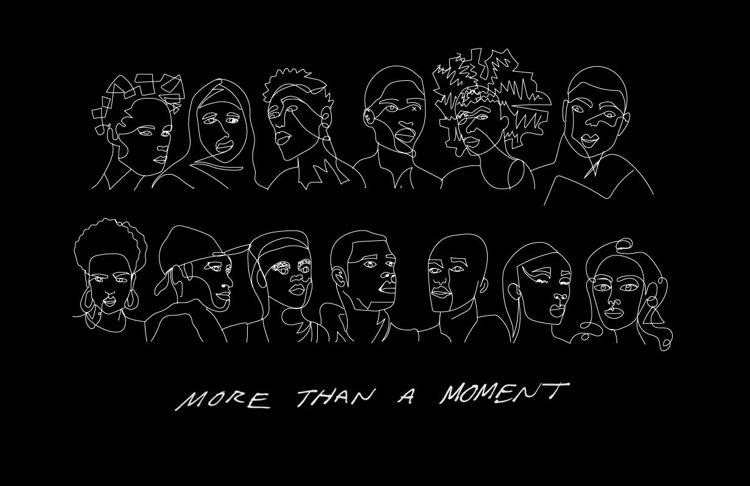 This article is part of the More Than a Moment issue, made in collaboration with the UWO Black Students' Association. Read the full issue here.