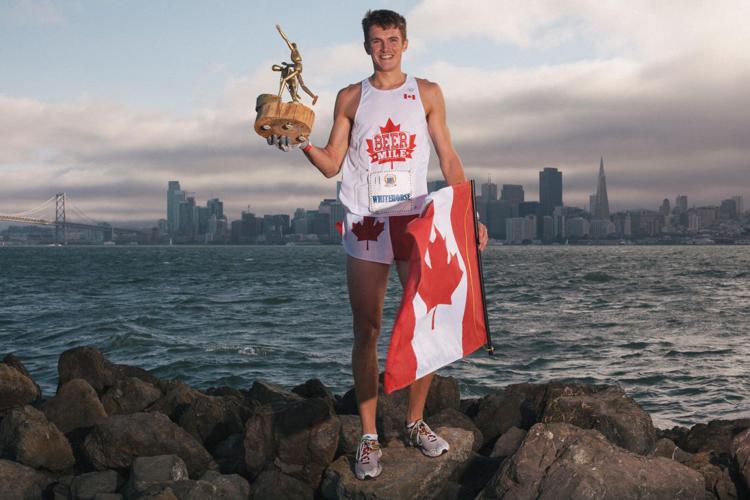 After a long day balancing a full-time job and running his own self-made company, Lewis Kent sits down at home, puts on Netflix and cracks open a cold one with his roommate.
Today, Lewis spends his days as a financial advisor and the owner of his own company. Typically working from 7:30 a.m. to 5 p.m. or later, Lewis shows nothing less than hard work and dedication during his daily grind.
But running his own business is not the only running he thrives on. Today, Lewis can proudly say that he has broken the world record multiple times for the beer mile. As a Western University alum  and former member of both the Mustangs cross country and track team, Lewis is no stranger to what it takes to be a great runner, and on the side, an even greater partier.
During a night out in his hometown of Mississauga, Lewis surprised himself — and broke the world record for the beer mile.
"I had woken up that morning and heard that some guy in Australia broke the record, and I thought it was unattainable because he had broken it by quite a bit," says Lewis. "We went and did one, and I broke it by about half a second, and I crossed the line, and someone told me I broke it. I didn't quite believe it yet because someone can start and stop a watch pretty inaccurately, so once I heard I had broken it, I was pretty damn excited because it's pretty cool to say you broke a world record."
What could possibly be better than breaking a world record, you might ask. Being able to say you broke that record two more times.
For those unfamiliar, the beer mile is a mile-long race combining running and speed drinking. For Lewis, the race combined his affinity for good times with his passion for running.
However, Lewis would have never discovered his love for running had he not been plucked out of a group of rambunctious elementary schoolers by the school's track and field coach.
"I got into running when I was in elementary school. I think I was in Grade 6. The school track coach was watching us at recess, I guess, and saw me running," says Lewis. "Growing up, I was just always running. If we had 25 minutes of recess, I was running for 25 minutes. So they picked me up, and I started running track and field."
Quick to realize his natural talent for running at 10 years old, Lewis continued to run for the rest of his academic career, but he never imagined it would have gifted him with the experiences he fondly reminisces on today. Since those early days, Kent has been profiled in the likes of Sports Illustrated, ESPN and TMZ, creating lifelong memories.
"The best one, the highlight of my entire running career, maybe even the highlight of my entire life so far, would be at the world championships on Dec. 1, 2015," says Lewis. "I recorded [my segment on an episode of] The Ellen DeGeneres Show the day before and had to fly back that night so I could be in Texas the morning of the race. I missed my flight because they recorded me late, so I actually had to fly into Austin, Texas."
Lewis spent that day travelling for five hours from L.A. to Texas, snuck in a quick power-nap and raced one heck of a race. But don't let the chaos of this story fool you; between being on Ellen and breaking the world record for the third time, Lewis was ready and smiling from ear to ear.
But being on Ellen and breaking world records are not the only memories that running has blessed Lewis with: some of his favourite memories of all come from being a Western Mustang.
"My varsity experience at Western was definitely the number one thing in my university experience," says Lewis, who served as captain of the cross country team in his final year as a Mustang.   
Long bus rides, daily practices and getting through tough races forces a team of individuals to come together. Whether it was hyping each other up for a big race, pushing each other in the off season or just hanging out on a day off, Lewis knew he had a second family at Western.
"The majority of my friends that I got at university and most of the best experiences that I got at Western were through just kind of travelling to Louisville, Ky., or Montreal for a race and those long bus rides or partying with people on the team or sharing the good races and the bad races. I would not have had as good of a time if I was not involved in varsity athletics."
But Lewis hopes running stays as a huge part of his life:  
"I'd say 10 years from now, I hope I'll still be running, and if I still got it in me, I'll be running some beer miles."