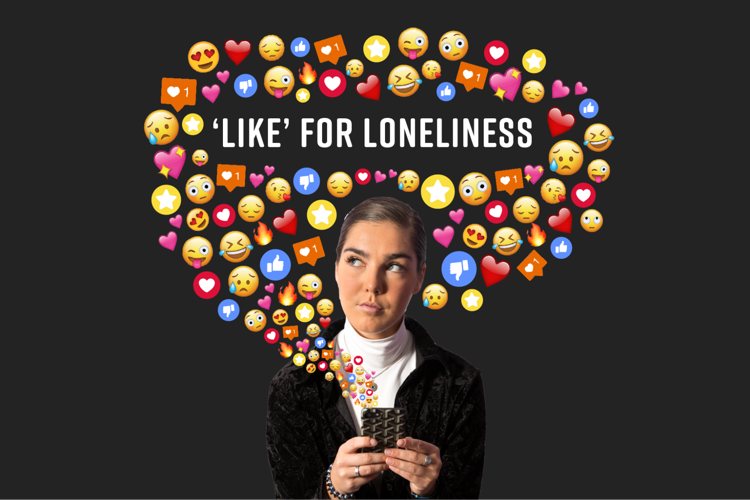 Teal Nolte is good at social media.
The fourth-year Faculty of Information and Media Studies student says it's a skill. And with over 3,400 Instagram followers, she's wielding the Insta-influence many students dream of — influence that can be turned into cash for nothing more than a promotional shout-out. She, like many, is also active on Twitter and Facebook.
Nolte says social media allows for a "continuous circulation of ideas," offering users effortless connection to friends and even financial opportunities for some. She points to a Toronto club owner who offered her a booth and free drinks for her friends, although she ended up declining the offer.
However, for Nolte, social media runs deeper than followers and promotions. It's vast, complex and not always positive. Despite being an outlet — whether it be "fake Twitter" (the secret Twitter account she shares with her friends) or campaigns like Bell Let's Talk — Nolte says the cycle of social media's assurance-seeking and expectations leaves her stressed. "I want to get the best picture with the best angle and post it at the best time," Nolte says. "Overthinking just makes it stressful."
She admits she's constantly on her phone, flipping between Twitter and Instagram in a "gross cycle." If she's socially anxious, the phone is back out and she's texting someone to make her feel comfortable.
Research suggests Nolte is not alone. An estimated 2.5 billion people will be active on social media in 2018, and while Facebook's mission is to "give people the power to share and make the world more open" — Instagram, Twitter and Snapchat share similar sentiments — emerging studies suggest social media may have a dark side. 
Callista Forchuk, a Western University graduate student in the department of psychology, is writing her master's thesis on the potential connection between Facebook reassurance-seeking and depression. Her mother, Cheryl Forchuk, professor and associate director of nursing research at Western, also looks at similar research. Noticing that Facebook users tend to hope for "likes" on their posts, Callista Forchuk wondered about the potential harm to users' self-esteem.
"[It's] persistently asking if you're good enough and asking for reassurance — excessively," Callista Forchuk says.
Using surveys from first-year students, Callista Forchuk conducted a study last year investigating a potential link between Facebook and depression, but her study found no relation. However, she says this may have been due to a poor measure.
Another recent study, involving Facebook and people aged 14 to 24, places Facebook in the middle on a ranking of five popular social media sites' impact on physical and mental wellness.
The ranking listed Youtube — which had the only net positive score — Twitter, Facebook, Snapchat and Instagram from most positive to least. Though each provided positive effects, such as self-expression and community building, they received negative marks concerning areas like bullying and bodily self-esteem.
Western's director of health services, Cynthia Gibney, says she sees the effect of social media on students' lives first-hand. She notes a surge of students buried in their phones and a rise in students struggling with mental illness. According to an analysis of the National College Health Assessment survey of nearly 35,000 students in Canadian post-secondary institutions, 57.6 per cent of students report more than average stress. Of those who reported any level of stress, 46 per cent said their academic performance was impacted by it. 
Gibney worries that young people invested in the digital world may be missing out on elements of real-life connection.
"You still have to care for one another. You get something from giving," Gibney says. "[When you] are on social media and connecting electronically, you miss emotional cues and you miss sarcasm. You can't pick up on that as well if you don't talk to people face-to-face."
However, according to Cheryl Forchuk, some of the stress we feel is normal.
"Mental health is something which applies to everyone; we all have mental health," Cheryl Forchuk explains. She notes that, while stress is natural, stressors compound at university due to challenges in our social and emotional supports, such as academic pressure and distance from home.
It's the simultaneous, collective increase of stress which raises concerns and leaves students at risk of more serious anxiety.
"About a third of individuals we see at the crisis centre or through crisis services are under the age of 24," says Lori Hassall, a director at the Canadian Mental Health Association Middlesex. "They are not necessarily just calling to inquire about services; they are coming because they're in crisis." She says social media regularly comes up in client discussions. Hassall suggests it may contribute to the social isolation and sleep deprivation that some of her clients face.
Students also have options in regulating the effect social media has on their well-being. Similar to Gibney, student leaders see room for campus improvement: former Active Minds president Ryan Henderson and Western alumna Kristy Townshend are proponents of Western's Peer Support Network, which helps address stressors through discussion before they compound. Further, the Wellness Education Centre has information for improving one's life financially, nutritionally, physically and mentally. 
One student following Gibney's advice is fourth-year political science student, Ethan Martin. Inspired by a TED Talk on quitting social media, Martin gave it up last year.
"I sort of detest Facebook," Martin says, "Every time I go on, I'm reminded of how much I don't miss it."
After quitting Facebook, he said his productivity increased and he spends more time with the people he "actually wants to see."
Codrina Ibanescu, a second-year environmental science student at York University, also decided to give up social media after seeing others' disconnection from real life and out of a desire to feel good about her own. 
Now, the quality time in Ibanescu's life is found far from Twitter and Facebook — though she loves a good meme — where there is less pressure to conform. Though the sponsors paying Snapchat up to $750,000 a day for branded selfie filters likely want her snapping, she appreciates the ad-free experience that real-life socializing can offer. 
"My motivation to start using my phone less is inspired by the fact that I would like to engage in day-to-day life and feel as though I am more present from moment-to-moment," Ibanescu explains. 
But it's not all positives. Being one of a few to break from social media leaves her in the minority, and at times, Ibanescu says she feels more isolated than when she's online. Whether those around her use their phones for practical functions such as Google Maps or perusing their friend's girlfriend's sister's Insta, Ibanescu's plight to be social in "real life" is complicated when she's one of the only ones doing it. 
Social media isn't evil, but that doesn't mean we shouldn't pay attention to the larger role it may play in our lives. For better or worse, it seems Ibanescu's friends' lust for social media, much like many others, is here to stay. But for social media's many benefits, it couldn't hurt to take a break from time to time — could it?