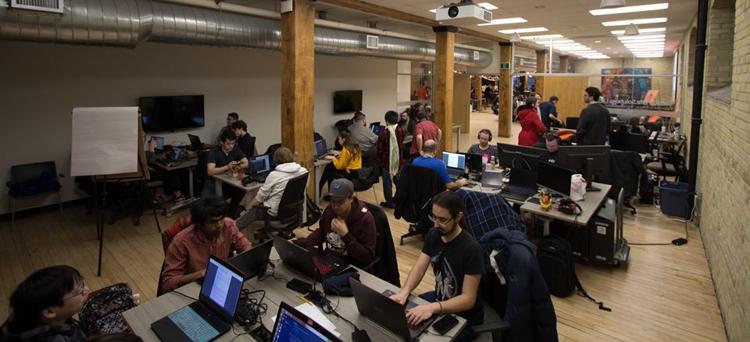 As the cold grey sky began to turn to black this past Friday night, over 70 professional and aspiring game developers filed into the Innovation Works building in downtown London. Over the next 48 hours, these creators tackled a difficult task: to create a fully functional video game from scratch. Welcome to the 2020 London Game Jam.
The London Game Jam, colloquially referred to as LoJam, began in 2018, and is run by Canadian game developer Jim Leedham. After an inaugural year in which Leedham says the event was run with "literally no money at all," the London game development company Digital Extremes, for which Leedham is the lead Xbox programmer, began to support the event.
Game jams are similar to hackathons as they centre around the same general idea: can you create a functional piece of software over the course of a weekend? The difference being that the participants here are not seeking to solve software problems, but are instead looking to make great games.
Through a partnership with the London Health Sciences Foundation, LoJam not only seeks to foster the creation of games that promote positive mental health, but also directly supports the London Health Sciences Foundation, which specializes in supporting those dealing with mental health issues.
"[We encourage the creation of] games that would promote positive mental health, either through the storytelling in their games, or the characters in the games would have a mental issue that would be representative of a real world issue," says Leedham.
LoJam also supports mental health more directly, by allowing participants to seek sponsorships in the form of donations to the London Health Sciences Foundation. LoJam managed to raise $3,300 for them last year.
This year was no different, with all participants given the opportunity to reach out to their friends and families for sponsorships. In his opening keynote speech, Leedham noted that LoJam is the game developer's version of doing a five-kilometre run for a good cause.
Despite the promotion of positive mental health being a crucial aspect of the event, it is not the only focus. One of the staples of a game jam is its theme, which is announced at the beginning of the event. This year, LoJam had an especially opened-ended one: "From the outside looking in, it's hard to understand."
When the game jam began the first floor of Innovation Works London was quickly flooded with excited conversations of how this theme could be incorporated into a video game.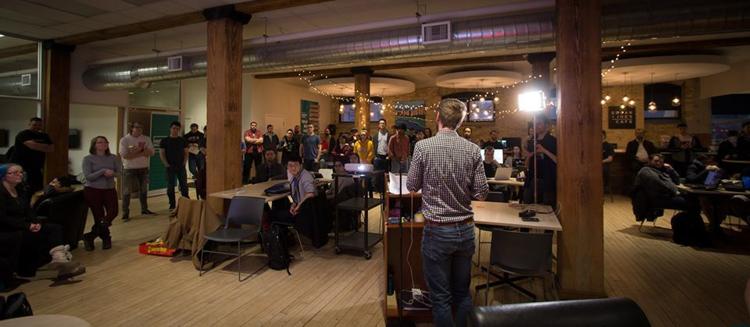 Words such as "platformer," "top-down" and "first-person" echoed throughout the wood-floored work space, as the energetic developers settled into their lives for the next 48 hours.
Many of these excited participants were Western University students, a group Leedham says is integral to the event.
"Maybe 60 to 70 per cent of our attendees are students," says Leedham. "A lot of the people who come are either at Fanshawe [College] or Western."
Among these Western students was Daniel Wakefield, a second-year computer science student looking to dip his toes into the world of game making at his first game jam.
"I want to get into game design, and I feel like this will be a good opportunity for me to learn if this is something I'd like to do, and to see what I can do with it," says Wakefield.
Both Wakefield and his game jam partner, second-year computer science student and seasoned game-jammer, Jack Maxwell, have their eyes on a future in game development and were excited to get to work. When asked how they expect to feel at the end of the weekend, their answers differed.
"Hopefully, a sense of accomplishment … that we actually put something together," says Wakefield.
"I imagine tired," answers Maxwell.
And with that, the two young developers set to work, along with over 70 other London creatives, to make a game over the course of a weekend.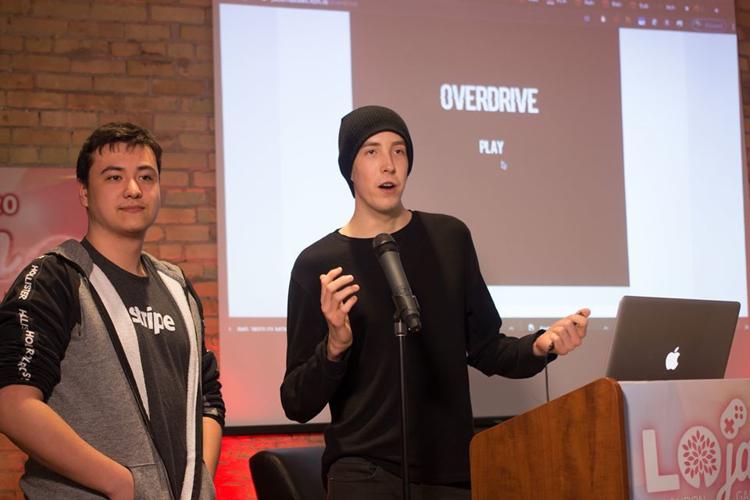 Two days later, the developers at LoJam 2020 finished up their projects and began to take the stage to present their games, an experience Leedham sees as crucial for new developers.
"I think that's a really important part as well, especially for students who maybe haven't had a lot of experience with presenting in front of a group. That's your opportunity to pitch your game," says Leedham.
Beginning at 3 p.m. this past Sunday, each group had the chance to take the stage and present their game, competing for the many prizes available, including tickets to game developer conferences, Steam gift cards and even a coffee maker.
Despite each team beginning with the same theme to build around, the final games varied greatly in both their mechanics and general interpretations of the theme.
Including 2D platforming, first person exploration, survival horror, point-and-click spelling and even a virtual reality game about a disembodied spirit, every team managed to bring something different and interesting to their interpretation of the jam's theme.
The two main prizes were won by "Uhtceare," a 2D platformer about shifting perspectives in order to overcome obstacles, which won the People's Choice (based on the online voting of every participating team) and "Fortune," an extremely personal game about helping a loved one find their way out of a difficult time, which won the Judges' Choice (decided by three game developers from Digital Extremes).
As the event came to an end, Leedham invited the group to a wrap-up dinner at a nearby restaurant to celebrate their collective survival of a difficult task and, more importantly, to continue their weekend-long discussion of video games, the thing that brought them all together in the first place.