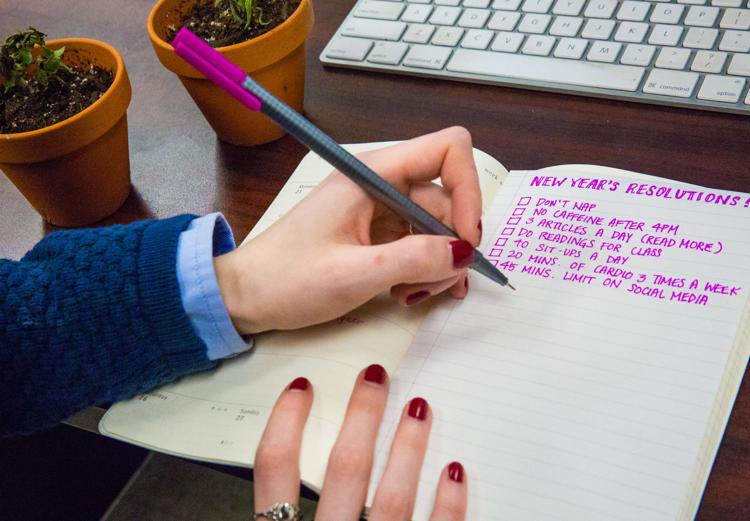 Sleigh bells have stopped ringing, and it's time for a new kind of jingle: "New year, new me."
If the holidays were a time to snooze until midday, binge on turkey and gravy, and make the most out of satisfying your bad habits before the year ran out, then you might have decided it's time to create a new you, which is likely already in its first stages.
Your resolutions determine how you envision yourself in the future, whether it be to stop biting your nails, to spend less money, to drink more water or to find a stable job.
To achieve these, one of the most powerful motivational techniques is goal-setting, which is what people do when setting New Year's resolutions.
However, not all goals are equally effective, according to John Meyer, professor and chair of the graduate program in industrial and organizational psychology at Western University.
Effective resolutions, says Meyer, are SMART:
Specific
Your goals must be specific, even if you have to list out what you need to do every day of the week. Instead of saying you'll drink more water, set a tangible goal, like drinking eight glasses of water a day for three days a week.
Measurable
Make sure your goal is easily verifiable.
"It's better to set behaviour goals that can be controlled," says Meyer. For example, doing 200 daily jumping jacks or cutting calorie consumption is better than setting outcome goals, such as losing weight.
Agreed upon
These resolutions are a commitment you're making to yourself. Your agreement to commit should be reflected in a true desire to meet your self-set goals. If you want to spend less money, you're going to have to really want to meet that goal, even if those new Nike's are calling your name from the store's window.
Realistic
You need to actually be able to accomplish your set goal. You can't become a heavyweight champion overnight.
"It might be best to start easy and build up to a more difficult goal over time," says Meyer. 
For example, start with decreasing the number of cigarettes you have each day over the next few months. If you have three a day, cut down to two the next month, and so on.
Time-bound
Set a time frame for when the goal should be achieved. Meyer says it's best to set short-term goals that will lead to the attainment of a longer-term goal, such as being able to complete a marathon. Or if you're goal is to find a stable job, you might set short-term goals like refining your resumé, networking and studying so that you can work towards achieving your longer-term goal of getting that job.
In addition to setting SMART goals, Meyer says it's a good idea to set "implementation goals." These describe the way you will go about meeting your goal.
"Rather than simply setting a goal of exercising for 20 minutes three times a week, you should be specific about when and where," says Meyer. "I will go to the gym Monday, Wednesday and Friday on my way to/from work. Then, put it in your calendar and identify ways you will deal with obstacles or scheduling conflicts, such as what you will say when friends want to go out after work."
Finally, Meyer says using cues or nudges to facilitate the desired behaviour is helpful. For example, having your reusable water bottle packed in your backpack every night will help you remember to refill it and drink it when you can. Setting an alarm to remind you when it's time to go to the gym is another example.
Creating manageable resolutions can be as challenging as meeting them, but you don't have to wait any longer to start. If you don't know where to begin, maybe your first short-term resolution should be to make SMART resolutions before you start proclaiming you've become a new person.