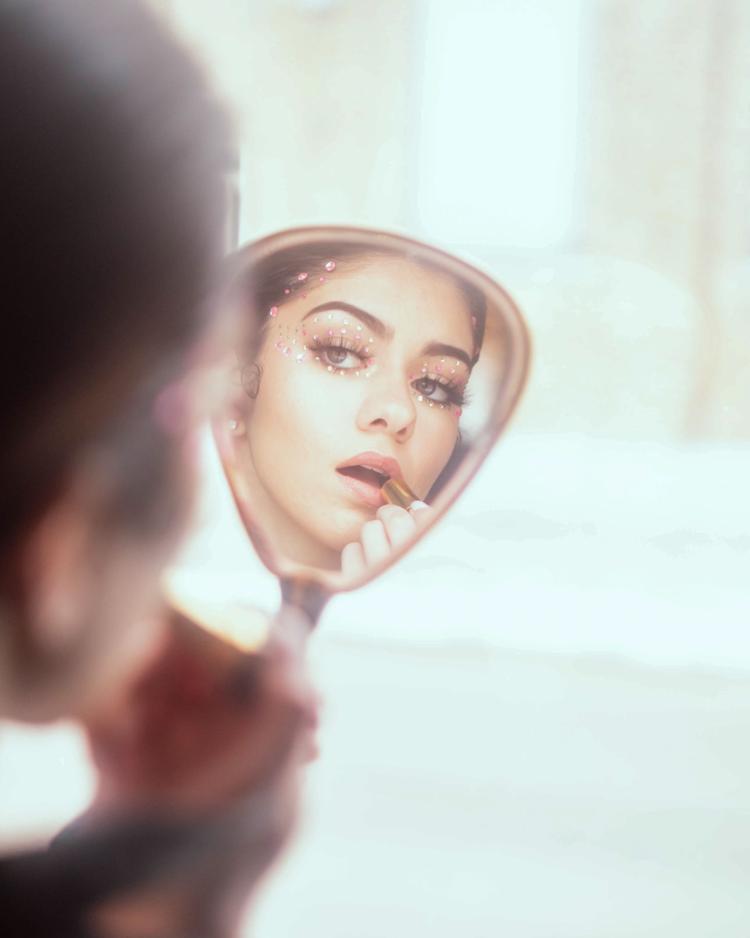 You've just done the deed and you've made your way to the bathroom. You see a horrific image of congealed, melted makeup that looks kind of like the soup you picked up just before the cafeteria closed.
As you see the clown-in-the-rain look on your face, you're probably wondering — how exactly does a porn star's makeup stay on, even through rounds of hot, sweaty sex?
It's actually easier than it looks. 
There's no denying that sex is messy, despite what the movies might lead you to think. These five easy tips will leave you looking fabulous during your walk of shame.
Leave the powdered eyeshadow at home
Powdered eyeshadow is one of the most fragile items in your makeup routine and can melt off with even the smallest amount of water. Instead, opt for a liquid eye shadow, which you can pick up from companies like Stila or Colourpop.
If you don't want to shell out for a new product, use a matte lipstick in its place, and blend with a dense eye brush. Be sure to use a strong eye shadow primer (like the Too Faced Eyeshadow Insurance) to keep your look intact. 
Prime your eyelashes
Mascara tends to bleed, and waterproof mascara rarely adheres to its advertisement. Many companies, like Tarte, Clinique and e.l.f. (sold in the University Community Centre Pharmacy), offer an eyelash primer. 
When applied before mascara, this product effectively ensures that your mascara won't run, and you won't look like the raccoon that always seems to troll around the North end of campus in an endless search for the best piece of trash. 
Powder your nose (and the rest of your face)
Powder might seem like an outdated product, but if you're opting to wear face makeup while having sex, it plays a very important role. 
A powder will keep your face makeup in place, and prevent product from ending up on your pillow or on your partner.  
If you don't want to break the bank on powder, you can mix baby powder with an eyeshadow that matches your skin tone for the same effect. Thanks to the addition of talc, the shadow won't melt off of your face. Many drugstore powders are also affordable options, and come in a range of shades.
And next time you're browsing around Sephora, be sure to ask to take home a sample of some of the top brands, like Laura Mercier or Kat Von D.
Planning for oral? Don't leave anything on your mouth
It may seem obvious, but if you're going down on someone, don't wear lipstick or lip tint. As sexy as red lips look, you will look like a vampire once you've done the deed, and leave their nether regions looking almost as nasty as a vampire bite (not to mention the fact that the residue and bacteria could leave them with a spooky UTI). 
There isn't any tip that prevents lipstick or tint from smearing with intense contact unless you plan on taking a Kardashians-eating-salad approach to giving head, so leave it at home. 
Spray to set
Urban Decay's All Nighter Setting Spray has reviews wrought with women talking about falling in hot tubs at parties, having complete mental breakdowns, getting into car crashes or leaving one night stands with a perfect face. These women are living proof of how much of a difference setting spray can make in your routine. 
To keep your makeup as solid as the ice on London's sidewalks, a setting spray is ideal. As a cheaper alternative, you can put moisturizer underneath your face makeup.
With these quick and easy tips, you'll be ready to brave whatever sexual challenges await you — with a perfectly primped face.