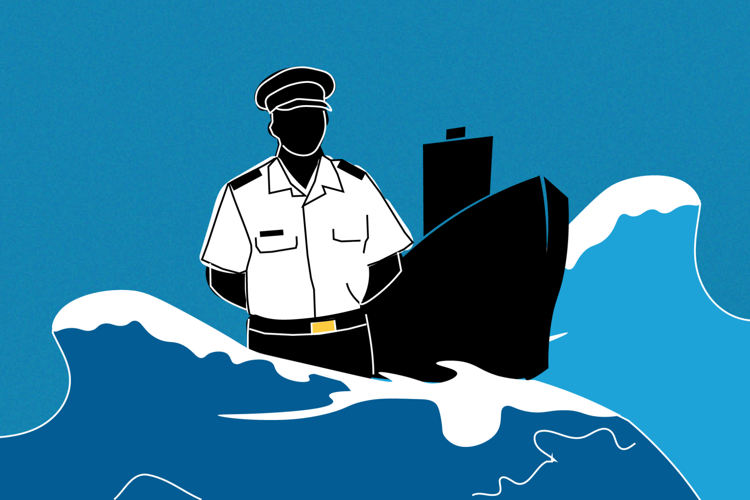 Tony Liang, a fourth-year financial economics student and intelligence officer for the Royal Canadian Navy, doesn't find comfort satisfying; he believes that humans aren't designed to be comfortable. The 21-year-old has spent the last couple of months training at HMCS Prevost.
In January 2018, Liang made the decision to join the Navy after hearing about the opportunity from a friend. While he's still considering pursuing a career in finance, he notices that most people within the industry only have the weekend to look forward to. 
"I want to wake up every day excited for what I do," says Liang, adding that working for the Navy provides him with a sense of importance, knowing that he holds a meaningful job. 
Working part-time at London's HMCS Prevost, established in 1941, Liang moved up the ranks over the course of a couple of months, attending courses that developed his skills and knowledge common to all seagoing jobs, from leadership courses and physical training to rifle drills and rigid inflatable boat exercises. 
He spent five weeks of the summer at the Canadian Forces Base Valcartier (located north of Quebec City), living outside of his comfort zone while completing his basic training, which is a requirement for all recruits who want a career in the Navy.
Waking up at 5 a.m. every morning and staying up until about 11 p.m., there was little time to doze off during the bootcamp, because recruits are still expected to be fully attentive at all times.
"They're trying to see how you react when you're deprived of sleep. We can be great leaders and great students when we're fully 100 per cent. But at your worst, that's who you really are," says Liang.
He stresses the fact that basic training was the best time of his life, spending two weeks of his trip sleeping in a forest in what he calls "very bad conditions." 
Some nights he would have to wake up at 1 or 2 a.m. for duty, where he'd walk around and monitor the base for a couple of hours, leaving him with minimal sleep. 
But that's just how he thrives. 
Overlooking the Forks of the Thames River, HMCS Prevost is one of 24 Naval Reserve Divisions located in major cities across Canada. It provides training in various positions and trades with the Canadian Armed Forces, with personnel in traditional Navy roles ranging from maritime engineers and logistics officers to communications and combat weapons trades specialists. Reservists can seamlessly transition to active duty once they've received the appropriate training.   
Liang isn't the only Western University student who's training for a career in the Navy. In fact, of the 200 or so members at Prevost, just over 30 of them are also Western students. 
Currently in his first-year at the Richard Ivey School of Business, Eric Sheppard has been a reservist at the Prevost for a couple of months, training to become an intelligence officer. While he's unsure of whether or not he wants to pursue a career in the Navy or in a business-related field, he believes the skills he's learned at Prevost are indispensable. 
"With my program, there's a lot of networking and things involved," says Sheppard. "I'm the only person I know at Ivey who's in the reserve. If you want to differentiate yourself from other people on job applications or during networking events, I've found it's been really [useful] to do that."
Sheppard has been building up a marketing portfolio during his time in the Navy. He's currently a part of Canada's first-ever Unit Visibility Team, a program within the military which focuses on public affairs and recruitment through social media and other forms of outreach. Sheppard's used the skills he's learned at Ivey to help establish an analytics report for Prevost's social media presence, among other marketing-related tasks. The leadership opportunity will be rolled out nationwide thanks to the success of the program at HMCS Prevost.
Because the government proffers $2,000 in tuition reimbursements for student-reservists, there is also a financial benefit to signing up, which makes sense considering that the higher ranks require a completed or in-progress university education. Additionally, within the first four years of service, the Navy guarantees reservists 18 months of full-time work. 
"If you're in first-year and you join, that could be your summer job. It's guaranteed for all four years of your university," says Sheppard. 
While reservists must maintain a minimum time commitment of one shift per month at Prevost, both Liang and Sheppard typically clock in between six to nine hours at the facility each week.
"My parents were concerned that it was going to take up too much of my time. I was in Western's orchestra in first-year and that was more of a time commitment than being in the Navy was. It's pretty flexible," says Sheppard. 
The opportunity to travel the world while getting paid to do so is also an intriguing option for students; reservists are given the choice whether to serve on missions, which involve travelling to places like the Caribbean Sea, the eastern Pacific Ocean, and Central and Eastern Europe.
Upon completing his training at HMCS Prevost, Liang hopes to go on a couple of deployment missions before he enters the corporate world. Within his role as an intelligence officer, Liang would be collecting, processing, analyzing and disseminating classified information that pertains to national security; advising and assisting in the coordination of intelligence tools and surveillance systems; and operating and safeguarding information technology systems.
Because he has to carefully structure his day-to-day itinerary in order to manage his school-life balance, Liang believes his daily routine is more structured now that he's found a purpose, in comparison to when he was just attending class.
By the same token, second-year kinesiology student Emma Pearson, who is training to become a naval warfare officer, must balance her work and school life with her commitment to the varsity rowing team. The 18-year-old's end goal is to become the captain of her own ship. 
"I'll be fully qualified to be the captain of my ship by the time I'm 21," says Pearson. "I'll be doing a lot of navigating wherever I go, so I'll spend a lot of time on-ship. It's insane. Not many people can say that."
Pearson joined Prevost following four generations of military service in her family: her great grandfather fought in the First World War, her grandfather and great uncle fought in the Second World War and her father is currently enlisted in the Navy. The tradition goes far back, although she doesn't know many details beyond her great grandfather. 
"I'm excited to go on-ship and start to really learn some hands-on skills. It will definitely make it feel more real that one day I'll be the captain of my ship," says Pearson, who will be entering basic training at Valcartier next summer. 
While it may seem like an enticing career option, it is one that will push students out of their comfort zone. But for these three reservists, that's exactly where they want to be.