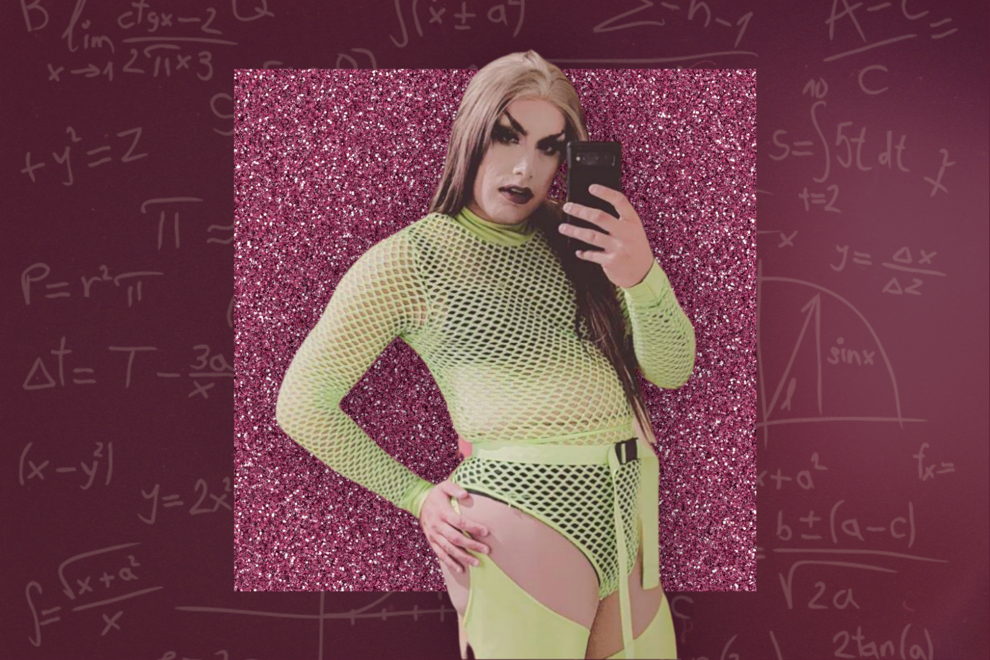 Tyler Pattenden is anything but the dull, old professor every student knows. 
Pattenden is an assistant professor in the School of Management, Economics and Mathematics at King's University College. They recently booked their first serious drag gig at Lavish nightclub in downtown London, with stage name Miss Polly Pocket.
Although it was one of their first appearances in drag, doing a lip sync and dance performance in front of a crowd was not something out of their comfort zone. 
"I'm used to 'performing' multiple times a week in front of large numbers of people," says Pattenden, referencing their lectures. "[Drag shows are] not any different to me."
Pattenden teaches three math and data sciences courses each semester, to about 100 students. They completed their PhD at Western University in 2020 with the mathematical biology department. Pattenden went on to work for a year as an online sessional instructor during COVID-19 before landing a teaching contract at King's.
"I like to prove to people that they are math people," they say. "I love teaching. Everyone is a math person, they've just had bad teachers."
Pattenden has always wanted to be a teacher and truly enjoys the day-to-day of their job, cracking jokes and connecting with students. 
"It's math. Everyone comes in and they're already like, 'I don't want to be here,'" they say. "I try to be funny and I think that gets them involved."
It is this charisma and zest for life that bleeds over to Pattenden's drag persona, which they describe as "a cutesy vibe." 
But switching from the professor hat to the drag queen wig is not a huge transition for Pattenden. 
Miss Polly Pocket, who otherwise calls herself "London's Candy Pop Princess," attributes her name to exactly what it sounds like — polly pocket dolls. Pattenden recalls wandering the aisles of Toys "R" Us as a child, admiring them despite not being allowed to buy them. 
"My dad is very conservative," they explain. "We had a lot of issues growing up, so I did the whole 'be the straight boy and play sports,' but I always wanted dolls." 
Pattenden didn't even know what drag was before watching the popular drag competition show Rupaul's Drag Race. When they first watched the show four years ago, they were immediately amazed by how pretty the queens on the show were and set out to reach their degree of confidence. 
They started getting into the London scene at Lavish earlier this year, where they were introduced to their mentor or "drag mom," Vanity Affair. It was Vanity who pushed Miss Polly Pocket to do drag and join the club's open stage night, where anyone from the community could try drag regardless of experience level. 
Vanity put them into full drag makeup, a wig and an outfit in July and Pattenden fell in love. 
"As soon as you get into drag, you find this new confidence," they say. "It's almost like you feel like a different person, although you're still yourself. You put the lashes on and then you're like 'sweet, I'm a drag queen.'"
Miss Polly Pocket lip synced to Kelly Clarkson's "Since U Been Gone" at her first booked show on Sept. 9. Judging from the crowd's overwhelmingly positive response, Pattenden now considers it a go-to performance song.
Pattenden is still on a high from the performance and is enthusiastic to do more gigs in the community. Although they are interested in further pursuing drag, they're not willing to sacrifice their full-time teaching position at this point. 
"[Drag] is something I just want to do for fun," they say. "It lets you break free from reality for a night. It's like 'this is great, I get to go be a goofball in a wig.'"