The McIntosh Gallery has opened its doors to two new exhibitions: Kim Moodie: Any Dream Will Do, curated by James Patten and Leading the Way: Early Canadian Women Artists, curated by Catherine Elliot Shaw.
While both exhibitions are disassociated from one another, they each reflect on the importance of artist identity throughout the creative process.
Any Dream Will Do showcases London-based artist Kim Moodie's first use of photography and video, including a series of large prints entitled Hair Diaries. Completed over four years, this part of his exhibition transforms Moodie from artist into subject, creatively incorporating his long grey hair into surprising self-portraits.
"It's a discussion, in some ways, of the hair representing ageing and experience and time," Moodie says.
He explains the various photographs and videos are meant to suggest a dichotomy between himself and his role models, while acknowledging that people are evaluated based on the roles they fit into according to society.
Moodie hopes his audience will feel engaged by his work, as it's meant to communicate the importance of interactions with people in order to find one's place in the world.
"Each one of these people have a significance to me," he says about his large photographs. "But I want people to figure that out or think about that themselves."
Although Moodie is used to being the centre of attention as a visual arts professor at Western University, he admits to spending most of his time alone in his studio, making this particular project especially unnerving for him.
"Doing this, I had to overcome certain inhibitions I had about being shy," he says. "I had to get past how silly I felt sometimes and whether I was being too self-indulgent."
Overall, Moodie is satisfied with his work and the experiential process it took to create.
"While I'm doing it, I'm sort of analyzing behaviours and preconceptions of myself," he says. "It's interesting; it's actually a very thoughtful process. You can really sort of think, 'What do I represent and how does that come across to people and is that what I want?' That kind of thing."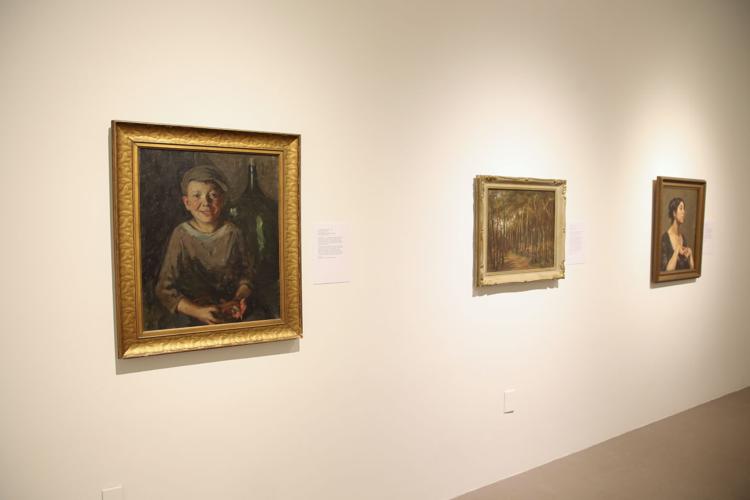 Moodie also uses his more familiar drawing and painting techniques to create large, colourful works. His bold use of textile is meant to represent industry, manufacturing and the way both have begun to shape our cultural identity, but he stimulates the natural world as well by his use of floral and animalistic subject matter.
"There's regularity in the patterns but there's also this sort of free, more intuitive gesture in the lines," Moodie explains. "And that's combining both those elements and trying to make commentary on it."
Correspondingly, Shaw's curated show, Leading the Way: Early Canadian Women Artists, speaks to identity as well, but through a feminine lens. The exhibition consists of empowering female artists of the late 19th to early 20th century who were able to identify themselves as creative professionals despite enormous adversity.
Shaw explains the idea for this exhibition grew from wanting to address the imbalance of female representation within the gallery's own collection. Once they were able to increase the ratio, they wanted to celebrate it. Each of the exhibited works have been acquired by the galley through donations and purchases.
"There are 13 women who are represented in the exhibition," Shaw says. "They each have overcome difficulties, but also they have been role models in a lot of different ways."
Shaw says each painting is paired with "extended labels" to give more information about the artist.
For her, this project has been a "labour of love." She has learnt a lot and is moved by the gifts and mentorship these historical painters provide. Her excitement about what this exhibit means to the education of women in the art world is evident.
"They're here in perpetuity and in trust for future generations," she says. "They will form the nucleus of a study and research database, really, for people who want to know more about these women."
Both exhibitions speak to the importance of one's identity in culture and how the self is perceived. The result is a thought provoking collection of work.
Kim Moodie: Any Dream Will Do and Catherine Elliot Shaw's Leading the Way: Early Canadian Women Artists will be on display at the McIntosh Gallery until May 14.