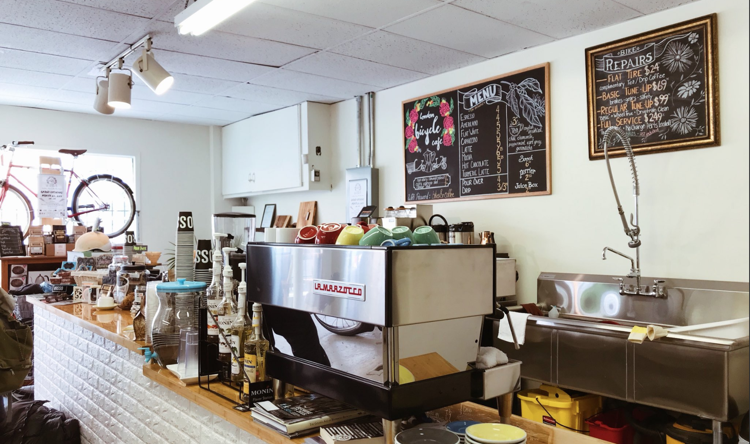 Public transit can suck, especially when the only reliable thing about the bus is that it's sure to drive right past you in the morning. When you do ride the bus, it can be cramped, warm and slowed by traffic jams. 
Ben Cowie thinks there's a better way. He says it's time for students to start thinking differently about transit — by biking. 
Cowie owns London Bicycle Café, one of London's newest cafés and one of the only bike cafés in Ontario. Set for a grand opening March 24, Cowie is putting a new spin on cycling in London.
A coffee shop? A place to buy and learn about bicycles? A live music venue? Located in the heart of downtown #LdnOnt, The Bicycle Café (@LdnOntBikeCafe) is all three of those things and more. pic.twitter.com/KuCGZeLgTx

— Gabi Drolet (@gabrielledrolet) March 10, 2018
Cowie, a London native, has a PhD in geochemistry. After travelling around North America working for NASA, Cowie found himself back in London, wanting to find a way to occupy his time. He decided he wanted to combine his two loves into one business: coffee and bikes. He claims London has a lot of sport bike shops but nothing truly dedicated to travel bikes.
"[The café] is a good way to start conversations about bikes," Cowie says. "Most people don't go to bike shops often, but now there's a space they can come ... that makes it more open and less intimidating than going into some speciality bike store."
The café sits on the corner of Clarence Street and King Street, in the heart of downtown London. The space is warm and inviting, with friendly, experienced staff. The open concept space has comfy modern couches that are perfect to do readings, wooden tables to work on a group project or high table tops for essay writing.
The coffee is just as good as the atmosphere. Led by Jenn Dylowicz, the barista team does everything from pourover coffee to your typical espresso. 
They also have a food menu that emphasizes supporting local businesses. The café features vegan and gluten-free treats from Boho Bake Shop, cookies and scones from Petit Paris Crêperie and Pâtisserie as well as fresh sandwiches from Old East Villager Grocer. The café also hosts shows on the first Friday of every month. 
The store carries a wide variety of bikes that you wish you had during your Tumblr phase, with rows of pastel two-wheelers to choose from. These bikes start at $400, and the café provides repair services, too. And while you wait as they fix your chain or tires, you can grab a free drip coffee.
"We're kind of like what Apple is for computers," Cowie says. "We focus on bikes that are good for city riding. So you sit up right, you're comfortable. [They're] the type of bike that you'd see more in Europe."
Cowie hopes his café will get the ball rolling for new and old bikers, but especially for students. He says Western University's infrastructure makes it easy to start biking.
"It's protected from cars, it's lit at night, and plowed in the winter," Cowie says. "And that's the only space in all of London that has done that."
He explains that it's only a four to five minute bike ride from Oxford and Richmond, so there's no need for all the waiting around. And for your winter biking needs, Cowie has you covered with different types of winter bike tires.
"More people should bike because it's the healthiest, happiest, fastest way to get around the city," he says. 
London Bicycle Café is set to provide the perfect combination to kick-start healthy biking and studying habits, with the bonus of great coffee and the occasional live music session.