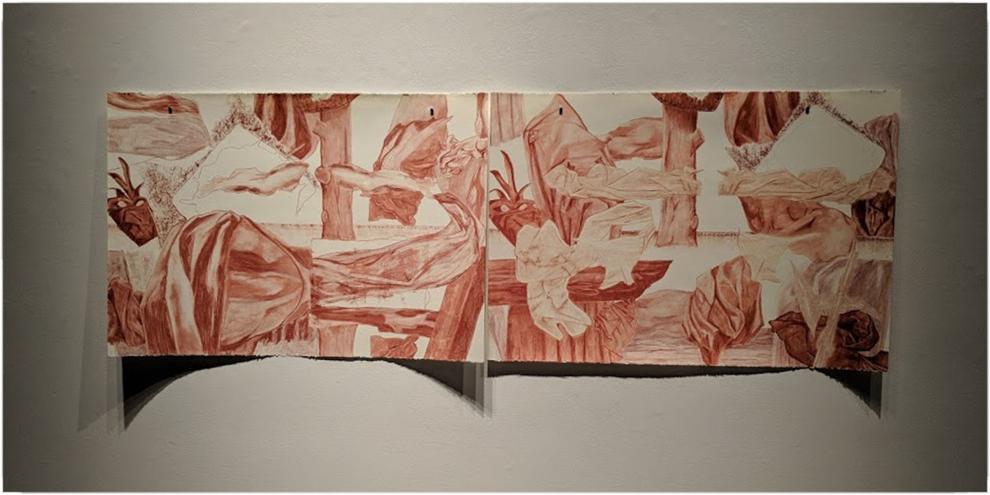 The exhibit, "selsun blue," is a mondegreen, a misinterpretation or mishearing of lyrics, which often impart a new, more personal connection, of Neil Diamond's "Song Sung Blue."
Western University's Master's of Fine Arts students in the department of visual arts opened their exhibition "selsun blue" last Thursday at the ArtLab Gallery.
"Stemming from a shared interest in the problematics of communicating with clarity, these works question the implications of our capacity to both transmit and receive information." Liza Eurich, ArtLab Gallery curator, explains in her statement for the "selsun blue" exhibit guide.
The gallery's height makes it difficult for the artworks to overcome the size of the room. However, many of the works found themselves able to shine in the space or were able to utilize the scale of the room to further dwarf themselves. Three artists' works stood out among the entire collection: "Mesmerplies" by Kate Carder-Thompson; "kit", "platform for plastic and metal" and "wet floor sign" by Lydia Santia; and "Made up" by Sepideh Tajalizadeh.
History privileges documents in order to understand the past, but what if we considered the knowledge of the deceased through spiritual connection? Kate Carder-Thompson hoped to answer this question with her work "Mesmerplies." She spent the opening night spinning wool and chatting with attendants. As she did so, a flashlight affixed to the wool spinner cast shadows on images cut out of paper.
Carder-Thompson was attempting to put herself in a trance using imagery from her and her family's past to channel the spirit of her great-great-grandfather in hopes of communicating. The work was trance-inducing not only for Carder-Thompson, but also for those who spoke with her. She explained her work will evolve as she goes through the different stages of processing wool.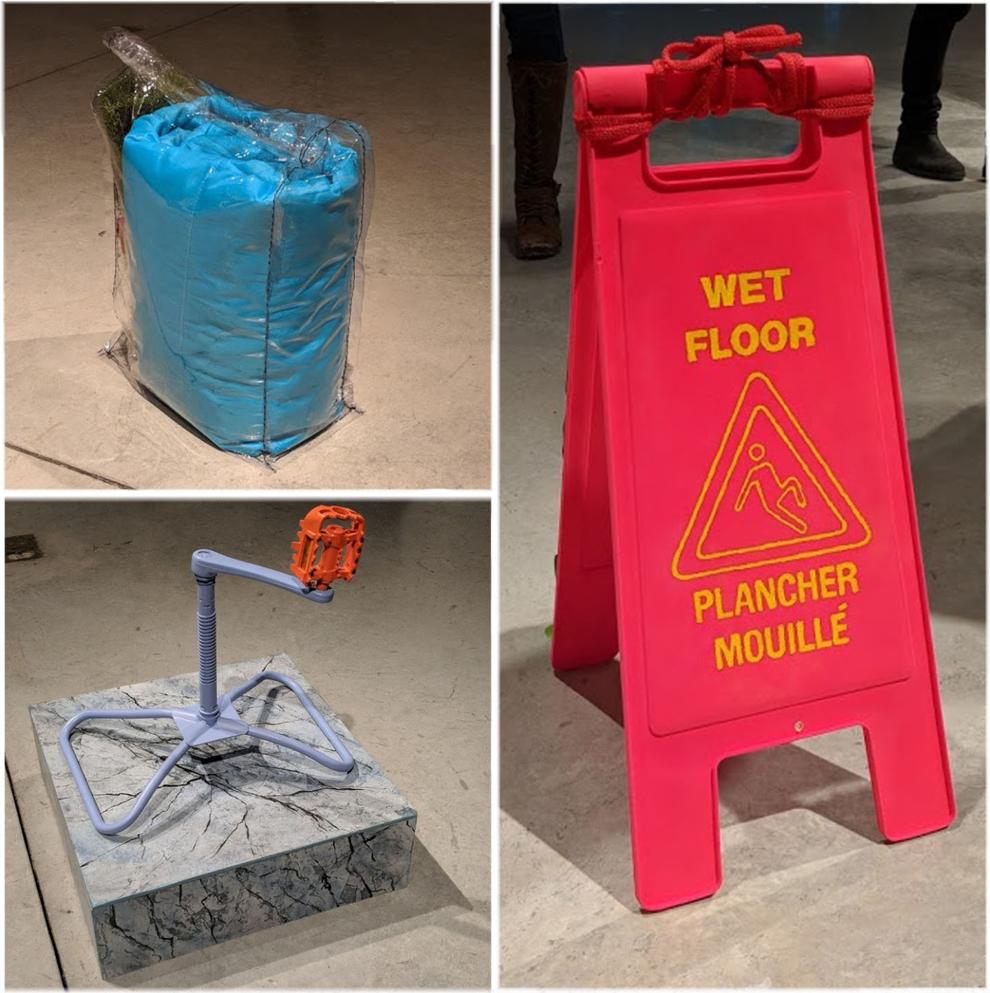 Wet floor signs, bicycles, and turf all have intended purposes, yet Lydia Santia intentionally obstructed their abilities to fulfill them. Her works "kit", "platform for plastic and metal" and "wet floor sign" each took one of these objects with specific uses and disrupted them. With "wet floor sign" she painted it bright pink to remove the viewer's familiarity with the object and covered one side with neon green paper.
These "micro-interruptions" made the works functionally useless, yet brought a new aesthetic purpose to them. Her exploration of "object-based ontology" produced a collection of sculptures worthy of discussion.
Santia's work at first glance was not the most captivating; however, their central position in the gallery space forced repeated interaction. Her use of vibrant and contrasting colour brought an attractiveness to her work that made these mundane objects worth a double-take.
Sepideh Tajalizadeh created a video entitled "Made up" in which a close-up of her applying lipstick is intercut with clips of her husband kissing her. The six minute video at first seemed mundane, but had an unidentifiable appeal that made looking away difficult. As it progressed her lipstick smudged and the reapplication of her lipstick got sloppier and more aggressive.
The work was uncomfortable to watch but was impossible to move on from. Tajalizadeh produced an overwhelming amount of emotion in six minutes of silent video. Her work was one worth returning to throughout the gallery.
The MFA student's collection was able to overcome challenges posed by the scale of the gallery space and each individual piece brought a unique interpretation to the central theme of problems with communicating clearly. The exhibit as a whole was eclectic and confusing which made it all the more intriguing and worthwhile. "selsun blue" finds itself able to surmount the problems of communicating information making it worthwhile to see.
"selsun blue" is open at the ArtLab Gallery from Jan. 31 - Feb. 14.