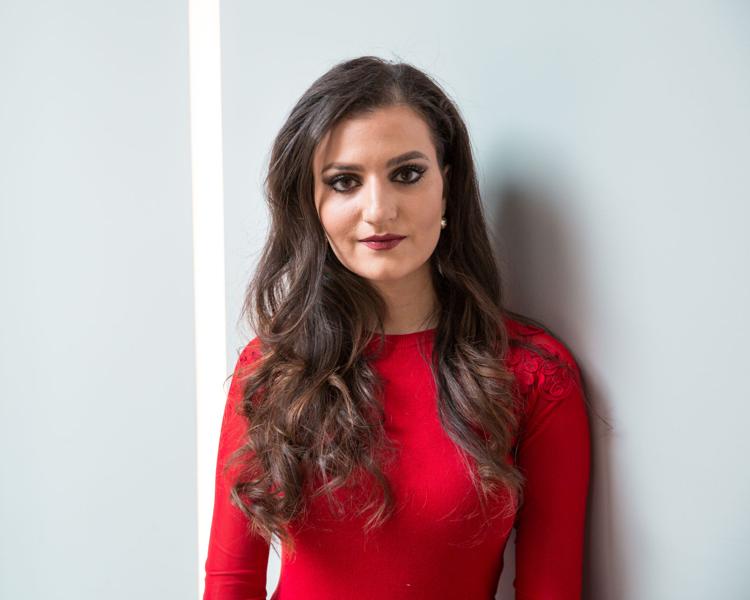 When 13-year-old Najwa Zebian first put pen to paper in a little Lebanese village many years ago, little did she know her words would resonate with hundreds of thousands of people worldwide a decade and a half later.
The renowned Lebanese-Canadian poet and inspirational speaker channels her painful experiences into profound words that remarkably articulate people's most personal and intense feelings. As a result, she connects a rapidly growing community of nearly one million people who find in her words a healing salve for their shared struggles.
Najwa started writing at a young age in search of a sense of belonging and a voice. The youngest of five siblings, she was constantly displaced between relatives' homes due to her parents' work conditions.
This longing was amplified by her forced move to Canada at 16 as the 2006 war broke out in Lebanon. Overwhelmed by her experience, Najwa abandoned the written word for a long time.
"Writing to me meant feeling, and it meant that I was very aware that I haven't solved the problem of feeling like I belonged," she says. "I didn't want to feel anymore, so I just ripped up my journals and said, 'I'm never writing again.' "
Her high school and university years went by with little to no "human life" outside of academics. A highly sensitive and empathetic person, Najwa recalls being emotionally bullied for this, something she blamed herself for.
"When you feel excluded, you automatically assume something's wrong with you, because why else would people exclude you?" she explains. "You're constantly looking for someone to tell you whatever it is that you think about yourself is not right. You're building homes in other people, waiting for them to welcome you."
Six years later, Najwa found the will to write again when she saw her displaced 16-year-old self reflected in the eyes of a group of young Libyan refugees — her first teaching assignment at Western University's teachers' college. Through writing to help them, she was also helping herself, she says.
She self-published her first poetry book, Mind Platter, in 2016. To her great surprise, her words were soon highlighted on social media by celebrities like Mathieu Kassovitz, Lisa Rinna, LeAnn Rimes and Hilary Swank, bringing her writing to public attention. She was later invited to speak at different events.
Unfortunately, Najwa's experiences with social rejection were far from over. As her career was taking off, Najwa decided to finally speak out about a 2015 workplace sexual harassment and power abuse experience, which resulted in public backlash and legal threats, and brought her to the forefront of the #MeToo movement.
"I'll never forget that moment. It was months upon months of me saying, 'Today's the day.'… I would literally sit in front of my screen, and all I needed to do was hit post, and I couldn't do it," she says. "When I finally did it, all of that pressure and fear and pain and weight that I felt in my whole body went [away].… That was a life-changing moment for me."
Najwa faced a second incident of public outcry more recently when she decided to no longer wear the hijab — a head covering worn by some Muslim women. She estimates she lost over 20,000 followers in the aftermath, as discussions on her social media platforms became all about why she was no longer wearing the head garment.
"I wanted just to be myself, be true to who I am, and that involved not wearing it anymore," she says. "People were making accusations, they were making assumptions that weren't true about me, being very mean [and] very demeaning. I just didn't feel like that was fair, but with time, I let go of that."
Najwa's bold decisions may have put her out of favour with some of her readers in the past, but they have liberated her from the fear of others' judgment and allowed her to live an authentic life at only 28 years old. In just a few years, she went from feeling invisible and being a people-pleaser to conquering her pain, sharing her vulnerabilities with the world and helping countless others heal their own wounds.
She lives by one of her own most famous lines: "These mountains that you are carrying, you were only supposed to climb."
"I believe that any burden or struggle that comes our way is … meant to not only teach us something, but to elevate us somehow," says Najwa.
"I love helping people. I love saying you're not alone, and I've experienced something similar in the past … It feels like this is my life's mission and purpose."
Her second poetry collection, The Nectar of Pain, was published last October, and her third book, Sparks of Phoenix, is coming out in March. Currently on leave, she plans on returning to Western to complete her doctorate in education within the next couple of years.